---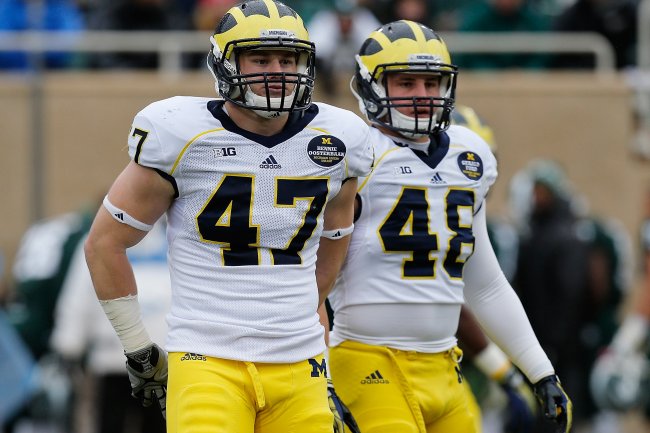 (Gregory Shamus, Getty Images)
Previously: Quarterbacks, Running Backs, Wide Receivers, Tight Ends, Offensive Line
Despite the overall struggles of the defense for the majority of the 2013 season, the linebacking corps laid a solid foundation for Greg Mattison and carried the bulk of the load between a mediocre defensive line and frustrating secondary.
The unit took a huge blow during the 2013 offseason when its leader, Jake Ryan, tore his ACL and figured to miss the majority of the year. Ryan astonished the trainers by returning against Penn State on October 12, one week short of seven months after suffering the injury. The captain made an immediate impact by recording his first tackle for loss of the season.
Mattison will surely look to his linebackers to lead the defensive turnaround this season. Three of the most talented players on the Michigan roster will start for this unit and set the tone for an otherwise unproven defense.
The Starters
Ryan is a lock to start the season at middle linebacker for Michigan, coming off a year in which he won his second straight Roger Katcher Award for best Michigan linebacker despite missing the first five games of the season. He made the move from strong-side linebacker in the spring as a way to put the best player in the middle of the defense. Brady Hoke said that teams were able to run plays away from him and take him out of the play last season. The move to the middle will keep that from happening.
During his last full season, 2012, Ryan was clearly the most talented defensive player on the team, leading the team with 88  tackles, 16 tackles for loss and 4.5 sacks. The fifth-year senior has five forced fumbles and over 150 tackles in his Michigan career.
Alongside Ryan will be senior Desmond Morgan, perhaps the most consistent linebacker from a year ago. Morgan started all 13 games for Mattison and held the unit together during Ryan's absence. Morgan snagged a critical interception at Connecticut to help Michigan escape a major upset bid and recorded 79 tackles to bring his career total up to 223.
The final piece to the starting linebacking corps will be James Ross III, who emerged as one of the best young players on the team in 2013. Ross played in 12 games as a sophomore, missing only the Ohio State game in which the defense allowed 393 yards on the ground. Ross recorded 85 tackles last season and will be crucial in the run-stopping game at strong-side linebacker.
Career Stats – Ryan

Games Played
Solo
Assisted
Total Tackles
Sacks
TFL
FF
FR
INT
34
99
56
155
7.5
31.5
5
3
0
Career Stats – Morgan

Games Played
Solo
Assisted
Total Tackles
Sacks
TFL
FF
FR
INT
36
107
116
223
2.5
14.0
1
2
1
Career Stats – Ross III

Games Played
Solo
Assisted
Total Tackles
Sacks
TFL
FF
FR
INT
25
67
54
121
2.0
8.0
2
1
0
Veteran Depth
A pair of juniors emerged from camp as potential contributors to the linebacker rotation after strong springs. Joe Bolden was one of the names that coaches talked about having an incredible off-season in early April, and he took first-team snaps at weak-side linebacker during the spring game. Morgan will almost certainly retain his starting position after a third fantastic season in a row, but Bolden has a chance to make a major impact after racking up over 50 tackles in 2013.
Bolden is joined by classmate Royce Jenkins-Stone in his battle to crack the starting lineup. Jenkins-Stone took most of the snaps at strong-side linebacker during the spring game, but he will almost certainly play behind Ross when the season begins. The junior has played just one game at linebacker in each of the last two seasons and hopes to play a more important role in 2014.
Sophomore Ben Gedeon played in six games at linebacker as a true freshman last season, but saw extended action against Ohio State, recording six tackles and a sack, flashing the potential he showed as a consensus four-star recruit. He'll see increased action this fall rotating in for Morgan.
Career Stats – Bolden

Games Played
Solo
Assisted
Total Tackles
Sacks
TFL
FF
FR
INT
26
44
41
85
3.0
8.0
0
1
0
Career Stats – Jenkins-Stone

Games Played
Solo
Assisted
Total Tackles
Sacks
TFL
FF
FR
INT
25
5
6
11
0
0
0
0
0
Career Stats – Gedeon

Games Played
Solo
Assisted
Total Tackles
Sacks
TFL
FF
FR
INT
13
9
10
19
1.0
1.0
0
0
0
The Newcomers
Linebacker was a major focus for Brady Hoke during the 2014 recruiting process as he brought in three freshman to provide some added depth. Four-star Michael Ferns enrolled early and has been working with the coaches throughout the offseason. Ferns totaled over 130 tackles in each of his final three years in high school and gives Hoke an option behind Ryan on the inside.
Three-stars Jared Wangler and Noah Furbush will also join the defense in 2014 after committing to Michigan last summer. Wangler has a strong chance to see the field as a freshman as he offers help in the pass coverage game and spent much of his high school career in the secondary. Furbush could also earn some playing time with a strong summer, though the outside linebacking core is crowded.