---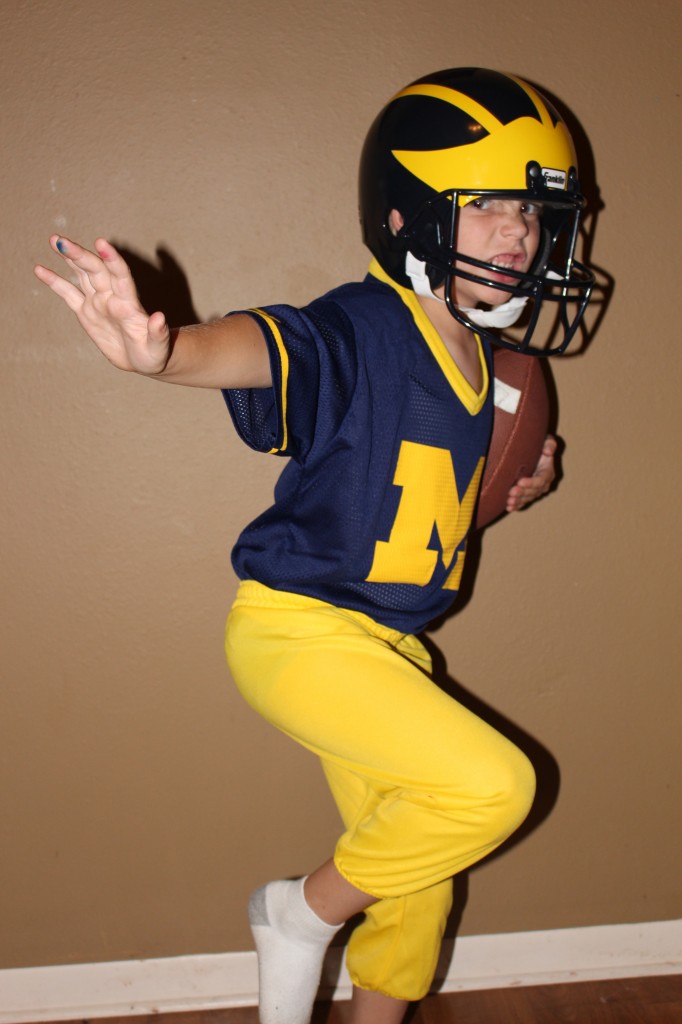 Do you remember the first Michigan game you ever attended? Of course you do. It's a defining moment for any young Michigan fan in which a simple fandom becomes a lifelong love. For me, I'll never forget taking in the splendor of the Big House while watching Tim Biakabutuka run rampant over second-ranked Ohio State in 1995, leading the Wolverines to a 31-23 upset.
I was 13 at the time and enjoyed every minute of my first Michigan football gameday experience with my dad and grandpa (a 1951 Michigan law grad). And while my grandpa passed away about 10 years later, that 1995 Michigan-Ohio State game is a moment that we shared that I can always look back on fondly.
So when Mike Andrews reached out to me looking for help getting him and his almost-seven-year-old son Grayden (pictured left) to their first Michigan game, it resonated with me. I look forward to the day I can take my daughter (currently three) to her first Michigan game, and I know I can make that happen when she's old enough because we live a very short drive from Ann Arbor. For Mike and Grayden, it's not that easy.
They live in San Antonio, Texas, and since he was 10 years old Mike has been hoping to go to his first Michigan game. Now 22 years later it still hasn't happened and Mike finally decided that it's time to make it happen and stop putting it off another year. So that's where you come in.
Mike started a Kickstarter campaign to help fund their drive from Texas to Ann Arbor, their lodging, their tickets to the game, and any other expense that come with the trip. They also plan to visit Wrigley Field for a Cubs game, Busch Stadium for a Cardinals game, and Globe Life Park for a Rangers game en route to make this a truly unforgettable trip. In addition, Mike plans to document the whole trip and turn it into a video that he will give to Graydon as a gift. Who wouldn't love to have had a video from their first Big House experience?
They plan to come up for the Utah game on Sept. 20, and with 18 days remaining on their Kickstarter campaign, they are still about $1400 short of their goal. A donation of any amount can help Mike and Graydon reach their goal of attending their first Michigan football game together. As with any Kickstarter campaign, there are prizes based on your level of donation, including a maize and blue AnArhbar t-shirt (that's the way Graydon spells Ann Arbor) for a $25 donation.
You can view their video below explaining the campaign and their story in more detail. Click on the photo of Graydon, the link above, or the widget on the right sidebar to visit their Kickstarter page and make a donation.

*Disclaimer: I did not know Mike before he reached out to me. As mentioned above, his story resonated with me because of the experience I had at my first Michigan game almost 20 years ago and the experience I look forward to sharing with my daughter in the years to come.