---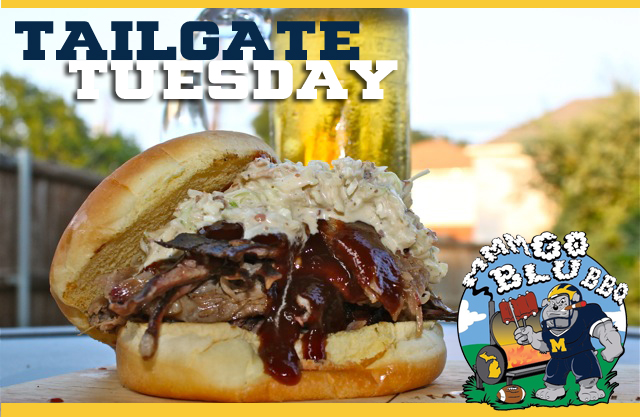 The following recipe is our first weekly collaboration with Joe from MmmGoBluBBQ. These will be posted each Tuesday throughout the season and each recipe will be themed around that week's opponent. 
I can't believe the college football season is finally upon us. It's been way too long since I've had the guys over for a "GO BLUE Game day BBQ". This is my favorite time of the year as my excitement level couldn't be any higher. It's time to see how this new offense will function under new leadership and if the latest group of highly ranked recruits can make a difference. It's also time to fire up the grill or smoker and make our tailgate neighbors or next door neighbors extremely jealous. Because we have Appalachian State in town, let's do a little "Hot-N-Fast Pulled Pork" with some Carolina Mustard Slaw. Here is what you will need.
Ingredients (Pork Butt):
• Bone In Pork Butt (7-9 lbs., often referred to as Boston Butt)
• Regular Mustard
• Rub (Equal parts Kosher Salt, Granulated White Sugar, Dark Chili Pwd, Montreal Steak Seasoning). Add some cayenne for some heat (optional)
• Your favorite hamburger buns and BBQ sauce
Ingredients (Carolina Mustard Slaw):
• Shredded cabbage (Pre-mixed slaw in bag works great or about 1.5 lbs or 1 small head of cabbage)
• 1/4 cup mayo
• 1/4 cup Mustard (Sweet and Spicy Mustard if you can find it)
• 1/3 cup sugar
• 1/4 cup apple cider vinegar
• Blue Cheese Crumbles (Optional)
• Sliced Serrano Peppers (Optional)
• Salt and pepper to taste
Mix wet ingredients first and add to cabbage. Refrigerate for a few hours or overnight.
Pulled Pork Directions:
Preheat your smoker or grill to approximately 325 degrees. If you are using a gas or charcoal grill, set it up for indirect heat. See pic below on how to set up the charcoal and wood to achieve your indirect set up. Open your vents about half way to get the higher temp. Add about 5-6 good sized chunks of fruit wood (Pecan or Cherry). Use more than I did in this pic.

While the grill/smoker is heating up, apply a thin layer of mustard on the pork butt. The mustard will help the rub adhere to the meat. Once this is done, apply a layer of your rub. Go ahead and load up. This is a big hunk of meat and can take a lot of seasoning. I typically use about 1 cup of rub on a butt his size.
Once our smoker has come up to temp, place your meat on the opposite side of the hot coals. We will cook this for about three hours or until we get an internal temp of about 150 degrees. As you can see below, the color is coming along and that tasty bark is starting to form. Meats typically stop taking smoke once the internal temperature reaches 145 degrees, so our flavor is also on track.
Once we hit the three-hour mark, its time to place the butt in a foil pan along with some moisture. I like apple juice, sprite or Vernors Ginger Ale. Pour approx 12-ounces into the foil pan and cover tightly. If you have a temperature probe, stick it in the middle of the pork butt (but do not touch the bone). If you do not have one, don't worry about it. I recommend some sort of temperature probe. Either an instant read probe (like a Thermapen) or a meat thermometer you can find at your local grocery store.

We will let this pork go for another two hours covered or until it hits an internal temp of 195-205 degrees. The great thing about a pork butt is that it's hard to overcook. I've gone to 215 degrees on one and it was still super tasty and fall apart tender.
Once it hits 195 degrees, remove from the heat source and peel back once corner of the foil to help cool. Let it rest in the foil bath for about 45 minutes. Now you are ready to pull. Pour out about 50 percent of the juice and discard. Leave the remaining juice in the foil pan. Remove the bone. It should pull out without any real effort. You can pull the pork with a standard pair of forks or your hands if you have some rubber gloves (it's still hot). Once the pork is pulled, mix in the foil pan with the juices. I also like to add a few sprinkles of any leftover rub at this point. Now it's time to load up your favorite bun. Top with some Carolina Mustard slaw and some of your favorite BBQ sauce and enjoy!
___________________________________________________________________________________________
This week's drink: Wolverine Bite
One of my favorite beverages is called a "SnakeBite" and it includes a really tasty combo of Guinness Stout and Hard cider. This version of a SnakeBite will be known as a "Wolverine Bite" and has two parts Stout to one part Vernors Ginger Ale. Trust me, this has great flavor and is very refreshing. Give it a shot at your next tailgate and let me know what you think.
Ingredients:
• Vernors Ginger Ale
• Guinness Stout
Directions:
Pour in one part Vernors Ginger Ale and top with two parts Guinness Stout (limes optional).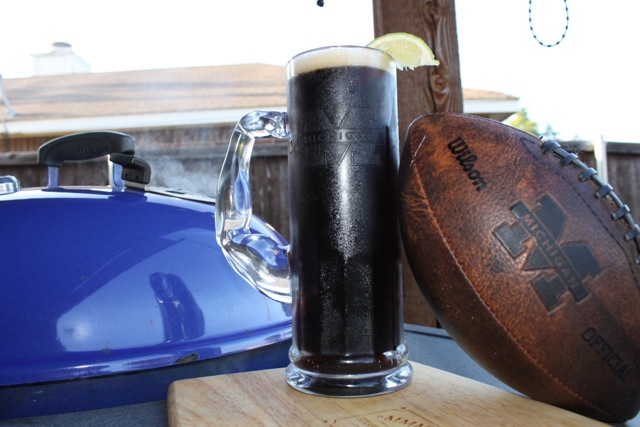 If you have any questions on this or any other grilling/smoker recipes, feel free to reach out to me at joe@mmmgoblubbq.com. I always love chatting BBQ and Michigan football!  GO BLUE!!!!
For more great recipes, photos, and barbecue ideas, follow Joe on Twitter at @mmmgoblubbq. And don't forget to check out his site, MmmGoBluBBQ, for recipes, product reviews, and more.