---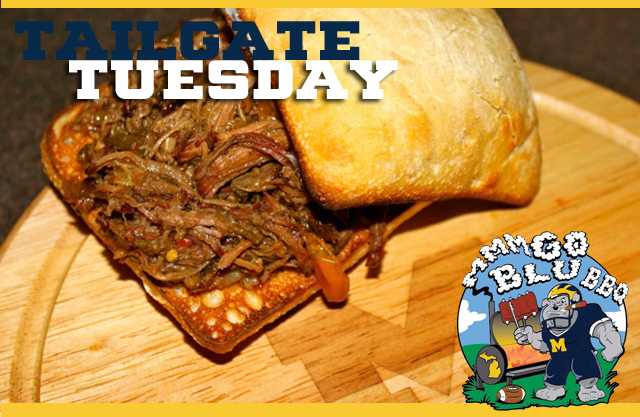 Tailgate Tuesday is our exclusive collaboration with Joe from MmmGoBluBBQ. These will be posted each Tuesday throughout the season and each recipe will be themed around that week's opponent.
Previously: Hot-'n-Fast pulled pork with Carolina mustard slaw.
Now that we've got that Mountaineer monkey off our back, it's time to start focusing on those "Fighting Irish" in Week 2. Since I have a few Guinness Extra Stouts leftover from last week's drink recipe, let's put em to good use in this version of Pepper Stout Beef. This was not only easy, but could be my new favorite sandwich. It combines everything I love when tailgating: meat, peppers, onions and beer. Find something in that combo that is not good.  I dare ya.  It's not only tasty, but very versatile and freezes well. I love it on a toasted ciabatta roll, but could also be served on sourdough, hawaiian bread, french rolls, tortillas or even regular hamburger buns. This is perfect for a night game as it takes about six hours to complete. Here's what you will need.
Ingredients:
• 4-5 lb chuck roast
• 3 bell peppers. (I used three: one red, one green and one yellow)
• 4 jalapeños (I like it hot, but use two for less heat)
• 1 large red onion
• 6 garlic cloves (crushed)
• 1/4 cup Worcestershire sauce
• 12-oz bottle of Guinness Extra Stout
• Kosher salt and pepper
Directions:
Start with a four-pound chuck roast and trim a little of the extra fat. If there isn't any extra, your ready to season it up. What a beautiful hunk of meat. Cover the chuck roast with salt and pepper mix. I love pepper, so I went extra heavy in this area. It adds a nice crust once the roast has been on the smoker or grill for a few hours.

Smoke the roast at 275 for about three hours with three chunks of hickory wood (three per hour). Hickory is the perfect wood for red meat.
While the roast is on the smoker/grill, it's a good time to assemble to the other ingredients.
Cut up the peppers, onions, jalapeños and garlic and add to an aluminum pan along with the Worcestershire sauce and Guinness. Mix 'em up and let them wait for the meat.

After three hours and once the meat reaches an internal temperature of 165 degrees, it's time to take the meat out of the smoker. The higher temp will add a nice crust to the meat along with a pink ring of smokiness.
I want to dig in now, but we are still three hours away from tasty goodness. Don't worry, it's a night game, so we have plenty of time. At 165 degrees, its time to add the meat to the veggies. Add the meat and foil tightly.

Crank up the smoker/grill to 350 degrees and let go for another three hours. Since we are done with the smoke, we can even throw it in the oven at this point. This will make the meat super tender and keep the juices in. After about three hours, give it a look. The meat should be fork tender and the veggies will be soft and juicy. If you don't have a set of Meat Rakes, get some to help shred. This is one of my favorite BBQ tools. They do a great job shredding and pulling pork and beef. Go ahead and shred and mix it up.
Once the meat and veggies are all mixed up, its time to put everything back in the 350 degree smoker/grill/oven (UNCOVERED) for about 30 minutes until the juice reduces by half. This will help it thicken up.

After 30 minutes, it should look like this. Grab a ciabatta, tortilla, french roll or just a fork and go to town.
I went with a ciabatta roll for this one. I had some horseradish sauce in the fridge and decided to add this to the toasted roll.
This is one of my faves! It makes a great sandwich and freezes well. I look forward to making a few PSB tacos, burritos and quesadillas in the near future. This is a WINNER!!! Please let me know how your version turns out. ENJOY and GO  BLUE!!!
The original version was done by Larry at The Wolfepit. Add it to your BBQ list.
__________________________________________________________________________________________
This week's drink: Stout Shout
• 2-oz Chocolate Vodka
• 1 Tbsp Lemon Juice
• 1 Tbsp Simple Syrup
• 6-oz Irish Stout (Guinness)
• Ice Cubes
To prepare simple syrup, add 1/4 cup sugar to 1/4 cup water and boil in the microwave for about four minutes or until sugar dissolves. Chill in the fridge for a few hours.
Combine vodka, lemon juice, and syrup in drink shaker. Add ice cubes and shake (the shaker, not you). Strain into chilled mug and add guinness. Enjoy!!!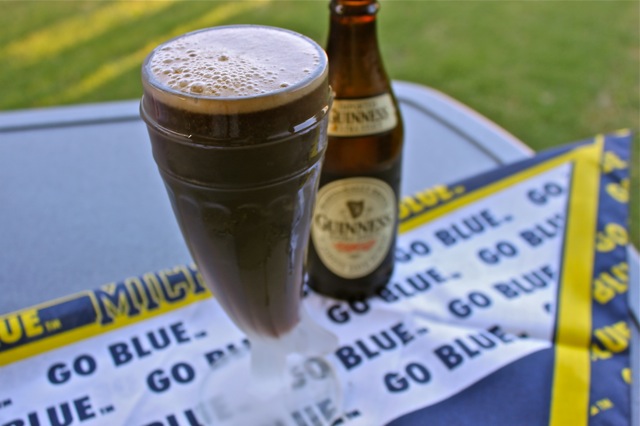 For more great recipes, photos, and barbecue ideas, follow Joe on Twitter at @mmmgoblubbq. And don't forget to check out his site, MmmGoBluBBQ, for recipes, product reviews, and more.