---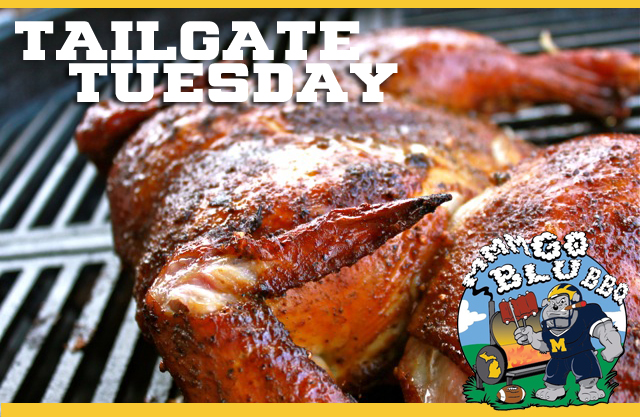 Tailgate Tuesday is our weekly collaboration with Joe from MmmGoBluBBQ. These will be posted each Tuesday throughout the season and each recipe will be themed around that week's opponent. 
Previously: Hot-'n-Fast pulled pork with Carolina mustard slaw, Irish stout pepper beef.
We need something to get that bad taste out of our mouth and I can't think of a better way than with a super juicy "Spatchcock" smoked chicken. This is my "GO TO" chicken recipe when I need to feed a group of hungry tailgating Wolverines and feed 'em rather quickly. While I love a good beer can chicken or a bird thats been brined overnight, this butterflied clucker could be the juiciest yet. The compound butter adds great flavor and keeps things extremely moist.
Ingredients:
• 3-4 lb. whole chicken fryer
• BBQ rub of your choice.
• Compound Butter (mix together and set aside)
•• 1 stick of butter, room temperature
•• 1/4 cup of your favorite BBQ Rub
Directions:
Preheat grill or smoker to 275-300 degrees and add some pecan wood chunks. If you are using a gas or charcoal grill, set it up for indirect heat. While the smoker is heating up, its time to butterfly the yardbird. Start by removing the backbone with a sharp knife or set of kitchen shears. Once the backbone is removed, turn it over (bone side down) and press down with two hands. HARD. We want it to flatten out a little.

Once the bird is laying flat (breast side up), loosen the skin by sticking your fingers or a small spatula in between the skin and meat. Make sure you do not rip the skin. Once the skin is loosened, we can mix up our compound butter. I know a full stick of butter seems like a lot, but we will loose a lot of it during the cooking process. Spoon in the butter and spread evenly with your fingers.
Once this is done, sprinkle to entire outside of the bird with your favorite BBQ rub. Don't be shy, sprinkle liberally. Place in a hot smoker and kick back for an hour.
I let the bird smoke for about an hour before checking the internal temp with my instant read thermometer. We are looking for an internal temperature of 165 degrees and some crispy skin on the exterior. The higher grill temp of 275 – 300 degrees will help crisp things up. After about an hour, your bird will start to darken. This is a beautiful thing.

Once we have reached 165 internally, it's time to pull the bird from the smoker and let it rest. If you would like to add some of your favorite BBQ sauce before removing from the grill, go ahead. You will lose some crispiness in the skin, but add some great gooey goodness with the sauce. Once the bird has rested for about 15 minutes, DIG IN!
The legs can be removed with a butter knife at this point. They are super moist and will be dripping tasty bird juice. Use a sharp knife to cut right down the middle of the bird and separate the breast meat from the bone. Or leave it on the bone. Either way is ridiculously tasty. You will be shocked at how juicy and flavorful this bird is due to the compound butter mixture. The skin is also super crispy and will crunch when you take a bite.

I hope you and your tailgaters try this recipe and enjoy it. Make sure and send us pics of your game day party along with your grilled creations. GO BLUE!
___________________________________________________________________________________________
This week's drink: Moscow Mule
• 1/2 lime wedge
• Ice
• 2-oz vodka
• Chilled Ginger beer or Ginger Ale (Vernors)
Directions: 
Serve in a chilled mug or copper mug if you have one. These go down easy, so be very careful not to have more than two…or nine.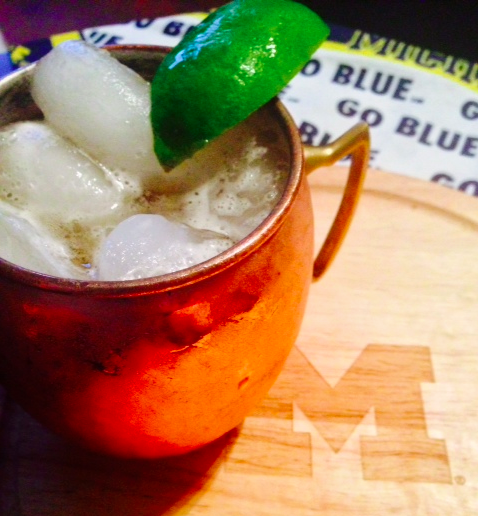 For more great recipes, photos, and barbecue ideas, follow Joe on Twitter at @mmmgoblubbq. And don't forget to check out his site, MmmGoBluBBQ, for recipes, product reviews, and more.