---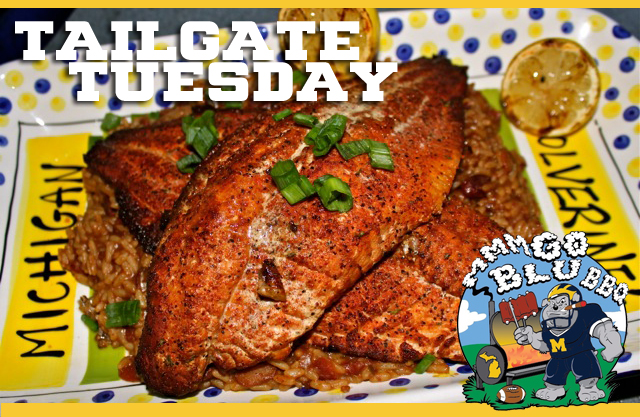 Tailgate Tuesday is our weekly collaboration with Joe from MmmGoBluBBQ. These will be posted each Tuesday throughout the season and each recipe will be themed around that week's opponent. 
Previously: Hot-'n-Fast pulled pork with Carolina mustard slaw, Irish stout pepper beef, Spatchcock RedHawk, Grilled Ravioli.
Bring on those Golden Gophers from the great state of Minnesota. Or, as they say, the land of 10,000 lakes. I wanted to venture out and try something new for the start of the Big Ten season. Since I didn't have any moose meat laying around and didn't know if gopher was even legal to eat, I decided to try some smoked fish. I went through the freezer looking for some walleye I had tricked into the boat last year on our Canadian fishing extravaganza but had no luck. The best I could do was a mess of fresh catfish filets a buddy of mine dropped off. They turned out to be extremely tasty and will be a staple moving forward for sure. Here is what you will need.
Ingredients:
• 1 Catfish filet (Per person)
• Buttermilk
• Hot Sauce (your favorite)
• Seasoning (your favorite BBQ rub will do)
Directions:
Cover and soak the fish filets in a mixture of buttermilk and your favorite hot sauce. I used about 1/8 cup of Franks Red Hot sauce and it came thru very mildly in the taste of the fish. Use as much or as little as you'd like.
After one hour in the buttermilk, remove the fillets and pat them dry with a paper towel. Season both sides with your favorite BBQ rub. Don't be shy!

Fire up the grill or smoker to 225-250 degrees. I love a good apple or pecan wood for fish as it won't overpower the fish flavor. Set the grill up for indirect heat and add the wood chunks. Once the smoke is flowing, place the seasoned fillets on the greased grill grates and close the lid.
This is a short cook, so don't plan on going far. After about 30 minutes, check the fish and make sure you are getting some good color. You will notice the fish is starting to sweat a little. This is a good thing.
After an hour, your fish should have a nice dark color with the edges starting to get a little crispy. We are about 15-30 minutes away from a finished Cajun smoked catfish dinner. After 90 minutes on the smoker, you should be able to poke the fish with your finger and it will flake. It should still be moist, but have some flakiness to it. This is when its done. I made some red beans and rice (out of the box) as a side and added some grilled lemon juice.

Thanks again for reading and let me know if you have any recipes to you would like me to try. I am always interested in new and tasty grilled goodies. Go Blue!
For more great recipes, photos, and barbecue ideas, follow Joe on Twitter at @mmmgoblubbq. And don't forget to check out his site, MmmGoBluBBQ, for recipes, product reviews, and more.