---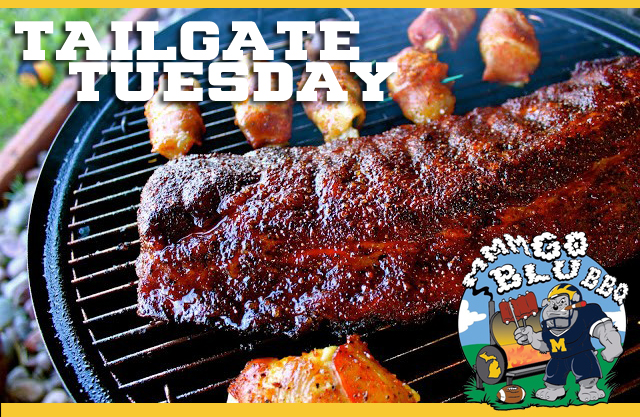 Tailgate Tuesday is our weekly collaboration with Joe from MmmGoBluBBQ. These will be posted each Tuesday throughout the season and each recipe will be themed around that week's opponent. 
Previously: Hot-'n-Fast pulled pork with Carolina mustard slaw, Irish stout pepper beef, Spatchcock RedHawk, Grilled Ravioli, Smoked "Land of 10,000 Lakes" Catfish, pork loin with mustard glaze.
Well, this season isn't quite going as planned, but let's not allow it to ruin our Saturday afternoon quest for the perfect BBQ. When I am having a bad day/week/month, one thing always cheers me up. Okay, two things. I love an icy cold "barley pop" along with a great rack of baby back ribs. For the purpose of this recipe, let's call them Brady back ribs. You can choose which "Brady" works best for this recipe. I'll go with that guy up in New England. My good buddy Bob is from Pennsylvania and is a huge Penn State fan and says that ribs are the only thing they cook at their tailgates. Bob is a good pal, so I trust he wouldn't lead me down the wrong BBQ path. Here is my GO TO when smoking a few racks. And get this: no sauce needed!!!!
Ingredients:
• Baby Back Ribs
• Worcestershire Sauce or Tobasco
• Apple Juice or Apple Cider
• Rub – (equal parts kosher salt, granulated white sugar, dark chili powder, Montreal steak seasoning). Add some cayenne for some heat (optional)
Directions:
Set up the smoker or grill for indirect heat at 250 degrees. I like to use pecan wood for my ribs. Any good fruit wood goes well with pork and can be substituted. This cook will go for about 4-5 hours overall. Select a meaty rack with some fat. FAT IS FLAVOR.
Remove the membrane from the back. Use a butter knife to pry loose an edge and then grab some paper towel to help peel it back. This little thing is slippery, so the paper towel really helps!!
Once the membrane is removed, I like to apply a little worcestershire sauce or tabasco sauce to help add flavor and hold the rub. Mustard also works, but I chose Worcestershire sauce for this one. Apply rub on both sides. I use a few tablespoons per side. Once the rub is applied, let it set for about 30 minutes.

Once your smoker/grill is at 250 degrees, it's time to add the wood chunks and add the rack. This will go for about two hours before you even think about peeking.
After two hours, we can take a "peeky" look. They should start to darken up and get a little crusty. This is a good thing.
Once we hit the three hour mark, I like to spray with a little apple juice to add some moisture. It also adds some nice apple flavor which goes great with pork.
After about four hours, they start to get a nice shiny glaze because of the sugars and juice combining. The crust has firmed up and has a bit of a crunch to it. Yumm!!!! Depending on the temperature you were cooking at, they might be done. I've had baby backs finish in as little as four hours and as many as six. BBQ is done when it's done. Simple as that.

The apple juice really adds a nice flavor and a nice look to the ribs. I also decided to throw on some stuffed japs, better known as "ABT's" or Atomic Buffalo Turds. Not a bad combo!
Once I hit five hours, it was time for the bend test. If they bend nearly in half, they are done. No need to check for internal temp with ribs. The bend test never fails. Notice how they bend nearly in half. The crusty top will start to split a little. This is another good sign.
Let cool for about five minutes and then it's time to slice 'em up. I like to flip them over to see where the bones are. The meat has started to pull back on the bones a little. Another sign that they are done. The pink ring on the ribs are because of the smoke penetration into the meat. A badge of honor for pitmasters. 🙂
These ribs were crusty on the outside and super juicy in the middle. I almost ate the entire rack by myself. This is a winner and easy to do. Give it a shot. Thanks for stopping by.

For more great recipes, photos, and barbecue ideas, follow Joe on Twitter at @mmmgoblubbq. And don't forget to check out his site, MmmGoBluBBQ, for recipes, product reviews, and more.