---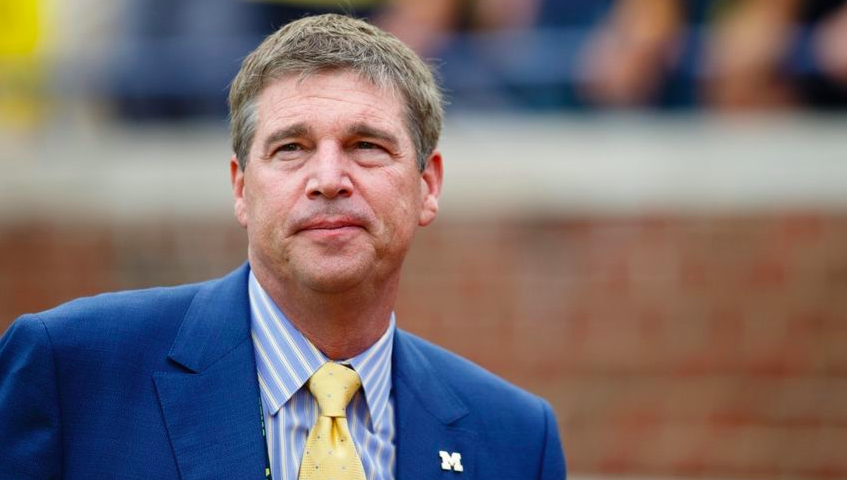 (Rick Osentoski, USA Today Sports)
University of Michigan president Mark Schlissel announced Friday that he had accepted the resignation of athletic director Dave Brandon and named former Steelcase CEO Jim Hackett as the interim athletic director.
"This morning I accepted the resignation of Athletic Director David Brandon," Schlissel said in a press conference. "Dave feels that it would be in the best interest of our student-athletes, the athletic department and the university community if he moved on to other challenges and allowed the important work of the department and university to continue without daily distractions. And I agree with this decision."
Brandon, who has been under fire all season for a wide range of issues such as rising ticket prices, the corporatization of Michigan football, and the handling of quarterback Shane Morris' concussion against Minnesota, formally stepped down after more than four years on the job. Brandon's departure had been rumored for weeks, but a string of email responses brought to light by mgoblog on Tuesday served as the final straw.
Brandon achieved many things during his tenure such as modernizing athletic facilities, making lacrosse a varsity program, and building a Bo Schembechler statue, but was ultimately judged on his hiring of Brady Hoke, whose football program has produced declining records in each of his four years.
While no timeline has been set forth for Brandon's replacement or the status of Hoke, Hackett will step in and help lead that process going forward. The 59-year-old Hackett graduated from Michigan in 1977 and played football with Brandon for Schembechler. He retired last February as CEO of Grand Rapids-based office furniture company Steelcase, where he served for 20 years. He's also a member of the board of advisors for the Gerald R. Ford School of Public Policy and the Life Sciences Institute.
"I am confident that Jim will immediately begin the process of moving the department forward, including working closely with me to develop a plan to identify and recruit Michigan's next permanent athletic director," Schlissel said of Hackett.
The leading candidates to replace Brandon are University of Connecticut athletic director Warde Manuel, Boston College athletic director Brad Bates, and University of Arkansas athletic director Jeff Long. All three have ties to Michigan. Manuel and Bates played for Schembechler, while Long spent 14 years in the U-M athletic department.
On Thursday, FootballScoop.com threw out another name: Oklahoma athletic director Joe Castiglione, indicating that Michigan may try to hire someone with no ties to the program to bring in some new ideas.
Schlissel touted Hackett's management of Steelcase as it transitioned from a traditional manufacturing company to an innovative global company, as well as his interpersonal skills and longstanding commitment to serving the university. Hackett thanked Brandon for his commitment to Michigan but pointed out two of his mentors whose legacy he will draw from as he leads Michigan through this change.
"My time as a student at Michigan introduced me to two people who would become lifelong heroes of mine," said Hackett. "Early on, there was Bo Schembechler, and the other was President Gerald Ford whom I met later in his life after he had retired from public office."
Both of them would be quite certain that the future of Michigan is not in doubt. They would be reminding all of us of the legacy of extraordinary performance in the classroom and on the field and how that unique combination puts us in a rare position."
As we gather for Homecoming weekend, and honor our shared history, I hope fans, former players, students and my fellow alumni can come together in support of our teams."
Michigan hosts Indiana at 3:30pm tomorrow.