---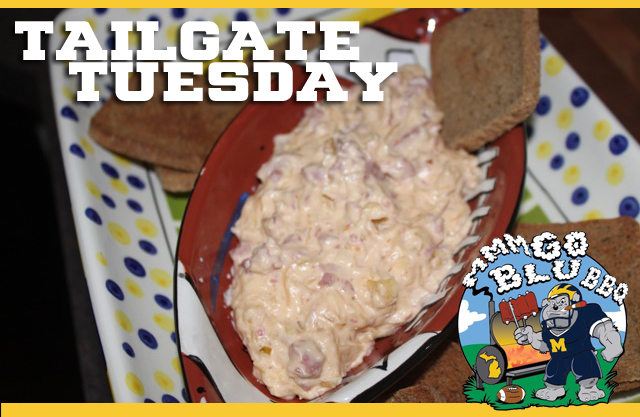 Tailgate Tuesday is our weekly collaboration with Joe from MmmGoBluBBQ. These will be posted each Tuesday throughout the season and each recipe will be themed around that week's opponent. 
Previously: Hot-'n-Fast pulled pork with Carolina mustard slaw, Irish stout pepper beef, Spatchcock RedHawk, Grilled Ravioli, Smoked "Land of 10,000 Lakes" Catfish, pork loin with mustard glaze, Brady Back Ribs,Moink Balls (a.k.a. Moinks), Caveman style Tri-Tip. 
When I think of Northwestern, I think of the the windy city. I also think of some very good friends that live in the Chicago area. Like most cities, they all claim to have the best food around and will argue nonstop if you want to. And by nonstop, I mean until the beers are all gone. I've visited Chicago on several occasions and each time came away with tighter fitting jeans. Not sure how that happens every single time.
There are two things I always order in Chicago and they cannot be avoided. The first is a good deep dish pizza (shocker) and the other is a big ol' reuben sandwich. I think the reuben is the perfect sandwich. It has it all and Chicago knows how to do it right. The following recipe is a favorite of mine when the cold weather rolls in and could not be any easier. Anything that involved the crockpot has to be easy, right? This is the simplest recipe we will make all season. Here is what you will need.
Ingredients:
• 1 (8-oz) cream cheese
• 1 (6-oz) swiss cheese
• 1/2 pound corned beef (chopped)
• 1 cup sauerkraut (drained)
• 1/2 cup Thousand Island dressing
• Rye cocktail squares
Directions:
Drain and rinse sauerkraut. Toss into crockpot along with the cream cheese, swiss cheese and corned beef and mix well. Allow the mixture to melt and get creamy. Once this happens, go ahead and add the Thousand Island dressing. Feel free to add more or less of the dressing as this has a huge effect on the overall taste. I love Thousand Island, so I added a little extra.

It takes about an hour on high to get all gooey and creamy. This dip does not need need any extra salt or pepper as the corned beef provides plenty of sodium.
Once its all mixed, I toasted some of those tasty cocktail rye squares. This is not mandatory, but did add some crunch. We all love the crunch, right?
If I could have found a bag of those little garlic rye chips that are in the Gardetto bags, I would have used those. They would have been perfect, but the grocery store was fresh out. Oh well, next time for sure. Thanks for stopping by and GO BLUE!

For more great recipes, photos, and barbecue ideas, follow Joe on Twitter at @mmmgoblubbq. And don't forget to check out his site, MmmGoBluBBQ, for recipes, product reviews, and more.