---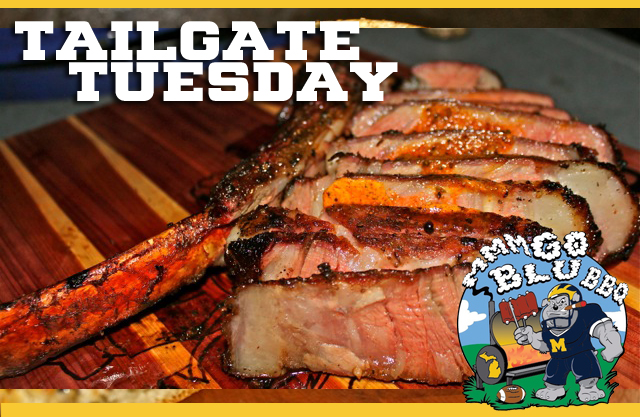 Tailgate Tuesday is our weekly collaboration with Joe from MmmGoBluBBQ. These will be posted each Tuesday throughout the season and each recipe will be themed around that week's opponent. 
Previously: Hot-'n-Fast pulled pork with Carolina mustard slaw, Irish stout pepper beef, Spatchcock RedHawk, Grilled Ravioli, Smoked "Land of 10,000 Lakes" Catfish, pork loin with mustard glaze, Brady Back Ribs,Moink Balls (a.k.a. Moinks), Caveman style Tri-Tip, Crockpot reuben dip.
The CAVEMAN Style of grilling is my new favorite way to cook steaks. Not only does it produce one of the most tender steaks ever, but it will impress any BBQ guests that are lucky enough to be on that day's invite list. The concept is simple. We are going to cook this beauty like the cavemen did back in the day. Directly on the fire. The key to this recipe is using LUMP CHARCOAL ONLY. Lump charcoal does not ash like your regular briquettes and burns much hotter. It's a more pure form of charcoal and will produce a great tasting char on the exterior of the meat.
Ingredients:
• Steak (ribeye, t-bone or flank steak)
• Salt 'n pepper
• Compound butter (mix and refrigerate)
• 1 stick of butter (room temp)
• 3 Tbsp of your favorite BBQ rub
Directions
Set your grill up for direct heat. Light your lump charcoal up until they are WHITE hot. As the coals are heating up, remove your steak from the fridge and let it rest for about 15 minutes on the counter. We want to bring the meat temperature closer to room temperature. Once the coals are white hot, even them out as much as you can so that we have an even cooking surface. It doesn't have to be perfect.
Season your steak with salt and pepper or a good steak rub. Use more than you normally would as a good amount will fall off during the cooking process. I double up my normal seasoning for this recipe. Once your steak is seasoned, toss it on the coals direct.
Make sure you have a long set of tongs handy as the temps are extremely hot. This style of cooking does not take long. The amount of time you leave it on the coals depends on how thick your steak is and the doneness that you prefer. I went with 3-4 mins per side for this big boy.

If it starts to get overly well done, you can remove it from the coals and finish on the grates. I like to keep my Thermapen handy for this recipe to check the internal temperature after about six minutes. I was looking for a 130 degrees on this one. Remember, the temperature will continue to rise about 5-7 degrees after you remove it from the heat.
Once it was removed, I added a few pats of the compound butter. This added some great flavor and could be added to just about anything coming off the grill. It's TASTY!!!! Make sure and remove from the heat when you do this and let it rest. The key to a tender steak is letting it rest for at least five minutes. I let it rest for 10 minutes because it was so thick. It was a long 10 minutes!
I sliced it off the bone and shared with some great friends and family. This cowboy ribeye was ridiculous. Super tender and full of flavor. I've done this with t-bones, ribeye's and flank steaks with huge success.

Give this a try and let me know how you like it. If you like a good crust on the exterior of your meat, this one is for you. GO BLUE!!!!
For more great recipes, photos, and barbecue ideas, follow Joe on Twitter at @mmmgoblubbq. And don't forget to check out his site, MmmGoBluBBQ, for recipes, product reviews, and more.