---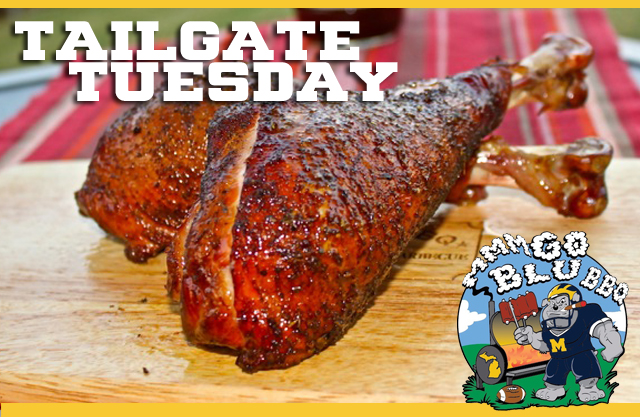 Tailgate Tuesday is our weekly collaboration with Joe from MmmGoBluBBQ. These will be posted each Tuesday throughout the season and each recipe will be themed around that week's opponent. 
Previously: Hot-'n-Fast pulled pork with Carolina mustard slaw, Irish stout pepper beef, Spatchcock RedHawk, Grilled Ravioli, Smoked "Land of 10,000 Lakes" Catfish, pork loin with mustard glaze, Brady Back Ribs,Moink Balls (a.k.a. Moinks), Caveman style Tri-Tip, Crockpot reuben dip, Caveman cowboy ribeye.
This is my favorite week of the year and for good reason. We have the best grilling day of the year and also have some huge football games on the schedule. Not only do I get to see my Lions play this Thursday, but I also get to watch the biggest rivalry in college football. We may be underdogs by more than 20, but it's still a huge game for the Maize and Blue. This recipe for smoked gobbler legs can be done a few days early and enjoyed as leftovers or done on the morning of the big game. Either way, you will love these. GO BLUE!
Ingredients:
• Turkey legs
• 1 Gallon of water (enough to cover turkey legs)
• 3/4 Cup brown sugar
• 1 Cup salt or Creole seasoning
• Your favorite rub (I will include a sample rub below)
• Cooking spray
Rub:
• Equal parts of each
• Paprika
• Onion powder
• Cavender's Greek seasoning
• Garlic powder
Directions:
Add brown sugar and salt or Creole seasoning to water and bring to rolling boil for about 5 minutes. This will allow time for the seasoning to dissolve. After the 5 minutes, remove from the heat and let cool to room temperature. I like to throw in some ice cubes to help cool quicker. After cooling the brine, it's time to throw in the turkey legs and brine and in the fridge for 12 hours or overnight.
Fire up the grill or smoker to 275-300 degree range and add some fruit wood for flavor. I love pecan wood for this recipe. While the smoker is heating up, remove your turkey legs from the brine and pat dry with some paper towel. I sprayed the legs with some cooking spray and added some rub. The spray helps crisp the skin a little and also helps the rub stick.

Once these are on the smoker, kick back and relax. We are a few hours until pure greatness. After about two hours, they will be nearing 160 degrees internally. You will also see the skin start to crisp up a little. Once we get to 165 degrees, they are done.
Once you get to 160-165 degrees, you can add some sauce if you'd like. These are great either way. Apply your sauce and let go for another 10 minutes. Once the sauce thickens up, you can remove and start chomping like Fred Flintstone. Let's admit it, things are always more fun to eat when they have a built in handle.
Make a mess of these on Turkey Day and save for the big game on Saturday. These are even better as leftovers. Your tailgating buddies will love these and beg for the recipe. Let me know what you think! Go BLUE!!!!

For more great recipes, photos, and barbecue ideas, follow Joe on Twitter at @mmmgoblubbq. And don't forget to check out his site, MmmGoBluBBQ, for recipes, product reviews, and more.