---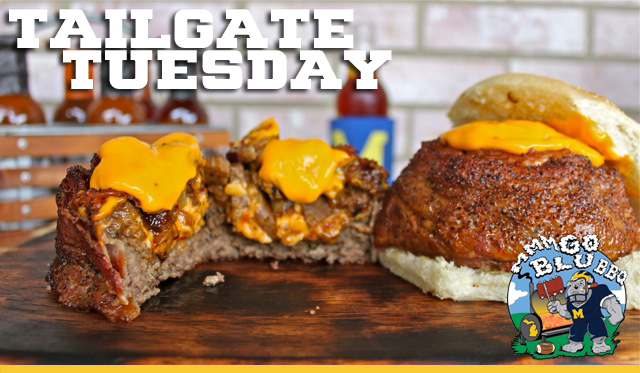 Tailgate Tuesday is our collaboration with Joe Pichey from MmmGoBluBBQ. These will be posted each Tuesday throughout the football season and each recipe will be themed around that week's opponent. 
Previously: Hot-'n-Fast pulled pork with Carolina mustard slaw, Irish stout pepper beef, Spatchcock RedHawk, Grilled Ravioli, Smoked "Land of 10,000 Lakes" Catfish, pork loin with mustard glaze, Brady Back Ribs,Moink Balls (a.k.a. Moinks), Caveman style Tri-Tip, Crockpot reuben dip, Caveman cowboy ribeye, Smoked Gobbler Legs, Pull apart Cheesy Bread.

Nothing says 4th of July BBQ like a good ol' burger. Whether you grill it, smoke it, fry it in a skillet or pick one up at the local pub, it's the "go to" on this great holiday. Here is a new version on this old favorite that you should try. It's called the Beer Can Burger and is the new craze on social media. The options are endless on this one, so go nuts. Here is how it's done:
Ingredients:
• 2 pounds of 80/20 ground chuck (this will make 8 burgers)
• Onions and mushrooms
• 1 Tbsp butter
• Nacho cheese
• 16 slices cheddar cheese
• 16 slices of bacon
• 8 hamburger buns
Directions:
Set grill up for indirect heat. We are shooting for a grill temperature of about 275 degrees. Add a few chunks of pecan wood for smoke (optional). While the grill is heating up, divide the ground chuck into half-pound patties. Press a full beer can into the middle of each (or in this case, a Monster energy drink) forming a cup around the bottom of the beer can.

The walls of the burger should be about one inch high. Make sure the meat thickness is even all the way around the can so we get even cooking throughout. Wrap each burger with two pieces of bacon and secure with a toothpick. Dust the entire burger with your favorite BBQ rub.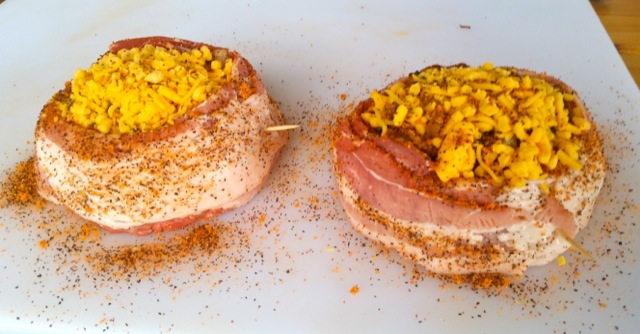 Sauté your onions and mushrooms in butter until softened. This will take approximately five minutes on medium heat. Place some cheddar cheese in the bottom of the burger and fill with veggies. Add another layer of tasty cheese and they are ready for the grill. I also made one with leftover brisket and pimento cheese. Mmmmmmmmm good. Place the Beer Can Burger on the grill and cook until your desired doneness.
These typically take between 60 and 90 minutes to cook. Once the bacon is crispy and the meat has reached your ideal level of "pinkness", top it with some nacho cheese and cook for five more minutes. Remove and place on your favorite bun along with your favorite burger condiments.
These are perfect for the July 4th holiday and your guests will love them. Happy 4th everyone. Go Blue!!!!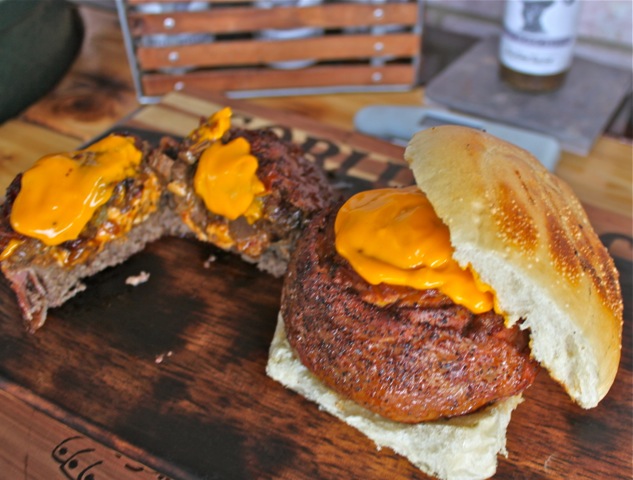 For more great recipes, photos, and barbecue ideas, follow Joe on Twitter at @mmmgoblubbq. And don't forget to check out his site, MmmGoBluBBQ, for recipes, product reviews, and more.