---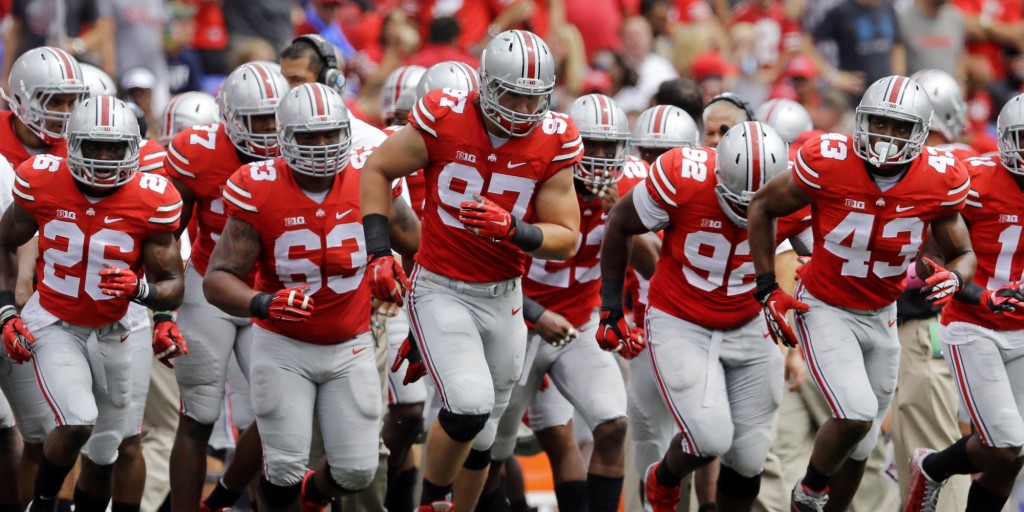 (AP photo)
Less than eight weeks remain before Michigan football returns. Not only will the Wolverines kick off a new era of Michigan football, but they will open up the entire college football season on Thursday, Sept. 3 at Utah. Minnesota faces TCU that same night, while Michigan State and Illinois follow on Friday night. The majority of the Big Ten plays on Saturday as usual, but visits Marshall on Sunday and Ohio State caps the weekend with a trip to Virginia Tech on Monday night.
As we look forward to a new season, it's time to take a look at one indicator of how the Big Ten might play out. A couple of weeks ago we reviewed how returning production factored into each team's success in 2014. Maryland had the most but finished in the middle of the pack. Ohio State had the least but won the Big Ten and national title. So what does it look like as we enter the 2015 season? Let's take a look.
Offense
Returning offense
Team
Percent Returning
2014 Total Offense Rating
Ohio State
88%
9
Penn State
81%
111
Nebraska
69%
31
Illinois
63%
94
Michigan
62%
112
Wisconsin
60%
21
Rutgers
55%
73
Minnesota
54%
103
Michigan State
54%
11
Northwestern
51%
104
Purdue
48%
108
Iowa
41%
63
Indiana
40%
61
Maryland
29%
109
Returning scoring offense
Team
Percent Returning
2014 Scoring Offense Rating
Ohio State
83%
5
Michigan
64%
109
Penn State
64%
110
Nebraska
61%
12
Illinois
58%
84
Northwestern
58%
98
Rutgers
55%
80
Minnesota
54%
66
Wisconsin
51%
27
Purdue
47%
95
Michigan State
44%
7
Maryland
36%
65
Indiana
35%
87
Iowa
31%
68
While Michigan has made the headlines all offseason thanks to the antics of Harbaugh, its chief rival, Ohio State, is the reigning national champions and looks to be even stronger this season. The Buckeyes return the most total offense and scoring offense of any team in the Big Ten. The Buckeyes lost just 112 total rushing yards and four of 41 rushing touchdowns. Receiver Devin Smith's 931 yards and 12 touchdowns will need to be replaced, but that's the only significant loss among offensive skill position players, and OSU returns four starting offensive linemen. With 88 percent of the nation's ninth-best offense and 83 percent of the nation's fifth-best scoring offense returning, it's no wonder Ohio State is the hands-on favorite to win the Big Ten and play for the national title once again. And those numbers don't even include two-time Big Ten offensive player of the year Braxton Miller, who missed all of 2014 with a shoulder injury. In other words, the Buckeyes are stacked.
Penn State returns the second most offensive production with 81 percent of its offense and 64 percent of its scoring. However, while Ohio State's offense ranked among the nation's best last season, Penn State's was among the nation's worst, ranking 111th in total offense and 109th in scoring offense. Eight starters return, most notably quarterback Christian Hackenberg who enters his third season as a starter. Leading rusher Akeel Lynch and the top two leading receivers, DaeSean Hamilton and Geno Lewis, are also back. The offensive line, which was the source of most of Penn State's troubles last season, returns four starters and brings in a couple of transfers to vie for the fifth spot.
Nebraska, Illinois, and Michigan each return about the same amount of offense. The Cornhuskers have 69 percent of their 31st-ranked offense and 61 percent of their 12th-ranked scoring offense coming back. However, they'll have to replace running back Ameer Abdullah's 1,611 yards and 19 touchdowns, as well as Kenny Bell's 788 receiving yards and six touchdowns. Illinois brings back 63 percent of its offense and 58 percent of its scoring returning. The top four receivers and leading rusher are back along with quarterback Wes Lunt. However, leading receiver Mike Dudek, who topped 1,000 yards a year ago, will miss some time after tearing his ACL in the spring.
Michigan returns 62 percent of its total offense and 64 percent of its scoring offense. Like Penn State, Michigan's offense was miserable a year ago. Devin Funchess is the big loss, accounting for 36 percent of Michigan's receiving yards. Jehu Chesson will have to step into a larger role in the pass catching department. Quarterback Devin Gardner is gone, but Iowa transfer Jake Rudock brings 2,436 yards (540 more than Gardner) and 16 touchdowns (six more) to the table. While Michigan has the second most returning touchdowns percentage-wise, the 34 touchdowns are well short of Ohio State's 102.
Of the group in the middle of the pack of returning production, Wisconsin had the best offense last season. The Badgers return 60 percent of the nation's 20th-best total offense and 51 percent of the 27th-best scoring offense. Melvin Gordon's 2,740 total yards and 32 touchdowns make up nearly all of the team's lost production.
Michigan State, which was the only Big Ten team with an offense similar to Ohio State's in 2014, returns 54 percent of the 11th-ranked offense, but just 44 percent of the seventh-best scoring offense. Thirty-seven of the Spartans' 43 rushing touchdowns and 16 of 26 receiving touchdowns are gone. But with quarterback Connor Cook returning Michigan State's offense should still be strong if it can find skill position players to step up.
Maryland, which entered last season with nearly its entire offense returning (97.5 of its total offense and 94.4 percent of its scoring offense), is on the other side of the coin entering this fall. The Terrapins return just 29 percent of their total offense and 36 percent of their scoring. Quarterback CJ Brown, who also led the team in rushing, as well as the top four receivers, will need to be replaced.
Defense
Returning defense
Team
Percent Returning
2014 Total Defense Rating
Ohio State
74%
19
Illinois
71%
109
Northwestern
67%
53
Michigan State
67%
8
Michigan
63%
7
Minnesota
62%
39
Wisconsin
61%
4
Purdue
60%
80
Penn State
59%
2
Rutgers
57%
98
Nebraska
56%
52
Iowa
56%
22
Indiana
53%
93
Maryland
44%
95
Entering last season, the top three defenses in the Big Ten from 2013 had the least production returning. Still, those three teams – Michigan State, Iowa, and Wisconsin – finished among the top six in total defense the Big Ten in 2014. Entering this fall, the top three defenses from last season — Penn State, Wisconsin, and Michigan — stand in the middle third of the conference in terms of returning production (tackles, tackles for loss, sacks, and takeaways).
Penn State had the Big Ten's best defense a year ago, allowing just 278.7 yards and 18.6 points per game. The Nittany Lions return 59 percent of last season's production, which ranks ninth in the conference. Linebacker Mike Hull, who led the team with 140 tackles and ranked third with 10.5 tackles for loss, will have to be replaced, but the next five leading tacklers are all back. Head coach James Franklin will also have to replace both defensive ends, who combined for nine sacks, but he does have tackle Anthony Zettel, who led the team with eight, back.
Wisconsin featured the Big Ten's second best defense and scoring defense last season and the nation's fourth-best total defense. Despite losing two of their top three tacklers, linebackers Marcus Trotter and Derrick Landisch, the Badgers return 61 percent of last season's proaction.
Michigan, meanwhile, ranked third in total defense and fifth in scoring defense last season and returns the fifth-most production at 63 percent. Leading tackler Jake Ryan is gone, but will be backfilled by fifth-year senior Desmond Morgan who recorded 229 tackles from 2011-2013 before missing last season with an injury. The defensive line lost a combined 21 tackles for loss and 10 sacks from ends Frank Clark and Brennen Beyer, but the core of the defense — especially the back seven — is back.
Michigan State had the conference's fourth-best total defense and third-best scoring defense a year ago, and returns 67 percent this year. The top two returning tacklers, Kurtis Drummond and Taiwan Jones, as well as the best corner, Trae Waynes, are gone. The three accounted for 36 percent of MSU's takeaways.
The team with the most returning production this season is the same team that also returns the most offensive production, the defending Big Ten and national champion Ohio State Buckeyes. Seventy-four percent of the defense that ranked fifth in the Big Ten and 19th nationally is back in action this fall, including the top four tacklers and top two in sacks, Joey Bosa and Darron Lee. In fact, even though they lose 11 sacks, Ohio State returns 33.5 sacks, which would have ranked fourth in the Big Ten last season. The Bucks also bring back 72 percent of their takeaways from a unit that ranked second in that category in 2014.
Rutgers, Nebraska, Iowa, and Indiana all return between 57 percent and 53 percent of their defenses, though they ranked between sixth (Iowa) and 13th (Rutgers) in the Big Ten in total defense a year ago. The Hawkeyes have to replace their top two tacklers and more than 50 percent of their tackles for loss and sacks. Nebraska has to replace four of their top five tacklers, including defensive end Randy Gregory who led the team with seven sacks. Rutgers has 71 percent of their sacks coming back from unit that ranked fourth in the Big Ten in that category, but behind the front four the Scarlet Knights have a lot of holes to fill. Indiana brings back just five starters from a defense that allowed the second most points in the conference last season.
Finally, the team that returned the most defense last season returns the least this year. Maryland is the only Big Ten squad with less than 50 percent of last season's defensive production returning. The Terrapins return just 44 percent of last year's 95th-ranked defense. Only four starters return, most notably corners Sean Davis and Will Likely, but nearly the entire front seven has to be replaced.
Conclusion
Ohio State is in the same spot Maryland was entering last season. The Buckeyes have the most returning production across the board. However, the Buckeyes are in a much better spot to allow that production to pay off. Whereas Maryland ranked 77th, 83rd, and 44th in total offense, scoring offense, and total defense in 2013, Ohio State ranked ninth, fifth, and 19th, respectively, last season. Ohio State, Michigan State, Wisconsin, and Iowa just plugged in talent on defense and didn't miss a beat last season, and all four return more this fall.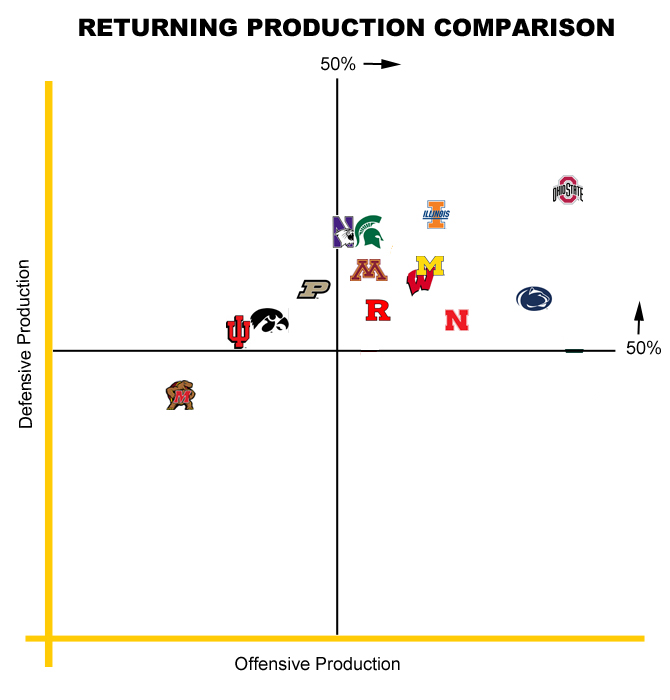 According to the chart above, Rutgers is in the exact spot Ohio State was entering last season. Does that mean the Scarlet Knights will roll through the Big Ten and into the College Football Playoff? Probably not since the Buckeyes stand alone atop the chart. Last year, there was only one offense returning less than 50 percent of its production. This year there are four, so we could see a decline in offense across the league. Nine of the league's 14 primary quarterbacks return, in addition to Rudock, who will likely start for Michigan, and Ohio State's three-headed monster.
It will be interesting to see how this plays out this fall, but of course this is just one metric to use when predicting performance. Stay tuned for our individual team previews over the course of the next seven weeks as well as our Michigan position previews and other season preview content.