---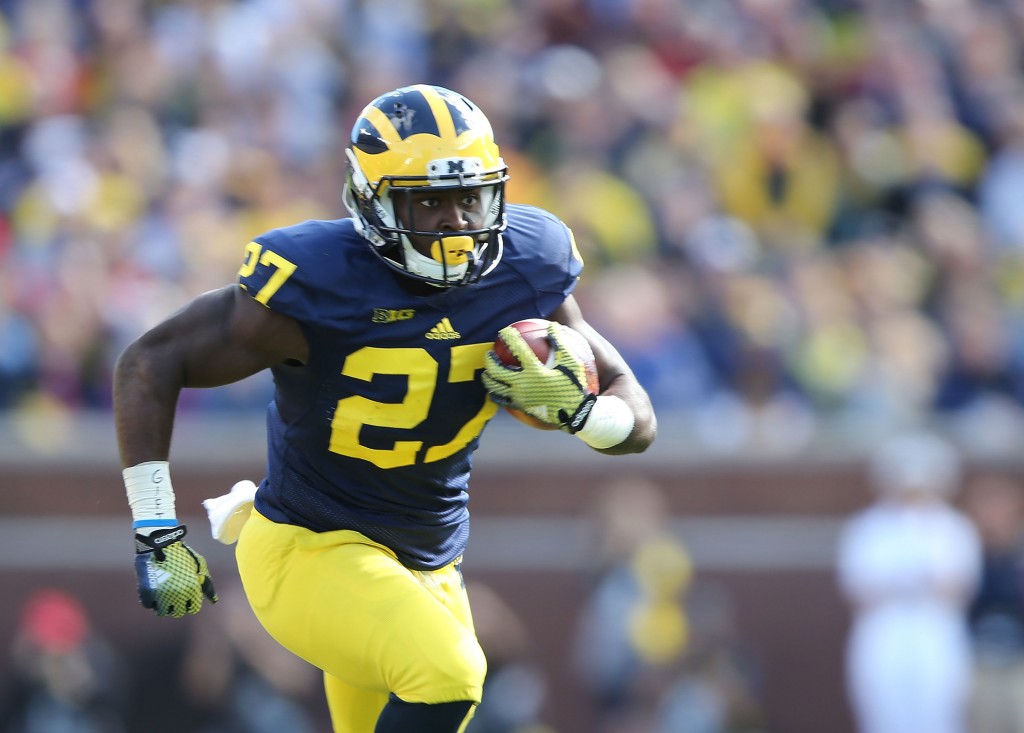 It seems long ago that five-star recruit Derrick Green's commitment to the University of Michigan sent former head coach Brady Hoke into tears of joy. Ever since that day (Jan. 26, 2013), Michigan's offense has left fans crying for another reason.
Though much of the blame for the team's poor rushing performance over the past few years belongs to the offensive line, a few highly-regarded running backs have certainly struggled to live up to the hype. Green and classmate De'Veon Smith, once regarded near-elite talents in the running game, have failed to combine for 1,000 rushing yards in a single season midway through their college careers.
With an improving offensive line and even more viable options in the backfield, the rushing game should see a marked improvement in 2015.
Potential starters
For a team that struggled to rush the ball consistently under Hoke, Michigan does return a slew of potential weapons for Jim Harbaugh's maiden voyage. Perhaps the most interesting case is that of Drake Johnson, who took the reins in the second half of last season before an injury ended his campaign a few quarters early at Ohio State.
Johnson earned a chance at the top spot against Indiana, when he rushed for 122 yards and two scores on 16 carries. Though he only gained 30 yards on 10 carries against Northwestern, the junior finished on a strong note, gaining 168 yards and scoring twice on 29 carries in the team's final two games. He averaged just over six yards per carry in 60 total attempts and scored four touchdowns. If he fully recovers in time for the season, Johnson will get a shot to win the starting job.
But even with a full recovery, Johnson's ceiling is much lower than that of Derrick Green, who started to run more effectively before breaking his collar bone midway through the 2014 season. Green rushed for 170 yards on 15 carries in the opener against Appalachian State and averaged 6.2 yards per carry against both Miami (Ohio) and Rutgers.
Unfortunately for the Wolverines, Green didn't show up to the two biggest games of his season, rushing for only 31 yards on 19 combined carries against Notre Dame and Minnesota. As a freshman in 2013, Green averaged fewer than four yards per carry in eight of the 11 games he played in and failed to record a single 100-yard game.
Green offers the best combination of power and athleticism in the Michigan running back unit, which should give him a leg up as the Wolverines transition into a more power-based offensive attack under Harbaugh. But the junior will ultimately have to find his consistency and earn the job on the field, something he's been unable to do through two seasons.
De'Veon Smith, often the forgotten man behind Green — and later Johnson — in the rotation, stood as the only Michigan back to carry the ball in every single game last season. Smith led the team with 519 yards and six touchdowns on the ground and averaged a solid 4.8 yards per carry.
Though Smith developed a bit of a nose for the end zone last season, he earned only 108 carries in 12 games and gained over 60 yards in a game only twice – a 115-yard effort in the opener against Appalachian State and a 121-yard game in Northwestern.
Smith is the most stable running back on Michigan's depth chart; he has neither an outstanding chance to over perform nor a colossal chance to fail. The best case scenario for Michigan would be one of the more explosive backs earning the starting job so that Smith can slot into a productive backup role he clearly deserves.
The final piece of the starting running back puzzle is USC transfer Ty Isaac, who came to Ann Arbor after one season with the Trojans. Isaac received only 40 carries for USC as a true freshman in 2013, averaging 5.9 yards per carry and scoring two touchdowns.
A former five-star recruit out of Illinois, Isaac stands at 6-foot-3 and weighs around 240 pounds. If he does win the job, he's got the best body to become a workhorse and take over the Michigan offense. He was a single-cut back coming out of high school with good burst and quick feet for his size. Isaac can also be a weapon in the passing game, which can only help his chances with a new quarterback taking over the system.
My initial reaction to this four-man battle for the starting job was that Green and Johnson, who each put together solid half-seasons before injuries last season, would head into the season as frontrunners. But Isaac's size and agility might actually be the deciding factors if he can shake off the rust from a year on the sideline.
New running backs coach Tyrone Wheatley has a tough decision ahead of him in naming a starting back, but too much talent is a good problem to face.
Projected Stats – Isaac

Rushing Attempts
Rushing Yards
YPC
TDs
YPG
120
672
5.6
8
51.7
Career Stats
2013*
40
236
5.9
2
16.9
Totals
40
236
5.9
2
16.9
*All at USC
Projected Stats – Green

Rushing Attempts
Rushing Yards
YPC
TDs
YPG
95
510
5.4
6
39.2
Career Stats
2014
82
471
5.7
3
78.5
2013
83
270
3.3
2
20.8
Totals
165
741
4.5
5
39.0
Projected Stats – Johnson

Rushing Attempts
Rushing Yards
YPC
TDs
YPG
60
340
5.7
4
26.2
Career Stats
2014
60
361
6.0
4
30.1
2013
2
9
4.5
0
9.0
2012
0
0
N/A
0
N/A
Totals
62
370
6.0
4
28.5
Projected Stats – Smith

Rushing Attempts
Rushing Yards
YPC
TDs
YPG
50
235
4.7
6
18.1
Career Stats
2014
108
519
4.8
6
43.3
2013
26
117
4.5
0
9.8
Totals
134
636
4.7
6
26.5
Newcomer
Michigan added another piece to the running back corps through recruiting this spring, flipping three-star Karan Higdon from Iowa at the last minute. The 5-foot-10, 190 pound back rushed for 15 touchdowns and nearly 1,000 yards on 185 carries as a junior and gives Michigan a quick outside runner who can make defenders miss in the open field.
Higdon committed to Wheatley on Feb. 4 as one of the first recruits to join Harbaugh's class. He's a north-south runner, which will fit well into the new offensive scheme, and has above-average power for a light back.
With the four upper classmen mentioned above, it's possible that Higdon will take a redshirt as a freshman, perhaps to add more weight before hitting the field in 2016. But as the only guy on the team who was actually recruited by Harbaugh, don't count anything out.
Projected Stats – Higdon
Redshirt or very little playing time this fall
Meet the rest
Antonio Whitfield, junior, 5'4″, 160, from Canal Winchester, Ohio, no career stats
Junior Wyatt Shallman's claim to fame so far in his first couple of years at Michigan was adopting a wallaby last month. On the field, he has recorded just one carry in last year's season opener against Appalachian State. He was featured in the spring game in April, gaining 22 yards on 12 carries while Johnson and Isaac sat out, but in a crowded backfield he won't see much time this fall.
Projected Stats – Shallman

Rushing Attempts
Rushing Yards
YPC
TDs
YPG
5
21
4.2
0
1.6
Career Stats
2014
1
5
5.0
0
0.4
2013
0
0
N/A
0
N/A
Totals
1
5
5.0
0
0.4