---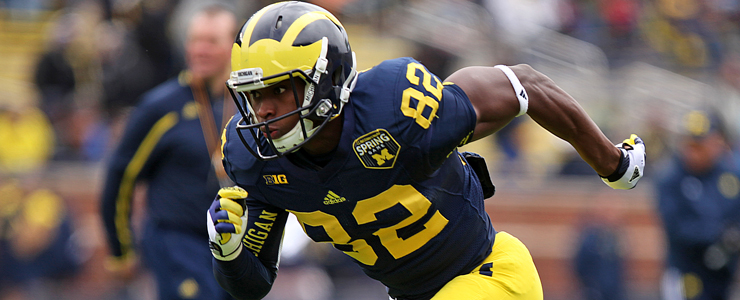 (Matt Pargoff, Maize and Blue News)
For the last several years, Michigan football has seen a drop-off in the production of its wide receiver unit. Though struggling quarterbacks surely deserve a share of the blame, the Wolverines have sorely missed an offensive playmaker of the Braylon Edwards-Mario Manningham-Jason Avant caliber.
Well, Michigan doesn't have a wideout of that caliber on the current roster; at least, not that we've seen so far. But there are a few solid returning options and some new additions with upside that Jim Harbaugh hopes to turn into a dangerous receiving corps.
Returning leaders
Michigan returns only one wide receiver who made a significant contribution to the offense in 2014, redshirt junior Amara Darboh. Darboh, who came into camp in 2013 primed for a breakout year, missed his whole sophomore season due to injury and settled for a return to the field in Brady Hoke's final year.
Darboh was the team's best receiver behind Devin Funchess, catching 36 passes for 473 yards and two touchdowns. He set career highs against Indiana when he caught nine passes for 107 yards, including a 34-yard catch that marked his longest of the year. The 6-foot-2, 216-pound Darboh developed into Devin Gardner's favorite third down target and made some big catches for a Michigan offense that struggled to put together consistent drives.
Jehu Chesson spent much of the season lined up alongside Darboh, but caught just 14 passes for 154 yards. Chesson tried to fill Darboh's void in 2013, catching 15 passes for 221 yards as a sophomore. But he never broke out in a disappointing sequel last year, catching three passes in a game only once and never gaining more than 34 yards.
Chesson and Darboh are the most experienced wide receivers Michigan carries into the 2015 season, and even though they caught only 50 passes for a combined 627 yards last year, they're likely the frontrunners to win starting jobs.
Projected Stats – Darboh

Receptions
Yards
YPC
Long
TDs
YPG
60
620
10.3
5
47.7
Career Stats
2014
36
473
13.1
34
2
39.4
2013
0
0
N/A
N/A
0
N/A
2012
0
0
N/A
N/A
0
N/A
Totals
36
473
13.1
34
2
20.6
Projected Stats – Chesson

Receptions
Yards
YPC
Long
TDs
YPG
25
240
9.6
3
18.5
Career Stats
2014
14
154
11.0
28
0
14.0
2013
15
221
14.7
58
1
17.0
2012
0
0
N/A
N/A
0
N/A
Totals
29
375
12.9
58
1
15.6
Returning contributors
Once you get past Darboh and Chesson, factor in the loss of Funchess and potential departure of Dennis Norfleet, there's little left to celebrate about the returning Michigan receivers.
Perhaps Freddy Canteen, who had a dynamite spring and put on a show with Gardner in last season's spring game, will turn into the guy who was outrunning cornerbacks during camp before catching just five passes during the season. Canteen is a former four-star recruit who was touted for his size and athleticism after committing to Michigan in June of 2013. At best, Canteen could give the starting quarterback a Greg Mathews-type target who can go up and get the ball over defenders and make plays over the middle of the field.
Two guys who could factor into the mix this season but caught only one pass each in 2014 are Bo Dever and Da'Mario Jones. Jones should have been exactly what the offense needed in 2014. His strengths as a three-star recruit in the class of 2012 were dependable hands and beating defenders to the ball, but he caught just one pass for 11 yards against Miami (Ohio). Dever, who played in 10 games but made just one catch for 26 yards last season, is entering his senior year. The lightly-recruited wideout clearly worked himself into the rotation, but he was rarely targeted by Gardner.
Projected Stats – Canteen

Receptions
Yards
YPC
Long
TDs
YPG
25
300
12.0
2
23.1
Career Stats
2014
5
22
4.4
8
1
2.0
Totals
5
22
4.4
8
1
2.0
Projected Stats – Dever

Receptions
Yards
YPC
Long
TDs
YPG
20
130
6.5
1
10.0
Career Stats
2014
1
26
26.0
26
0
2.6
2013
0
0
N/A
N/A
0
N/A
Totals
1
26
26.0
26
0
2.4
Projected Stats – Jones

Receptions
Yards
YPC
Long
TDs
YPG
10
80
8.0
0
6.1
Career Stats
2014
1
11
11.0
11
0
1.6
2013
0
0
N/A
N/A
0
N/A
Totals
1
11
11.0
11
0
0.6
Dark horses
If you're looking for a diamond in the rough or a potential breakout receiver for Michigan during the upcoming season, there are two players who have an outside shot of making a huge difference.
As of Monday, Harbaugh revealed that he's open to the possibility of using safety Jabrill Peppers on offense, where he thrived as a freak athlete in high school.
Peppers hauled in 57 passes for 842 yards and 17 touchdowns as a receiver in high school, and although he could also fit into the running back rotation, the receiving corps is a greater need for Michigan and could get a huge boost from an elite talent like Peppers. Peppers is one of the best pure athletes in the country and is fully healthy as the start of the season approaches. If he sees significant snaps on offense, he'll instantly become the most dangerous threat on the field for the Wolverines.
Another under the radar addition to the offense is former four-star receiver Drake Harris, who missed the entire 2014 season due to a hamstring injury. Harris was one of the top receiver recruits in the country last season because of his elite athleticism and reliable catching ability. In high school he was a deep threat, which Michigan sorely needs, and consistently beat defenders for the jump ball.
Peppers and Harris weren't even on the offensive radar last season due to injury, but that doesn't mean they can't return and be the two best playmakers on the field as redshirt freshmen. The best case scenario for Michigan would be for at least one of these guys to grab the reins and lead an otherwise uncertain receiving corps.
Projected Stats – Peppers

Receptions
Yards
YPC
Long
TDs
YPG
30
350
11.7
3
26.9
Career Stats
2014
0
0
N/A
N/A
0
N/A
Totals
0
0
N/A
N/A
0
N/A
Projected Stats – Harris

Receptions
Yards
YPC
Long
TDs
YPG
30
280
9.3
3
21.5
Career Stats
2014
0
0
N/A
N/A
0
N/A
Totals
0
0
N/A
N/A
0
N/A
Incoming freshmen
Michigan has one potential game-changing wide receiver in the 2015 recruiting class: Brian Cole. The Saginaw native joins Michigan as the top receiver in the Midwest and brings another big target into the mix. Cole is 6-foot-2 and over 200 pounds but still ran a 4.37 40-yard dash during his recruitment. That combination, along with his good hands, could make Cole a top target for whoever wins the quarterback job this fall.
The key for Cole is the transition to a full-time wide receiver this pre-season. He spent most of his high school career playing running back and safety and will have to develop solid route-running skills to make an immediate impact as a freshman.
Projected Stats – Cole

Receptions
Yards
YPC
Long
TDs
YPG
25
300
12.0
2
23.1
Meet the rest
Kenneth Sloss — junior, 5'11", 160 from Monroe, Mich. (Monroe), no career stats
Jack Wangler — junior, 6'1″, 201 from Royal Oak, Mich. (Warren De La Salle), no career stats
Jaron Dukes — junior, 6'4″, 204 from Columbus, Ohio (Marion Franklin), no career stats
Brad Anlauf — senior, 6'4″, 199 from Hinsdale, Ill. (Hinsdale Central), no career stats
Maurice Ways — sophomore, 6'4″, 205 from Beverly Hills, Mich. (Detroit Country Day), no career stats