---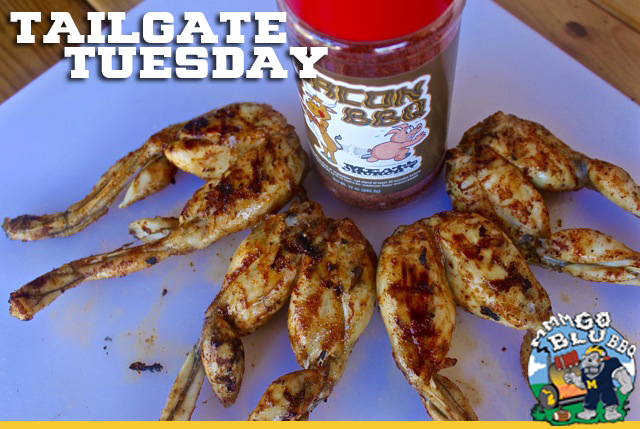 Tailgate Tuesday is our weekly collaboration with Joe Pichey from MmmGoBluBBQ. These tailgate recipes will be posted each Tuesday throughout the football season and most of the time will be themed around that week's opponent. Meat Church, a Dallas, Texas based BBQ joint sponsors this feature by providing their killer rubs for use in the recipes. Buy them here. 
It's been a long off season with plenty of change. The hype train is operating at full speed and will only pick up steam as the season progresses. I cannot wait to see how this team matures and takes shape over the next few months. The same goes for our tailgatin' journey. We have some fun and tasty recipes on tap and a great new sponsor.
If you watch BBQ Pitmasters, you will no doubt recognize Meat Church, a.k.a. the "GREATEST HAIR in BBQ". Matt has agreed to sponsor our weekly tailgate posts as well as the weekly Five Spot Challenge. Matt is a HUGE Bama fan, but an even bigger football fan, so he's okay with us. He has some of the best rubs on the market and is a good dude, so give the MEAT CHURCH rubs a shot.
For this week's recipe, I decided to go with something a little off the wall and get things "HOPPING" in the right direction. (RIM SHOT).
Ingredients:
• Frog legs
• 12-pack of your favorite beer
– Note: only one will be used for the marinade. The other 11 can be disposed of at your leisure
• 1/4 cup sriracha sauce
• 1/4 cup honey
• 2 TBSP mustard
• Meat Church Bacon Rub
Directions:
Mix together a half cup sriracha sauce, 1/4 cup honey, two TBSP mustard and one can of beer and add to Ziplock bag. Reserve about 1/4 of your mixture for basting. Add frog legs to the Ziplock bag and let marinate for four to eight hours.

Set up your grill for medium, direct heat. I also like to throw a few wood chunks on once the coals are hot. Pecan is a favorite of mine and adds a nice mild smoke that will compliment the legs nicely. After four to eight hours, remove the frog legs from the bag and pat dry. Sprinkle with the MEAT CHURCH Bacon Rub and set aside. Once the coals are hot, oil the grates and place over direct heat. These are a lot like chicken and will cook fast. Don't walk away.
After about four minutes, flip the legs over. You should have some nice grill marks by now. At this time, you can start basting with your reserve mixture.
You will notice the meat starting to pull away from the bones (just like ribs). This means we are almost done. You do not want to overcook these as they can get tough and chewy. After about four minutes on side two, we are done. They take less than 10 minutes over medium heat. Doesn't get much easier than that. The marinade and bacon rub go really really well together. We've got some heat and a little sweetness along with everyone's favorite flavor of BACON!!!! This is a perfect tailgate recipe as the marinating can be started before you leave the house and the cooking time is really quick. Give it a shot and let me know what you think. GO BLUE.


Visit Meat Church to purchase their new Bacon BBQ rub or any of their other great rubs and seasonings. You can follow Joe on Twitter at @mmmgoblubbq.