---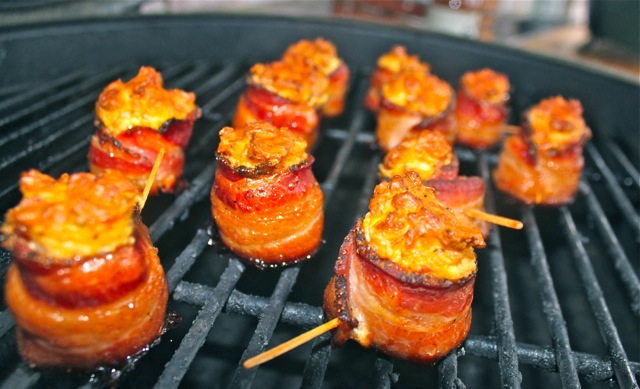 Tailgate Tuesday is our weekly collaboration with Joe Pichey from MmmGoBluBBQ. These tailgate recipes will be posted each Tuesday throughout the football season and most of the time will be themed around that week's opponent. Meat Church, a Dallas, Texas based BBQ joint sponsors this feature by providing their killer rubs for use in the recipes. Buy them here. 
Previously: Frog legs, smoky spiced beaver nuts, build the perfect tailgate smoker, or visit our whole library of recipes here.
This is the week we see what the defense is made of. I assume coach has the team working on knocking down the Hail Mary as this accounts for 25 percent of BYU scores so far this year. Don't check my math as I may be exaggerating just a bit.
Anyway, I have a buddy that attended BYU back in the 90s and he claims this recipe was his "GO TO" on game days. I could not wait to make this as it includes several of my favorite grilling ingredients. I have bacon, polish sausage, and cream cheese, so how can this not be great? Sprinkle on some MEAT CHURCH Honey Hog rub and we're in business. You will love this quick and easy appetizer and your guests will too.
• Polish Sausage or Kielbasa
• Bacon
• Pineapple Cream Cheese
• Meat Church Honey Hog Rub
Set your grill or smoker up for indirect heat and shoot for a temperature of 275 degrees. Add a few chunks of apple or pecan wood for some sweet smoke. Slice sausage in half-inch slices and roll in bacon. Make sure to leave enough room in the top for cream cheese filling. Secure with toothpick.
If you can't find pineapple cream cheese, just go with the regular stuff and add some pineapple chunks to the mix. I love the sweetness that the pineapple adds to the smokey bacon. Mix in a huge spoonful of Meat Church Honey Hog rub.
Add the cream cheese mixture to the top of each pig shot. Sprinkle tops with either brown sugar or more Honey Hog Rub. Both work well.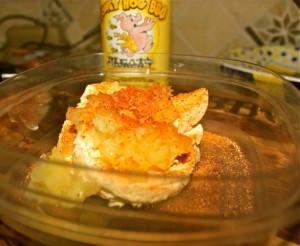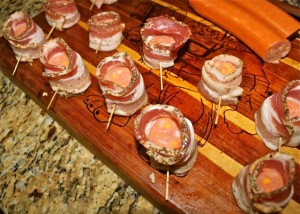 These will take about an hour to crisp up at 275 degrees. While you are waiting for these to cook, go online and check out these great Michigan Grill plates. I get nothing from them and they are not endorsing me for the shout out. I just love their products. You can get them at Wilton Armetale.
After about 30 minutes, they start to darken and the sugars start caramelize. This is when the smell starts to tease your tailgate guests.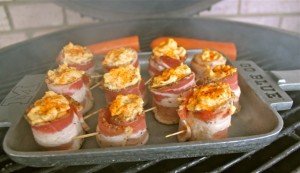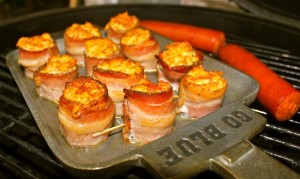 After an hour, these little buggers are about done. If you'd like to add some of your favorite BBQ sauce, go ahead. I decided to go SAUCE COMMANDO and eat them as is. I finished off over direct heat so the bacon got a little crispy on the bottom. This step is not necessary, but it adds a little char.
The flavor from the sweet rub and the smokey bacon was intense and addicting. These did not last long. They are perfect for the tailgate and can be eaten with 1 hand as you hold your favorite Barley Pop in the other. Let me know what you think. Go Blue!
Visit Meat Church to purchase their new Bacon BBQ rub or any of their other great rubs and seasonings. You can also follow Joe on Twitter at @mmmgoblubbq.