---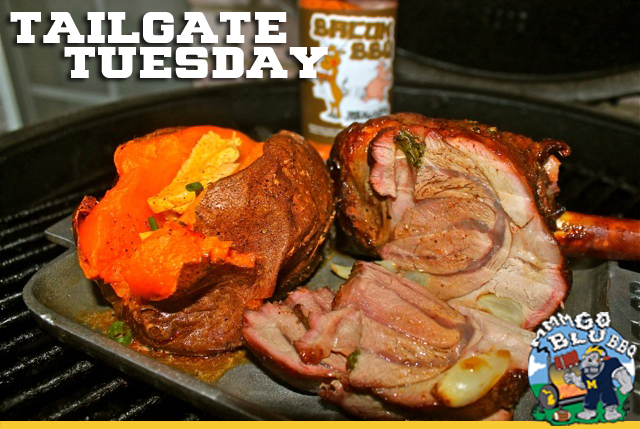 Tailgate Tuesday is our weekly collaboration with Joe Pichey from MmmGoBluBBQ. These tailgate recipes will be posted each Tuesday throughout the football season and most of the time will be themed around that week's opponent. Meat Church, a Dallas, Texas based BBQ joint sponsors this feature by providing their killer rubs for use in the recipes. Buy them here. 
Previously: Frog legs, smoky spiced beaver nuts, build the perfect tailgate smoker, pig shots, or visit our whole library of recipes here.
I am not sure the HYPE TRAIN could gain any more momentum than it has in the last four days. This thing is moving along much faster than anyone could have imagined. I don't want to get ahead of myself, but excuse me as I get way ahead of myself. At this time last year, Ohio State was ranked #22 in the nation. I think things turned out okay for them from what I hear. Keep it up boys. This HYPE TRAIN also picked up some lamb shanks along the way and tossed em on the BGE. Sure, it would have been easy to whip up some crab cakes or bacon wrapped squid skewers in honor of our Maryland tailgate pals, but I wanted to go outside the box a little. I hear lamb is huge on the east coast and goes great with a little bacon rub.
• Lamb shanks
• Garlic cloves
• Rosemary
• Thyme
• Extra virgin olive oil
• Meat Church Bacon BBQ Rub
• 1/2 cup apple cider vinegar
• 1/4 cup mint apple jelly
• 2 TBSP brown sugar
Set your grill/smoker up for indirect heat and shoot for a temperature of 250 degrees. Toss on some apple chunks or another mild fruit wood ad we don't want to overpower the flavor of the lamb. As the grill is heating up, remove your lamb shank from the refrigerator and coat with a tablespoon of extra virgin olive oil.
Using a sharp knife, make a few slits in the meat and insert your garlic cloves along with some rosemary sprigs. Generously coat the exterior of the shank with some tasty Meat Church Bacon Rub.
I made about six cuts into the shank for the garlic and rosemary combo. If you'd like to add more, go nuts. You can't go wrong with more garlic, right? Once the shank is ready to go, toss it on the grates and enjoy a cold beverage. This will go for about two hours. We are looking for an internal temperature of about 145 degrees, or a nice medium. If you'd like to go to 190 degrees and pull it like pulled pork, you can do that as well. Either way is great. You will start getting some great color after an hour.

Once you get to 115 degrees internally, add the basting ingredients to a shallow pan and set on the grill to warm. Using a basting brush made of rosemary and thyme prigs, baste the meat every 15 minutes until the desired internal temperature is achieved.
I've been told the basting brush adds some nice flavor to the meat when using rosemary and thyme sprigs. I am not sure I buy that, but it sure looks cool. Give it a try if you want to wow your guests or impress a date. 🙂

This lamb turned out super tender and had some great bacon and mint flavor from the rub and the baste. The skin was also bite thru and a little crispy in parts. Let it rest for about 10 minutes and slice. The garlic has tenderized and the rosemary has imparted some great flavor inside the shank. Smoked sweet potatoes with some Meat church compound butter is a nice compliment to this tasty meat.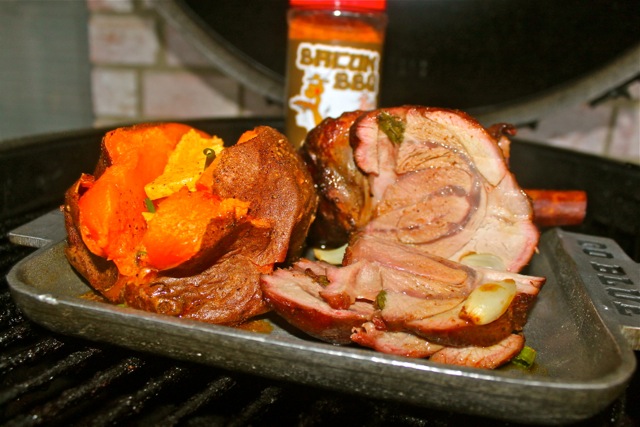 Let me know how your shank turns out and as always…GO BLUE!!!!!
Visit Meat Church to purchase their new Bacon BBQ rub or any of their other great rubs and seasonings. You can follow them on Twitter at @MeatChurch and you can also follow Joe at @mmmgoblubbq.