---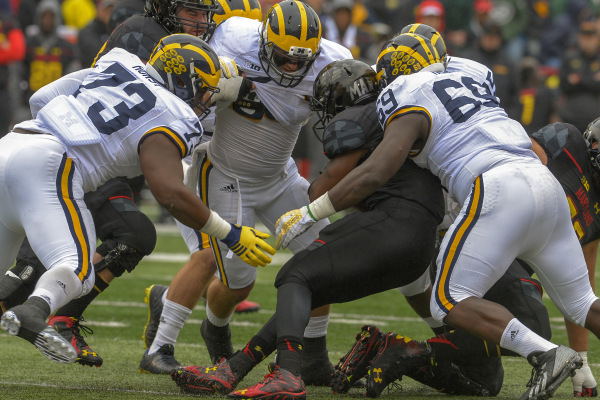 (MGoBlue.com)
The threat of Hurricane Joaquin moving up the Atlantic coast moved kickoff up eight hours, and perhaps Michigan's offense didn't get the memo for the first 30 minutes. But the defense did its part and when the offense woke up Michigan polished off its second straight shut out with a 28-0 win over Maryland on Saturday afternoon.
Maryland looked like it was going to be able to move the ball to start the game, picking up first downs on an 11-yard pass, a 10-yard pass, and an 18-yard run into Michigan territory. The drive stalled at the 47, but Michigan's offense was unable to get anything going on its first possession.
The teams traded turnovers four of the next five possessions as Jeremy Clark and Desmond Morgan both intercepted Maryland quarterback Caleb Rowe and Jake Rudock and Ty Isaac each coughed up fumbles. On Michigan's first possession of the second quarter, which started with the Morgan interception, the Wolverines advanced to the Maryland 24, but an intentional grounding penalty killed the drive and Kenny Allen missed a 47-yard field goal attempt.
Final Stats
Michigan
Maryland
Score
28
0
Record
4-1 (1-0)
2-3 (0-1)
Total Yards
378
105
Net Rushing Yards
198
29
Net Passing Yards
180
76
First Downs
14
7
Turnovers
3
3
Penalties-Yards
7-65
5-66
Punts-Yards
6-242
13-473
Time of Possession
34:19
25:41
Third Down Conversions
5-of-17
1-of-18
Fourth Down Conversions
1-of-2
0-of-0
Sacks By-Yards
3-20
2-11
Field Goals
2-for-3
0-for-0
PATs
2-for-2
0-for-0
Red Zone Scores-Chances
3-of-3
0-of-0
Full Box Score
After a Maryland three-and-out, Michigan finally got on the scoreboard thanks to a Jabrill Peppers 29-yard punt return that set the Wolverines up at the Maryland 39. Michigan got as far as the 10 but had to settle for a 30-yard Allen field goal. Allen tacked on another, from 32 yards out, at the end of the quarter to put Michigan ahead 6-0 at the half.
The second half started similar to the first with neither team able to move the ball. Rudock was intercepted by defensive tackle Quinton Jefferson at the Michigan 44 on Michigan's first possession. But the Wolverine defense forced a three and out. Two possessions later, Michigan finally got its first touchdown of the game when Drake Johnson took a screen pass 31 yards and dove for the pylon. Rudock connected with Khalid Hill for a two-point conversion to put Michigan ahead 14-0.
After forcing another Maryland punt, Michigan wasted no time finding the end zone again. Jehu Chesson took an end-around and raced 66 yards down the left sideline for another touchdown.
Michigan added a final score midway through the fourth. Maryland punted from its own five, but was called for kick catch interference as Peppers caught the punt, which gave Michigan the ball at the Maryland 24. Johnson carried the ball for runs of two and 20 yards, and after a Sione Houma one-yard run, Johnson polished it off with his second touchdown of the game to reach the final score of 28-0.
Despite three turnovers, Michigan's offense racked up 378 total yards of offense, 198 on the ground. Rudock completed 16 of 32 passes for 180 yards, a touchdown, and an interception. Johnson led all rushers with 68 yards on 13 carries (5.2 yards per carry), while Jake Butt led all receivers with 61 yards on 4 receptions.
Michigan's defense held Maryland to just 105 total yards — the same total BYU reached a week ago. Maryland gained just 35 yards on 46 plays (0.76 yards per play) after its first two possessions of the game. Rowe completed just 8 of 27 passes for 47 yards and three interceptions. Brandon Ross rushed 14 times for 44 yards as Maryland was held to just 1.1 yards per carry.
Morgan led the Michigan defense with nine tackles in addition to his interception. Matt Godin recorded 1.5 sacks, while Maurice Hurst and Willie Henry added one apiece and Mario Ojemudia notched a half a sack. Unfortunately, Ojemudia left the game in the second half with an Achilles injury that may end his season.
The shutout marked the first time Michigan has recorded back-to-back shutouts since the 2000 season.
Michigan improved to 4-1 on the season and 1-0 in Big Ten play and will host Northwestern (5-0, 1-0) for Homecoming next Saturday. The Wildcats are currently ranked 16th, but may move up in the rankings after topping Minnesota 27-0.
Game Ball – Offense 
Drake Johnson (13 carries for 68 yards, 1 TD, 1 rec for 31 yards, 1 TD)
Johnson emerged in the second half of last season as Michigan's top running back and had a spectacular game against Ohio State before tearing his ACL for the second time. As this season began, he was buried on the depth chart and didn't play in the opener at Utah while still recovering from the injury. But he has slowly been working back over the last four weeks, and when De'Veon Smith was ruled out of this one with an ankle injury and Ty Isaac struggled to hold onto the ball in the first half, Johnson was called upon to carry the load. He showed the talent and vision of last season, taking a screen 31 yards for a score, reeling off a 20-yard run, and scoring a rushing touchdown.
Previous:
Week 1 – Jake Butt (8 rec for 93 yards and 1 TD)
Week 2 – De'Veon Smith (23 carries for 126 yards, 3 TDs)
Week 3 – Ty Isaac (8 carries for 114 yards, 1 TD)
Week 4 — De'Veon Smith (16 carries for 125 yards and 1 TD)
Game Ball – Defense
Desmond Morgan (9 tackles, 1 INT, 2 PBU)
Like Johnson, Morgan suffered a major injury last season, but it caused him to miss the entire year. The good news is that it gave him a fifth season to be a part of this team and he hasn't disappointed. Today, he had his best game of the young season, leading all defenders with nine tackles, picking off a pass, and breaking up two passes. He was all over the field and played a major part in holding a second straight opponent to just 105 total yards.
Previous:
Week 1 – Chris Wormley (5 tackles, 3 TFL)
Week 2 – Chris Wormley (6 tackles, 3 TFL, 1 sack)
Week 3 – Jourdan Lewis (3 tackles, 4 PBU)
Week 4 — Ryan Glasgow (3 tackles, 2 TFL)
Final Individual Stats
Passing
Comp-Att
Yds
Avg.
TD
INT
Long
Sack

Jake Rudock

16-32

180

5.6

1

1

44

2

Caleb Rowe

8-27

47

1.7

0

3

13

3
| | | | | | |
| --- | --- | --- | --- | --- | --- |
| Rushing | Car. | Yards | Avg. | TD | Long |
| Drake Johnson | 13 | 68 | 5.2 | 1 | 20 |
| Jehu Chesson | 1 | 66 | 66.0 | 1 | 66 |
| Brandon Ross | 14 | 44 | 3.1 | 0 | 18 |
| Derrick Green | 7 | 26 | 3.7 | 0 | 9 |
| Jake Rudock | 4 | 19 | 4.8 | 0 | 20 |
| Ty Isaac | 6 | 17 | 2.8 | 0 | 7 |
| Sione Houma | 2 | 12 | 6.0 | 0 | 11 |
| Wes Brown | 5 | 8 | 1.6 | 0 | 4 |
| Amara Darboh | 1 | -2 | -2.0 | 0 | -2 |
| Ross Taylor-Douglass | 3 | -3 | -1.0 | 0 | 1 |
| Caleb Rowe | 1 | -8 | -8.0 | 0 | -8 |
| Daxx Garman | 6 | -15 | -2.5 | 0 | 3 |
| | | | | | |
| --- | --- | --- | --- | --- | --- |
| Receiving | Rec | Yds | Avg. | TD | Long |
| Jake Butt | 4 | 61 | 15.2 | 0 | 44 |
| Jehu Chesson | 4 | 41 | 10.2 | 0 | 16 |
| Drake Johnson | 1 | 31 | 31.0 | 1 | 31 |
| Amara Darboh | 3 | 27 | 9.0 | 0 | 15 |
| Wes Brown | 2 | 26 | 13.0 | 0 | 22 |
| Levern Jacobs | 3 | 20 | 6.7 | 0 | 11 |
| D.J. Moore | 2 | 17 | 8.5 | 0 | 10 |
| Sione Houma | 2 | 14 | 7.0 | 0 | 9 |
| Kenneth Goins Jr. | 1 | 13 | 13.0 | 0 | 13 |
| Drake Harris | 1 | 6 | 6.0 | 0 | 6 |
| Taivon Jacobs | 1 | 1 | 1.0 | 0 | 1 |
| Freddy Canteen | 1 | 0 | 0.0 | 0 | 0 |
| Brandon Ross | 1 | -1 | -1.0 | 0 | -1 |
| | | | | | |
| --- | --- | --- | --- | --- | --- |
| Kicking | FG | Pct | Long | XP | Pts |
| Kenny Allen | 2/3 | 66.7 | 32 | 2/2 | 8 |
| | | | | | | |
| --- | --- | --- | --- | --- | --- | --- |
| Punting | No | Yds | Avg | TB | In 20 | Long |
| Blake O'Neill | 6 | 242 | 40.3 | 0 | 2 | 59 |
| Nate Pritchard | 10 | 360 | 36.0 | 0 | 1 | 46 |
| Brad Craddock | 3 | 113 | 37.7 | 0 | 1 | 52 |
| | | | | | |
| --- | --- | --- | --- | --- | --- |
| Kick Returns | No | Yds | Avg | Long | TD |
| Jabrill Peppers | 1 | 21 | 21.0 | 21 | 0 |
| William Likely | 4 | 91 | 22.8 | 31 | 0 |
| | | | | | |
| --- | --- | --- | --- | --- | --- |
| Punt Returns | No | Yds | Avg | Long | TD |
| Jabrill Peppers | 3 | 38 | 12.7 | 29 | 0 |
| William Likely | 3 | 23 | 7.7 | 12 | 0 |