---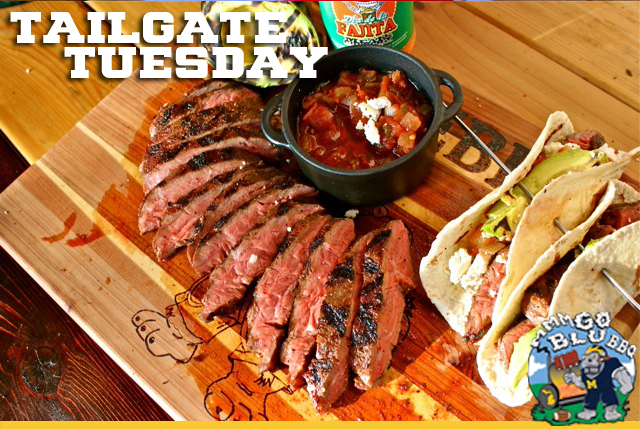 Tailgate Tuesday is our weekly collaboration with Joe Pichey from MmmGoBluBBQ. These tailgate recipes will be posted each Tuesday throughout the football season and most of the time will be themed around that week's opponent. Meat Church, a Dallas, Texas based BBQ joint sponsors this feature by providing their killer rubs for use in the recipes. Buy them here. 
Previously: Frog legs, smoky spiced beaver nuts, build the perfect tailgate smoker, pig shots, lamb shank, or visit our whole library of recipes here.
The flat iron steak is quickly gaining in popularity and for good reason. This cut is from the shoulder or chuck area and has some fantastic marbling throughout. While I typically go for the ribeye or t-bone, this is a close second when I'm firing up the grill. It is extremely versatile and flavorful and can be very tender when cooked properly.
I first discovered this steak when I was up in the Chicago area visiting some friends. We pulled out the Weber grill and and lit the coals. Several of the BBQ'ers were Northwestern Wildcat alum and swore by two things. The first was just how menacing and intimidating purple is on the football field. The second was how great the flat iron steak is. One out of two ain't bad, right? I decided to give this one a go with Meat Church's crazy tasty fajita rub and was not disappointed. Whether you are serving it as the main dish, steak style or slicing up for tacos, you will love this cut of beef.
1-2 lb. flat iron steak
Tortillas
Pico de gallo
Queso fresco
Avocado
Prior to lighting the grill, set the flat iron steak out on the counter and allow it to come up to room temperature. This typically takes about 30-45 minutes.
Fire the grill up for medium, direct heat. As the coals are heating up, season the steak with Meat Church Fajita Rub. This is a good size hunk of meat, so apply generously.

Place over direct heat and allow to cook for approx 3 minutes. After 3 minutes rotate the steak 180 degrees to get some great grill marks. Repeat on the other side. After six minutes on each side, you should have a medium rare steak. If you like your steak a little more well done, leave it on a little longer. A good instant read thermometer is very helpful on thicker cuts of meat. I love the Thermapen for these cooks. If you don't have one, get one. They are a must.
After 10 minutes, add some avocado slices to the grill. These will cook very fast, so don't walk away. All we want is to add some nice grill marks and remove, otherwise the inside will start to wilt. Wilted avocados are not very tasty, trust me. Toss on some tortillas and we are in business. Once the steak has cooked for approx 10-12 minutes, remove from the heat and let rest for five minutes. I let mine go to an internal of 130 degrees, or medium rare.

Once it has rested for 5-7 minutes, thinly slice against the grain. This will help keep the tenderness.
Add the meat, avocado, queso fresco, and pico to a warm tortilla and enjoy. The meat is super tender and has great flavor. You will not be disappointed. This cut is less expensive than your typical ribeye and about the same as a good flank steak.

I hope you give this one a try and let me know what you think. This has huge flavor and can be cooked during halftime. What else can you ask for? GO BLUE!!!!
Visit Meat Church to purchase their new Bacon BBQ rub or any of their other great rubs and seasonings. You can follow them on Twitter at @MeatChurch and you can also follow Joe at @mmmgoblubbq.