---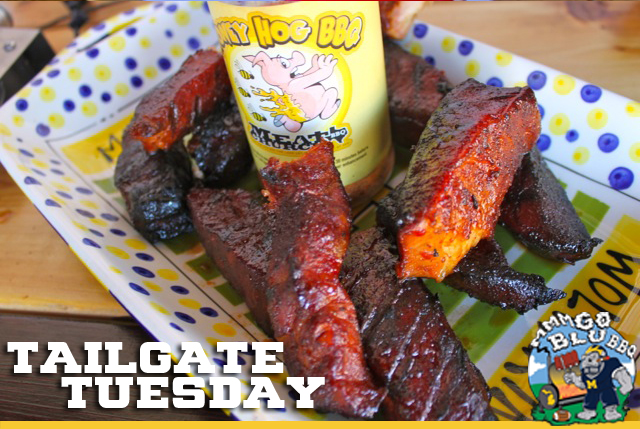 Tailgate Tuesday is our weekly collaboration with Joe Pichey from MmmGoBluBBQ. These tailgate recipes will be posted each Tuesday throughout the football season and most of the time will be themed around that week's opponent. Meat Church, a Dallas, Texas based BBQ joint sponsors this feature by providing their killer rubs for use in the recipes. Buy them here. 
Previously: Frog legs, smoky spiced beaver nuts, build the perfect tailgate smoker, pig shots, lamb shank, flat iron fajitas, or visit our whole library of recipes here.
This week is the biggest week in 10 years where Michigan football is concerned. Not only are the state bragging rights on the line, but a probable top-8 ranking if things go as they should. I don't want to get too excited, but this is HUGE!!! Five-star recruits are in town and they want some tasty BBQ pre- and post game. I say we serve em some of the tastiest treats possible — a good batch of country style ribs. These are always easy and a crowd pleaser.
• Country style ribs
• Meat Church HONEY HOG Rub
• Ketchup
• Maple syrup
• Bock style beer
Set the grill up for indirect heat at 250-275 degrees. Add some pecan or apple wood chunks and get the smoke rollin'. Any fruit wood will do in this recipe. As your grill is heating up, dust the country ribs with some Meat Church HONEY HOG rub. Make sure and cover each rib with about a tablespoon of rub. Don't be shy.

As soon as the grill/smoker reaches 250 degrees, toss your country style reeeeebs on and grab a cold one. These will smoke for about an hour and will get some nice color. We are looking for an internal temp of 165 degrees.
After an hour, we will need to add these to our tasty bath of sweetness (yeah, I just made that up). Take one cup of ketchup and add it to one bottle of your favorite bock style beer. I use one bottle for every one pound of ribs. Add a half cup of maple syrup and mix well. Place ribs in a baking dish or a cast iron pan and cover with that tasty bath of sweetness.
Cover tightly with foil and place back on the grill. We will let these go for another hour. This process will tenderize the meat and help render out some of the fat.

After an hour, check the internal temperature. Once they reach 200 degrees, it's time to remove from the bath and place over direct heat. This will add some tasty char and caramelize the sweet sauce.

Once the sauce thickens, they are done. I love the ooey gooey sweet sauce after the flame hits it and causes it to bubble. PERFECTION.
Serve on your favorite Michigan platter and enjoy.

Visit Meat Church to purchase their new Bacon BBQ rub or any of their other great rubs and seasonings. You can follow them on Twitter at @MeatChurch and you can also follow Joe at @mmmgoblubbq.