---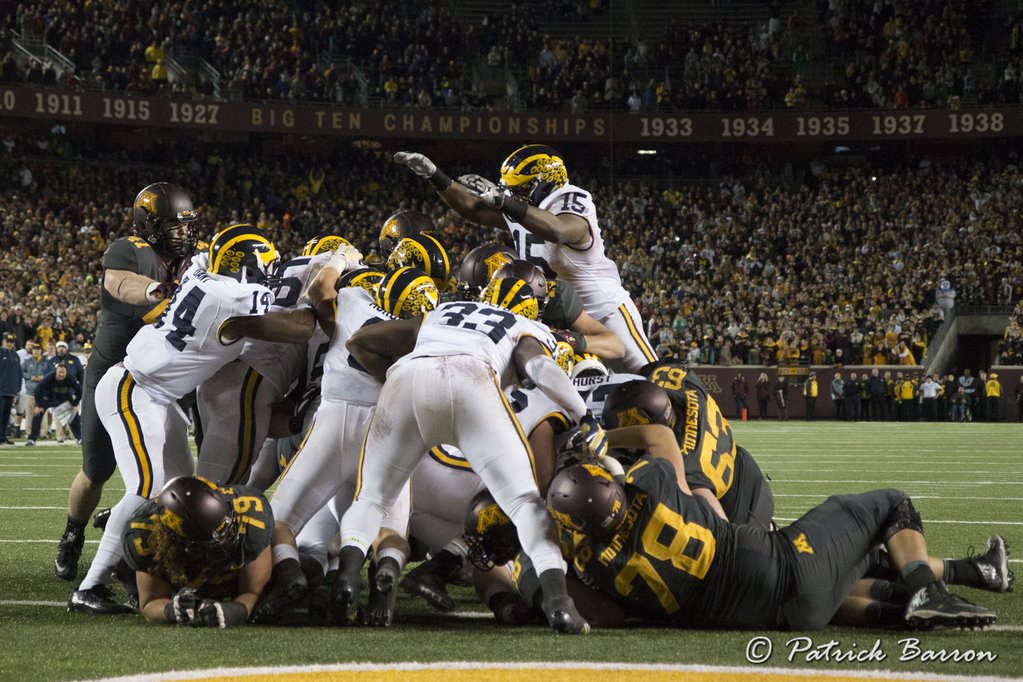 (Patrick Barron)
Two weeks ago Michigan had the game won until an improbable fumbled snap was returned for a touchdown by Michigan State in the closing seconds. On Saturday, Michigan appeared to have lost when Minnesota quarterback Mitch Leidner connected with Drew Wolitarsky for a touchdown with 19 seconds remaining. But after review he was ruled down at the one and the Michigan defense kept the Gophers out of the end zone on two tries from the one to capture an unlikely victory.
Michigan's defense looked flat for much of the game, far from the dominant group that imposed its will on BYU, Maryland, and Northwestern to the tune of three straight shutouts. On Saturday night, it let a Minnesota offense that ranked in the bottom half of the Big Ten in every offensive category rack up 461 total yards. It made Leidner look like Tom Brady, completing 16 of 33 passes for a season high 317 yards. It made a Minnesota running game that ranked 84th nationally look competent, rushing for 144 yards on 4.1 yards per carry. But when it needed a stop the most, the defense that entered the game ranked first nationally in most categories came up big.
Final Stats
Michigan
Minnesota
Score
29
26
Record
6-2 (3-1)
4-4 (1-3)
Total Yards
296
461
Net Rushing Yards
127
144
Net Passing Yards
169
317
First Downs
20
20
Turnovers
2
0
Penalties-Yards
5-47
7-53
Punts-Yards
5-220
5-190
Time of Possession
28:55
31:05
Third Down Conversions
5-of-12
5-of-14
Fourth Down Conversions
0-of-1
1-of-1
Sacks By-Yards
2-10
2-19
Field Goals
0-for-0
4-for-4
PATs
3-for-3
2-for-2
Red Zone Scores-Chances
4-of-4
3-of-4
Full Box Score
"That's kind of disrespectful to the d-line to run a sneak because they're trying to get us knocked back," defensive tackle Maurice Hurst said of Minnesota's decision to go for the win with two seconds left instead of kick a field goal to send the game into overtime. "We talked to each other and said it's down to us. … We knew we had to get off the field and get the win."
On the first play from the one-half yard line, Minnesota lined up with three backs directly behind Leidner, who was under center. Two of them then motioned out wide and Leidner moved back into the shotgun with just one back, who then motioned to the right. By the time the Gophers snapped the ball, 12 of the 19 seconds had run off the clock. Leidner's pass was off the mark with Hurst applying pressure. Two seconds remained, and instead of kicking a field goal to send the game into overtime, interim head coach Tracy Claeys elected to go for the win. But Michigan's defensive line held strong, stuffing Leidner's sneak attempt short of the goal line as time expired.
Minnesota got the first score of the game on a 23-yard Ryan Santoso field goal after Briean Boddy-Calhoun intercepted Jake Rudock on Michigan's first possession. But Michigan responded with an 8-play, 57-yard touchdown drive to take a 7-3 lead. Joe Kerridge scored from a yard out.
After forcing a three and out, Michigan got great starting field position on its next possession thanks to a 41-yard punt return by Jabrill Peppers. Five plays later, Rudock found Jehu Chesson in the end zone for a 13-yard touchdown. At that point, it looked as if Michigan would run away with the game, but Minnesota would have none of it.
Santoso kicked a 30-yard field goal on Minnesota's ensuing  possession, and after forcing a Michigan punt, Minnesota wasted no time finding the end zone. Running back Rodney Smith ripped off a 23-yard run and two plays later Leidner connected with Rashad Still for a 52- yard touchdown pass to bring Minnesota within one at 14-13.
Michigan's offense sputtered and Minnesota took advantage with a 32-yard field goal as the first half clock expired. The Gophers took a 16-14 lead into the half.
Michigan got the ball to start the second half and put together a 7-play, 75-yard drive that included a 14-yard completion to Amara Darboh and rushes of 22 yards and 13 yards by Drake Johnson. But no play was more exciting than Peppers taking a jet sweep six yards into the end zone for his first career touchdown.
On Michigan's next possession, the Wolverines were forced to punt, but Dymonte Thomas was flagged for kick catch interference, giving Minnesota the ball at Michigan's 33-yard line. Three plays later, on 3rd-and-1, Leidner faked a handoff and raced 24 yards for a Minnesota touchdown to retake the lead.
Michigan got a scare when Rudock scrambled and was hit awkwardly as he tried to slide. He came out of the game and was taken to the locker room for tests. Wilton Speight came on in relief, but wasn't able to move the ball on his first two possessions. Minnesota added a field goal from 47 yards out to take a 26-21 lead with 11:43 to play.
Michigan began its next drive with Peppers in the wildcat, but after he gained four yards on the first play, Michigan couldn't get a first down and had to punt. The defense forced a three and out, and after a short punt, the Wolverines took over at the Minnesota 40 with 8:36 remaining. Speight found Jake Butt for nine yards on the first play, then Khalid Hill for eight yards two plays later. On 3rd-and-10 from the Minnesota 12, Speight threw a strike to Chesson in the end zone to put Michigan back on top. Harbaugh elected to go for two to give Michigan a three point lead, and Speight hit Darboh for the conversion. Michigan led 29-26 with 4:57 left.
Minnesota needed a field goal to tie, but they only had their sights set on a win. On 3rd-and-17 from the Minnesota 18, Leidner found Smith for 17 yards and a first down. Michigan's defense then forced a 4th-and-5, but Leidner connected with K.J. Maye for 12 yards to the Michigan 27. Two plays later, Leidner completed a 23-yard pass to Wolitarsky for what was ruled on the field as a go-ahead touchdown. But upon review it was ruled that Wolitarsky's knee was down at the half-yard line, leading to the final goal line stand.
Minnesota out-gained Michigan offensively 461 to 296. Rudock completed 13 of 21 passes for 140 yards, a touchdown, and an interception. Speight completed 3 of 6 for 29 yards and a score. Johnson led Michigan in rushing with 55 yards on 10 carries (5.5 yards per carry), while De'Veon Smith was held to just 15 yards on nine carries (1.7 ypc). Darboh had six catches for 73 yards, while Butt caught four for 38 and Chesson three for 33 and two touchdowns. Peppers recorded 100 all-purpose yards, 84 in the return game and 16 on four rushes, including the touchdown, while playing more than 80 plays.
Now 6-2 and 3-1 in the Big Ten, Michigan returns home to face Rutgers (3-5, 1-4) next Saturday.
Game Ball – Offense
Jabrill Peppers (4 carries for 16 yards, 1 TD, 1 punt return for 41 yards, 1 kick return for 43 yards)
It was only a matter of time before Peppers made his mark, and he did so in all three phases of the game on Saturday night. His 43-yard kickoff return set Michigan in great field position to score their first touchdown of the game. His 41-yard punt return allowed the offense to start on Minnesota's 29-yard line and score its second touchdown of the game. Then, Peppers himself scored the third touchdown on a 6-yard jet sweep. He also recorded three tackles — none bigger than a shoestring tackle of Leidner on Minnesota's final drive — and two pass breakups. He was on the field for over 80 plays and his impact will only increase as his career continues.
Previous:
Week 1 – Jake Butt (8 rec for 93 yards and 1 TD)
Week 2 – De'Veon Smith (23 carries for 126 yards, 3 TDs)
Week 3 – Ty Isaac (8 carries for 114 yards, 1 TD)
Week 4 — De'Veon Smith (16 carries for 125 yards and 1 TD)
Week 5 — Drake Johnson (13 carries for 68 yards, 1 TD, 1 rec for 31 yards, 1 TD)
Week 6 — Mason Cole, Ben Braden, Graham Glasgow, Kyle Kalis, Erik Magnuson
Week 7 — Kenny Allen (3-for-3 field goals, 2-2 PATs)
Game Ball – Defense
James Ross (9 tackles, 1 TFL, 1 sack)
Perhaps no one on Michigan's defense deserves this week's game ball after turning in the worst performance of the season. Or perhaps the entire defense deserves it for stuffing Leidner short of the goal line on the game's final play. But one play doesn't decide the game ball, so we'll go with the most consistent performer, and that was linebacker James Ross. He led the team with nine tackles and also sacked Leidner on 3rd-and-7 in the fourth quarter, backing the Gophers up to their own 11 yard line, which resulted in Michigan's offense taking possession at the Minnesota 40. The Wolverines took advantage of the great field position by scoring the game-winning touchdown.
Previous:
Week 1 – Chris Wormley (5 tackles, 3 TFL)
Week 2 – Chris Wormley (6 tackles, 3 TFL, 1 sack)
Week 3 – Jourdan Lewis (3 tackles, 4 PBU)
Week 4 — Ryan Glasgow (3 tackles, 2 TFL)
Week 5 — Desmond Morgan (9 tackles, 1 INT, 2 PBU)
Week 6 — Jourdan Lewis (4 tackles, 1 TFL, 1 INT, 1 touchdown, 1 PBU)
Week 7 — Willie Henry (5 tackles, 3 TFL, 2 sacks, 1 PBU)