---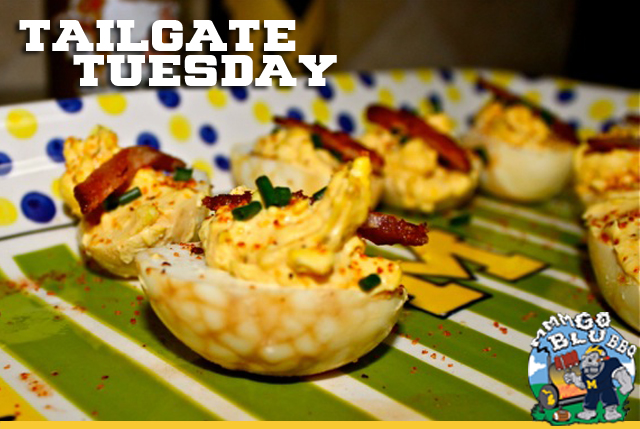 Tailgate Tuesday is our weekly collaboration with Joe Pichey from MmmGoBluBBQ. These tailgate recipes will be posted each Tuesday throughout the football season and most of the time will be themed around that week's opponent. Meat Church, a Dallas, Texas based BBQ joint sponsors this feature by providing their killer rubs for use in the recipes. Buy them here. Seriously, you won't regret it.
Previously: Frog legs, smoky spiced beaver nuts, build the perfect tailgate smoker, pig shots, lamb shank, flat iron fajitas, country style ribs with bock glaze, pork belly sliders, smoked bologna, or visit our whole library of recipes here.
I've been wanting to do some experimenting on the grill for awhile and had the perfect opportunity over the weekend. I had a hot smoker and all the meats were done. It seems like a waste to have a smoker filled with smoking hot coals and EMPTY GRATES. So after finishing another chub of smoked bologna this past Saturday, I tossed on a dozen semi hard build eggs and and finished em off in some smoke. These will be great for smokey deviled eggs or a smoked egg salad and bacon sandwich….MEAT CHURCH STYLE.
12 large eggs
Meat Church Bacon BBQ Rub
Mayonnaise
Mustard
Bacon
Bread
Boil the large eggs for eight minutes. Once you reach eight minutes, move them to an ice bath and let cool. Once the eggs are cool, crack the shells by rolling under the palm of your hand. Apply medium pressure, assuring the entire shell cracks. Leave the shells on the egg.
Heat your grill or smoker to 250 degrees and add a mild wood. Pecan works great on this recipe. Add the eggs to the hot smoker and let go for 45 minutes. Any longer and the eggs will become rubbery. After 30 minutes, they will start to gain a nice smokey color.
Let cool for 20 minutes and peel. If you want to let the smoke flavor penetrate even deeper, store in the fridge for up to 2 days. Otherwise, peel and check out the cool cracked egg look. The smoke adds not only great flavor, but a really cool Halloween Brain look.

For deviled eggs, slice lengthwise and remove the yolks. Mix yolks with 2 TBSP of your favorite mayo and 1 TBSP of mustard. You can add some crab meat, bacon, scallions, chives, leftover pork or brisket…..etc. Finish with a large pinch of Meat Church Bacon BBQ Rub and mix well. Add yolk mixture back to egg whites and chill. Sprinkle again with Meat Church Rub and enjoy. This is a perfect side dish for the holidays and will get some surprising looks from your guests.
For Egg Salad Sandwiches, peel eggs and give them a rough chop. Add 2 TBSP of mayo and 1 TBSP of mustard along with some celery, chives and Meat Church Bacon Rub. Mix thoroughly and chill. Add to your favorite cheesy bread, top with some bacon and enjoy. This makes for a great smelling sandwich that your coworkers will envy.

If your bored with the same ol' egg salad recipe or Grandma's bland deviled eggs, give these a go around the holidays. You will not be disappointed and neither will your guests. GO BLUE.
Visit Meat Church to purchase their new Bacon BBQ rub or any of their other great rubs and seasonings. You can follow them on Twitter at @MeatChurch and you can also follow Joe at @mmmgoblubbq.