---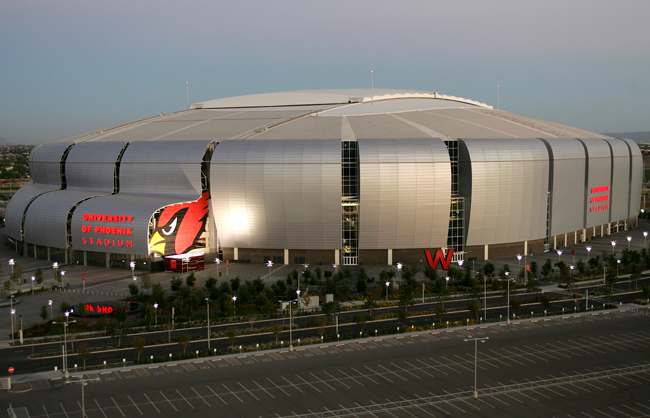 Only four weekends separate us from when the College Football Playoff and bowl game selection committees will make their final decisions and determine the fate of teams that have earned the right to play in the postseason.
Through Week 10, more than 100 FBS teams have been realistically eliminated from playoff contention. Michigan, an enormous long shot to make the Final Four, is one of the teams still in the hunt. But since the Wolverines already lost two games, they need a ton of help over the next four weeks.
Yes, it would take a Hollywood movie-type finish to the season for Michigan to slip into the top four. But until that last glimmer of hope dies, Michigan fans should enjoy the team's first meaningful home stretch in almost a decade.
We'll stick with the movie theme as we break down the first of the final four Saturdays. If you're a Michigan fan holding out hope, here's what you should root for.
"I really, really need you"
In honor of Sanka Coffie from Cool Runnings, these teams completely hold Michigan's fate in their hands. These are the teams that Michigan absolutely needs victories from on Saturday in order to keep the Wolverines' CFP hopes alive. If even one of these teams falls, Michigan's CFP dreams die.
No. 14 Michigan (away) against Indiana (3:30pm, ABC): The only absolutely essential game for Michigan this weekend is its own contest in Bloomington. Thanks to a pair of early losses, the Wolverines don't have any room for error. As soon as they drop a third game, it's all over.
Result: Michigan 48 – Indiana 41 (2OT)
In honor of JP from Angels in the Outfield, this is the "It could happen" group. These are the teams Michigan is rooting for that have a legitimate chance to win on Saturday. Wins by these teams either help the Wolverines move up in the rankings or improve their resume (in order of kickoff time).
South Carolina (home) against No. 11 Florida (12pm, ESPN): Florida will win the SEC East and play in the conference championship game, so there's another loss in the future. But after a 9-7 win over Vanderbilt last week, a loss to 3-6 South Carolina would drop Florida well below Michigan.
Result: Florida 24 – South Carolina 14
No. 3 Ohio State (away) against Illinois (12pm, ABC): This one might be tough to understand, but Michigan actually needs the Buckeyes to be undefeated when they come to Ann Arbor. A win against a top two team in the country would prompt a big jump for the Wolverines.
Result: Ohio State 28 – Illinois 3
No. 13 Michigan State (home) against Maryland (12pm, ESPN2): Even more surprising than rooting for Ohio State? Michigan needs MSU to bounce back against Maryland. The Wolverines already need the Spartans to lose next weekend in Columbus to have a shot to win the Big Ten, so this week's game is very important. If Michigan State loses to Maryland and makes it three straight against in Columbus, it'll drop out of the top 25. That would make Michigan's loss in October much less forgivable.
Result: Michigan State 24 – Maryland 7
No. 18 Northwestern (home) against Purdue (12pm, BTN): Northwestern is Michigan's best win of the season. As long as Pat Fitzgerald's team keeps winning, Michigan's resume gets better and better. If the Wildcats lose to Purdue, everything they've worked for comes crashing down.
Result: Northwestern 21 – Purdue 14
No. 2 Alabama (away) against No. 17 Mississippi State (3:30pm, CBS): Here's another strange one, but Michigan needs Alabama to lose for two reasons. First, the CFP committee has proven it WILL NOT penalize Alabama for losing, no matter the conditions. Nick Saban's team lost at home to an unranked team and still sits ahead of five of the six unbeaten teams in the country. So since Alabama will stay ahead of Michigan no matter what happens, the Wolverines might as well avoid being jumped by Mississippi State in the process.
Result: Alabama 31 – Mississippi State 6
Iowa State (home) against No. 8 Oklahoma State (3:30pm, ESPN): Oklahoma State burst onto the scene when it stomped TCU by 20 last weekend. Now, with both Oklahoma and Baylor coming to town over the next two weeks, Michigan needs a team like Iowa State to do the dirty work and knock off the undefeated Cowboys. With no conference championship game, Big 12 teams will have a hard time bouncing back from losses like that.
Result: Oklahoma State 35 – Iowa State 31
No. 12 Oklahoma (away) against No. 6 Baylor (8pm, ABC): Since the Bears lost their starting quarterback to a neck injury, the entire country has been waiting for them to slip up. Once they do, their fall in the polls will be a long one. Without a quality victory to its name, Baylor would fall out of contention with a home loss to Oklahoma. As far as the Sooners, they've still got games against TCU and Oklahoma State on the horizon. Michigan can hope for a slip up in one of those contests.
Result: Oklahoma 44 – Baylor 34
No. 5 Iowa (home) against Minnesota (8pm, BTN): If you actually think Michigan has a chance to slip into the top four, you need Iowa to keep winning and head into the Big Ten Championship Game with a 12-0 record. That would mean another opportunity for a top five win.
Iowa 40 – Minnesota 35
"It's just not believable, Cotton"
In honor of Pepper Brooks, from Dodgeball, these are the true underdog stories. These teams have almost no chance to win, but if they do, it would really help Michigan.
N.C. State (away) against No. 16 Florida State (12:30pm, ESPN3): Another incredible oversight by the CFP committee: Florida State lost a game last weekend and didn't drop a single spot. Yes, it was to the No. 1 team in the country on the road, but a loss is a loss. If N.C. State pulls an unlikely upset, FSU becomes an afterthought.
Result: Florida State 34 – N.C. State 17
Wake Forest (away) against No. 4 Notre Dame (3:30pm, NBC): Wake Forest is really, really bad. As Notre Dame's second loss, this would likely drop the Irish out of the top 15.
Result: Notre Dame 28 – Wake Forest 7
Arkansas (away) against No. 9 LSU (7:15pm, ESPN): LSU got pounded against Alabama last week and now faces a streaking Arkansas team. Another loss would devastate Leonard Fournette and Company.
Result: Arkansas 31 – LSU 14
Arizona (home) against No. 10 Utah (10pm, FS1): "How can you ask me to root for Rich Rod's team!?" Because Arizona is irrelevant on the national scale and Utah is ranked ahead of Michigan. Yes, a Utes loss would diminish Michigan's opening-week game, but Utah could still win the Pac-12 South and finish in the top 15 with two losses. As long as the Utes stay in the top 25, it's more important for Michigan to jump them in the poll.
Result: Arizona 37 – Utah 30
Oregon (away) against No. 7 Stanford (7:30pm, FOX): Oregon is starting to play a bit better, but this game is still a long shot. If Stanford losses its second game of the season, Michigan will definitely jump ahead of the Cardinal because of a win against their only common opponent: Northwestern.
Result: Oregon 38 – Stanford 36