---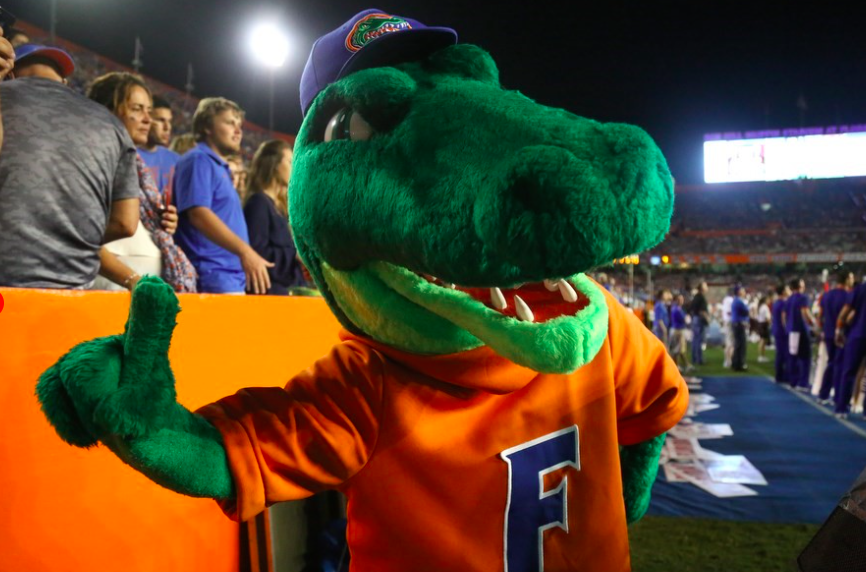 After a month-long break, Michigan hits the field for one last time this season on Friday in the Buffalo Wild Wings Citrus Bowl. The Wolverines have a chance to win 10 games in a season for just the fourth time since 2000, as well as a chance to pick up another win over an SEC foe. Michigan faces Florida, a program that has had a very similar past year with an underachieving 2014 that led to the firing of their coach, and then a resurgence under their new coach. Let's take a look at the Gators.
Florida team stats & Michigan comparison

Florida

 |

Michigan

Rank

Defense

Rank

Points Per Game

24.5

 

|

 

30.6

98

 | 57


16.5

 | 

17.2

8

 | 

11

Rushing Yards

1,659

 | 

1,832

1,568

 | 

1,471

Rush Avg. Per Game

127.6

 | 

152.7

113

 | 92


120.6

 | 

122.6

17

 | 

18

Avg. Per Rush

3.4

 |

4.1




3.4

 | 

3.6

Passing Yards

2,744

 | 

2,812

2,272

 | 

1,905

Pass Avg. Per Game

211.1

 | 

234.3

78

 | 

54

174.8

 | 

158.8

11

 | 

3

Total Offense

4,403

 | 

4,644

3,840

 | 

3,376

Total Off Avg. Per Game

338.7

 | 

387.0

109

 | 

72

295.4

 | 

281.3

6

 | 

4

Kick Return Average

20.8

 | 

28.4

72

 | 

3

20.24

 | 

20.21

43

 | 41

Punt Return Average

13.9

 | 

11.4

11

 | 

31

3.7

 | 

11.5

17

 | 96

Avg. Time of Possession

31:43

 |

33:02

29

 

| 13


28:17

 |

26:58



3rd Down Conversion Pct

35.0%

|

44.0%

103

 

| 26


31.0%

|

26.0%

12

 | 3

Sacks Allowed-Yards/By-Yards

43-250

 |

18-95




121

 

| T37


40-294

 |

30-226




9

 | T34

Touchdowns Scored

43

 | 45


25

 |

23



Field Goals-Attempts

7-17

 | 16-20


13-18

 |

15-18



Red Zone Scores

(33-48) 69%

|

(46-49) 94%

123

 | 6


(25-32) 78%

|

(26-31) 84%

30

 | 

69

Red Zone Touchdowns

(28-48) 58%

|

(33-49) 67

%

(15-32) 47%

|

(13-31) 42%
Florida is very similar to Michigan statistically. Both feature one of the nation's top defenses and middling offenses. Florida is slightly better in scoring defense, allowing 16.5 points per game compared to Michigan's 17.2. The Ohio State game hurt Michigan in that regard, dropping the Wolverines from sixth nationally to 11th. While Michigan let OSU score 42 points and also gave up 41 to Indiana, Florida allowed more than 30 points just once all season, a 35-28 loss to LSU. However, the Gators didn't record a shutout and Michigan posted three straight early in the season.
Both teams' rushing defenses are about the same with Florida allowing two fewer yards per game on the ground. Only three teams eclipsed 200 yards rushing against the Gators, Tennessee with 254, LSU with 221, and Alabama with 233. Alabama's Derrick Henry likely locked up the Heisman trophy with a 44-carry, 189-yard performance against Florida in the SEC Championship game. LSU's Leonard Fornett, a Heisman candidate for most of the season, tallied 180 yards on 31 carries against the Gators, while Tennessee had two 100-yard rushers — quarterback Joshua Dobbs (136) and running back Jalen Hurd (102). Unfortunately, Michigan's rushing game isn't poised to have as much success on the ground.
Florida's pass defense, however, is slightly more susceptible, though still ranking among the nation's best. The Gators rank 11th nationally, allowing 16 more passing yards per game than Michigan. Four opponents topped 200 yards passing, led by East Carolina's 346 in Week 2. The best passing offense Florida faced all season, Ole Miss, threw for 259 yards. Florida's corners, Vernon Hargreaves and Jalen Tabor, form one of the nation's best duos and will be a tough match for Jehu Chesson and Amara Darboh.
Offensively, Florida isn't nearly as scary. They're fairly similar statistically to where Penn State and Minnesota were when Michigan faced them this season — in the bottom third nationally in most categories. They score just 24.5 points per game, six fewer than Michigan. A 61-13 throttling of New Mexico State in the season opener inflated the average as the Gators topped 30 points just twice the rest of the way, a 31-24 win over East Carolina the following week and a 38-10 win over Ole Miss in Week 5. Since then, Florida has averaged just 18.3 points in their final eight games. They managed just nine points in a 9-7 win over Vanderbilt, then were held to a measly two in a 27-2 loss to rival Florida State.
The running game is even more nonexistent than Michigan's, averaging 25 fewer yards per game. The Gators' best output was a 258-yard performance against Georgia — one of only two times they cracked 200 yards. The other was in the opener against NMSU. They were held below 100 yards four times, most recently 15 yards on 21 carries in the SEC title game against Alabama. Only 14 teams nationally average fewer yards per game than Florida, none of which Michigan faced. The closest, BYU, ranks one spot ahead of Florida, and Michigan held the Cougars to just 50 yards on 22 carries.
The passing game is slightly better, but it was more dynamic under Will Grier, who completed 65.8 percent of his passes for 10 touchdowns and three interceptions in the first six games before being suspended for testing positive for performance-enhancing drugs. Sophomore Treon Harris replaced him, but has completed just 49.2 percent of his passes for seven touchdowns and five picks since then. He threw for 271 yards in his first start against LSU, but managed 200 yards just once in the final six games. Alabama's defense held him to just 9-of-24 for 165 yards.
As far as intangibles go, Florida converts just 35 percent of its third downs (103rd nationally) compared to Michigan's 44 percent. They also have allowed 43 sacks — more than all but six teams nationally. For perspective, Penn State has allowed 39. The Gators gave up five sacks in a game five times, including each of the last three, and allowed three or more sacks in eight of 13 games. On the flip side, the Gators rank 12th nationally in third down defense (31 percent) and ninth nationally with 40 sacks — 10 more than Michigan's defense has recorded.
On special teams, Florida is an average 72nd in kick returns, averaging eight fewer yards per return than Michigan. However, they are dynamic in the punt return game, averaging 13.9 yards per returns. They've returned two punts for touchdowns this season. The Gators are also solid against punt returns, allowing just 3.7 yards per, which ranks 11th nationally. If the game comes down to the kicking game, Michigan should have the advantage as Florida has made just 7-of-17 field goals with a long of 43, and has missed the last five attempts. Three of those 10 misses have been blocked.
Overall, it should be a pretty even game with two great defenses and two average offenses. Michigan has the advantage offensively, but will have to be able to have at least some success on the ground against a very stingy rush defense. It should be a low scoring game, but regardless of the outcome, it's two tradition-rich programs on the rise and it's exciting to be playing on New Year's Day once again.