---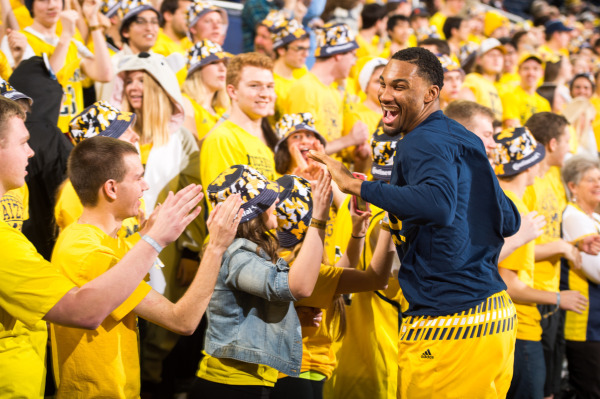 (MGoBlue.com)
After Wednesday night's game that saw Minnesota visit Michigan, Golden Gopher coach Richard Pitino revealed that he's been pleading with his hapless team to "win ugly".
Unfortunately, his players only got the former half of that right.
The Wolverines, however, fully personified the phrase with a thank-goodness-that's-over 74-69 victory to move to 4-2 in conference play and 14-5 overall. Minnesota left Ann Arbor still in search of their first Big Ten win after their seventh failed effort.
Once again without the services of senior leader Caris LeVert, whose fifth straight absence with a mysterious lower left leg injury continues to make fans increasingly nervous, Michigan's juniors stepped up to the plate to lead the effort.
Zak Irvin, whose three-point shooting mark sat at a brutal 20 percent after non-conference play, continued to show off a more confident stroke – hitting three of his five triples – while mixing in a handful of comfortable drives, dishes, and finishes at the rim on his way to a 19-point, 11-rebound, three-assist performance. Since turning the calendar to Big Ten play, Irvin has flipped a switch, with a 46.4 percent mark from deep (13-of-28) and 23 assists in six games (3.8 per on a 21.2 assist rate – tops on the team since the New Year). And while his finishing inside the arc has actually been worse than from distance (40% in conference play), the Indiana native appears to be more aggressive driving to the rack without LeVert available.
He insists that it's all simply part of the team's "Next Man Up" mentality.
Derrick Walton, Irvin's classmate, helped out with 22 points and six rebounds while playing nearly from tip to buzzer. Walton struggled from deep, converting on only one of his six triple tries, but he looked better finishing at the rim last night and made good from the charity stripe (11-of-12) despite coming into the game with an uncharacteristically low 73.8 percent conversion rate at the line (he made 79.3% and 83.3% in his freshman and sophomore campaigns, respectively).
No other Wolverine managed to reach double figures despite what seemed like a bevy of open looks, as the team finished with a rancid 29 percent rate from three and 43.8 percent rate from two for an effective FG% of just 43.7 percent.
Despite the shooting struggles, it never felt like Michigan was in serious danger of dropping the game – even if they did appear to be in hibernation for much of the contest. For what it's worth, KenPom's statistical win probability meter agreed, with the Maize and Blue never falling below a 90.8 percent likelihood of pulling it out – they were up by at least three points the entire second half.
Minnesota was paced by sophomore Nate Mason's career high 25 points on 16 shots while Carlos Morris and Jordan Murphy combined for 27 points on 23 shots. As a team, the Gophers simply couldn't hit anything from deep when it mattered – they didn't make a three in the second half until there were 25 seconds left in the game – and finished with a poor 27.3 percent mark from distance. The visitors did, however, have some success driving and made 51.4 percent of their two-point looks, which Beilein attributed to a defensive focus on sticking with Minnesota's perimeter shooters. And though Beilein said that strategy worked, citing the Golden Gophers' shooting woes, Minnesota's strength has always been getting to the hole and drawing fouls. Still, it was never going to be enough for Pitino's squad, who also could not overcome then-leading scorer Joey King's quiet three-point outing.
Fortunately, style points do not come into play in college basketball, and a lousy home win over Minnesota still goes into the proper column for Michigan, who has their sights set on competing for a conference title and jockeying for position in the Big Dance. It might sound a little far-fetched right now, and I'm certainly not arguing that the Wolverines are favorites in the Big Ten, but a 4-2 record with a slew of winnable games over the next few weeks is working just fine for now.
***Zak Irvin***
19 points (5-of-12 2pt, 3-of-5 3pt), 11 rebounds (one offensive), three assists, one steal, one turnover in 37 minutes
**Derrick Walton Jr.**
22 points (4-of-7 2pt, 1-of-6 3pt, 11-of-12 FT), six rebounds, one assist, one steal, one turnover in 39 minutes
*Duncan Robinson*
9 points (0-of-2 2pt, 3-of-10 3pt), five rebounds, one steal in 36 minutes
Season Three-Stars Standings
Caris LeVert – 15
Derrick Walton Jr – 15
Duncan Robinson – 14
Zak Irvin – 6
Muhammad-Ali Abdur-Rahkman – 3
Aubrey Dawkins – 3
Spike Albrecht – 1
Moritz Wagner – 1
Final Game Stats

#

Name

FG-FGA

3FG-3FGA

FT-FTA

OR

DR

TOT

PF

TP

A

TO

BLK

S

MIN

34
Mark Donnal*
2-4
1-2
0-1
2
1
3
4
5
2
3
1
0
23
10
Derrick Walton*
5-13
1-6
11-12
0
6
6
2
22
1
1
0
1
39
21
Zak Irvin*
8-17
3-5
0-0
1
10
11
2
19
3
1
0
1
37
22
Duncan Robinson*
3-12
3-10
0-0
0
5
5
1
9
0
0
0
1
36
12
Muhammad-Ali Abdur-Rahkman*
0-3
0-2
6-8
0
4
4
4
6
2
0
1
0
29
05
D.J. Wilson
0-2
0-0
0-0
1
0
1
0
0
0
0
0
0
3
11
Andrew Dakich
0-1
0-1
0-0
0
1
1
0
0
1
0
0
1
5
13
Moritz Wagner
2-3
0-1
0-0
1
0
1
2
4
0
0
0
0
8
24
Aubrey Dawkins
3-7
1-4
0-0
1
2
3
2
7
0
0
0
0
15
32
Ricky Doyle
0-1
0-0
2-2
1
0
1
1
2
0
1
0
0
5
Totals
23-63
9-31
19-23
9
29
38
18
74
9
6
2
4
200
Minnesota
25-59
6-22
13-17
7
31
38
22
69
10
12
4
1
200

Full Stats