---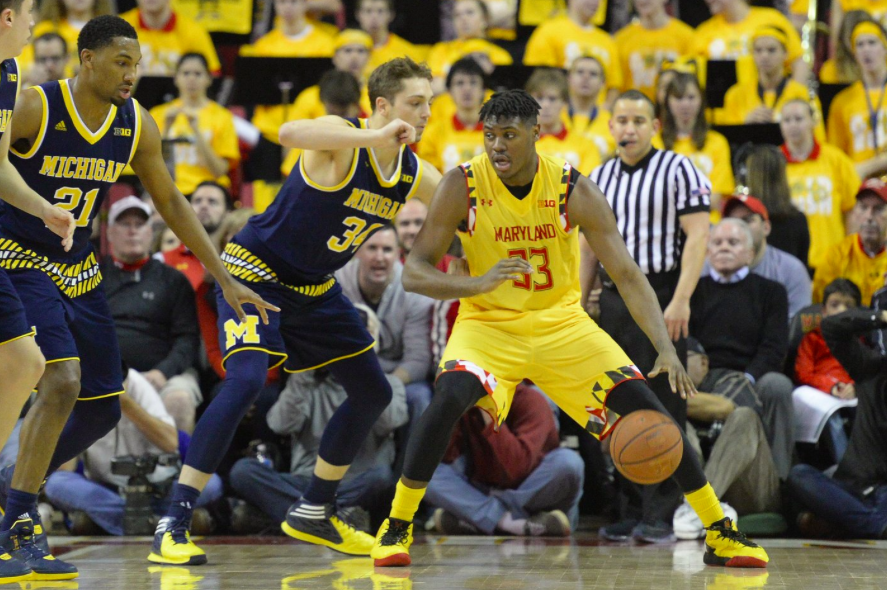 A loss is always a tough pill to swallow, whether inevitable or unexpected, in blowout fashion or nail-biting.
Today's 86-82 Michigan loss to Maryland stings just a little more though. Perhaps that's better than the numbness felt after some of the blowouts handed to the Maize and Blue earlier this year.
Few Wolverine fans were giving the visitors much of a shot at even competing on the Terrapins' home floor this afternoon – let alone stealing a victory – but Michigan fought valiantly despite missing Caris LeVert once again. A win would have all but guaranteed a berth in the NCAA Tournament while a loss pushes Michigan ever closer to the bubble.
For the better part of the first half, it seemed that another lopsided, lightly contested loss was in order for a Michigan squad that's been drubbed a bit too often this season. Before 10 minutes had passed after the tip, the Wolverines trailed by double digits and couldn't get a shot to fall. A couple minutes later and the deficit had ballooned to 16 points on a Robert Carter and-1, completing a 17-1 run for Maryland that brought back nightmares of Indiana's similarly devastating 25-0 first half blitz not long ago.
Michigan had every reason to fold this afternoon as they did against the Hoosiers. They were close to double digit underdogs and not supposed to be able to battle with the top-10 Terps.
But Derrick Walton didn't want any of it. After trailing by 16, the junior orchestrated a 17-6 run for the visitors with some unlikely help from Kam Chatman.
Seemingly dead in the water midway through the first half, Michigan clawed back to make it a five-point deficit at the break.
After halftime, the Wolverines continued to chip away at Maryland's lead and eventually tied things up at 47 three minutes into the second half. What Walton had started, Muhammad-Ali Abdur-Rahkman and Mark Donnal were finishing.
The redshirt sophomore Donnal (officially listed as a junior on Michigan's roster) started dominating all over the floor, scoring 20 points less than 13 minutes into the second half while true sophomore Abdur-Rahkman sneakily dished out five dimes in the same time period while pouring in a few points of his own.
Still, Maryland would use their offensive firepower to take an eight-point lead just a few minutes after Michigan had tied things up. The Wolverines battled back yet again to take a 75-72 lead (tying their largest lead of the game) with just 5:51 to play, but the Terps finished the fight with a 14-7 finishing spurt to KO Michigan.
It's not a loss to be disappointed in to be sure, considering Maryland is one of three teams in the country to be ranked in the top 10 for the entire season to date, but it's a tough one to see slip away – even if it was never fully within Michigan's grasp.
We saw tenacity from the Wolverines today that's been all too absent in other losses, and we saw the offense get back on track following a rough shooting stretch over the last few games and in today's first half. We also saw the reemergence of Donnal, who nearly matched his career high set in the first game of the Big Ten season with 25 points today on 10-of-13 shooting against an excellent Maryland front court. Donnal has now clearly separated himself from a shaky big man rotation after losing his starting job in each of the past two seasons to Ricky Doyle, who has struggled mightily this year, and is finishing bunnies, competing on the boards (two offensive/three defensive rebounds today), and providing some defensive resistance for a team sorely lacking on that end of the court (career high five blocks today). The Ohio native also showed off the three-point shot this afternoon that made him a four-star high school recruit with three straight triples to stretch the defense.
Walton's 14 points, six rebounds, five assists, and three steals were also crucial to keep Michigan afloat, but his five turnovers were costly and his fifth foul late sealed the Wolverines' fate.
That foul, which came on a push-off while driving to the rim with 18 seconds remaining and Michigan trailing by three, is not one you see called often, especially down the stretch in a close game. It wasn't the strangest whistle of the afternoon though, unfortunately. That came a few minutes earlier with a one-point Maryland lead when Zak Irvin was chasing after a loose ball side-by-side with a Maryland player around halfcourt and puzzlingly called for a push as he reached to pick up the ball. It felt like a big momentum swing even though no free throws were involved, as did an earlier call on Walton for slapping at the ball – and getting what looked like all ball – against a big man.
Michigan's bench play also left plenty to be desired. The six Wolverines to get minutes off the bench combined to score six points on 2/8 shooting with one rebound, two assists, a steal, and a turnover in 25 minutes. All those points came from Chatman, as did the rebound, the steal, and the assists.
The starters, meanwhile, all finished in double digits while playing between 29 and 39 minutes.
And the shots started falling, with 13 made threes on 27 attempts. But ultimately, Michigan's 16 turnovers, 17 fouls (leading to 19 Maryland free throw attempts, of which they made 17), and porous defense were too much to overcome.
The loss certainly stings, and a giant opportunity was lost. I still think there's reason for some hope and excitement, however, and a win over Northwestern at home on Wednesday would keep the Wolverines in the projected Big Dance field.
• Derrick Walton's five fouls make him the first Wolverine to foul out all season.
• The loss today marks the only game John Beilein has ever lost at Michigan when the Wolverines scored 80 or more points, ending the streak at 50 games.
• Aubrey Dawkins played only four minutes, tying his season low, and did not take a shot for just the third time all season.
***Mark Donnal***
25 points (7-of-9 2pt, 3-of-4 3pt, 2-of-2 FT), five rebounds (two offensive), five blocks, one turnover in 29 minutes
**Derrick Walton Jr**
14 points (2-of-5 2pt, 3-of-7 3pt, 1-of-3 FT), six rebounds (three offensive), five assists, three steals, five turnovers in 37 minutes
*Muhammad-Ali Abdur-Rahkman*
16 points (4-of-8 2pt, 2-of-5 3pt, 2-of-3 FT), nine assists, two rebounds, three steals, one turnover in 39 minutes
Season Three-Stars Standings
Derrick Walton Jr – 29
Duncan Robinson – 17
Caris LeVert – 15
Zak Irvin – 15
Muhammad-Ali Abdur-Rahkman – 9
Mark Donnal – 8
Aubrey Dawkins – 5
Spike Albrecht – 1
Moritz Wagner – 1
Final Game Stats

#

Name

FG-FGA

3FG-3FGA

FT-FTA

OR

DR

TOT

PF

TP

A

TO

BLK

S

MIN

34
Mark Donnal*
10-13
3-4
2-2
2
3
5
3
25
0
1
5
0
29
10
Derrick Walton*
5-12
3-7
1-3
3
3
6
5
14
5
5
0
3
37
21
Zak Irvin*
5-12
1-5
0-0
0
2
2
3
11
4
4
0
1
33
22
Duncan Robinson*
4-10
2-4
0-0
3
6
9
2
10
2
3
0
1
37
12
Muhammad-Ali Abdur-Rahkman*
6-13
2-5
2-3
0
2
2
3
16
9
1
0
3
39
03
Kam Chatman
2-5
2-2
0-0
1
0
1
0
6
2
0
0
1
8
05
D.J. Wilson
0-0
0-0
0-0
0
0
0
0
0
0
0
0
0
0+
11
Andrew Dakich
0-0
0-0
0-0
0
0
0
0
0
0
1
0
0
2
13
Moritz Wagner
0-1
0-0
0-0
0
0
0
0
0
0
0
0
0
1
24
Aubrey Dawkins
0-0
0-0
0-0
0
0
0
0
0
0
0
0
0
4
32
Ricky Doyle
0-2
0-0
2-2
0
0
0
1
0
0
0
0
0
10
Totals
32-68
13-27
5-8
12
18
30
17
82
22
16
5
9
200
Maryland
31-57
7-16
17-19
9
24
33
12
86
11
18
7
7

200
Full Stats