---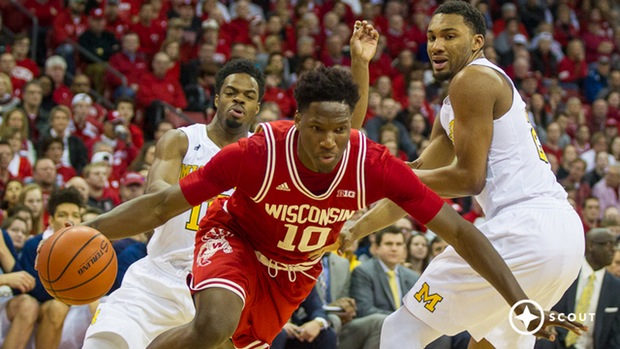 (Max Siker, BadgerNation.com)
Michigan continued its limp to the regular season finish line Sunday evening with a 68-57 loss to Wisconsin. The Wolverines have now dropped five of their last eight as they try to hang onto an invite to the NCAA Tournament.
Michigan hung with Wisconsin for about 27 minutes, but went six and a half minutes with only a Duncan Robinson three while Wisconsin broke open a nine point lead. Derrick Walton and Zak Irvin both missed open layups that could have kept the Wolverines in the game, while the biggest drama of the last few minutes centered around whether or not little-used Wisconsin senior Jordan Smith would get in the game on Senior Night. He did and thanks to two free throws in the closing minute his point total equaled that of Muhammad-Ali Abdur-Rahkman.
Michigan shot 48 percent from the field, but made just 5-of-13 three-point attempts. Wisconsin made 8-of-21 and held an eight-point advantage at the free throw line. Wisconsin also out-rebounded Michigan 33-20.
Irvin led Michigan with 14 points on 6-of-13 shooting, in addition to eight rebounds, but he also turned the ball over five times. Walton struggled from the field, going 3-of-13, but recorded 10 points, eight assists, and five rebounds. Robinson and Ricky Doyle  both also added 10 points, while Mark Donnal faced foul trouble most of the game and scored just six.
Bronson Koenig led Wisconsin with 19 points, while Nigel Hayes added 16, Vitto Brown 14, and Ethan Happ 12.
The Wolverines get six days off before hosting Iowa to close the regular season. At 20-10 overall and 10-7 in the Big Ten, Michigan may need to beat the Hawkeyes to secure a spot in the Big Dance. Iowa (20-8, 11-5) has lost three in a row, including a 68-64 loss to Ohio State this afternoon, and gave away the Big Ten title to Indiana.
Final Game Stats

#

Name

FG-FGA

3FG-3FGA

FT-FTA

OR

DR

TOT

PF

TP

A

TO

BLK

S

MIN

34
Mark Donnal*
3-4
0-0
0-0
1
0
1
4
6
0
0
0
0
21
10
Derrick Walton*
3-13
1-4
3-4
0
5
5
2
10
8
2
0
2
38
21
Zak Irvin*
6-13
1-2
1-2
0
8
8
1
14
1
5
0
2
35
22
Duncan Robinson*
4-7
2-4
0-0
0
1
1
2
10
2
0
0
1
29
12
Muhammad-Ali Abdur-Rahkman*
1-5
0-1
0-0
1
3
4
0
2
2
2
0
0
39
03
Kam Chatman
0-0
0-0
0-0
0
0
0
2
0
1
0
0
0
8
05
D.J. Wilson
0-0
0-0
0-0
0
0
0
2
0
0
0
1
0
3
11
Andrew Dakich
2-2
0-0
0-0
0
0
0
0
2
0
0
0
0
1
24
Aubrey Dawkins
1-2
1-2
0-0
0
0
0
1
3
0
1
0
0
10
32
Ricky Doyle
5-5
0-0
0-1
0
0
0
2
10
0
1
0
0
16
Totals
24-50
5-13
4-7
3
17
20
16
57
14
11
1
5
200
Wisconsin
24-49
8-21
12-15
7
26
33
12
68
14
12
4
6

200
Full Stats