---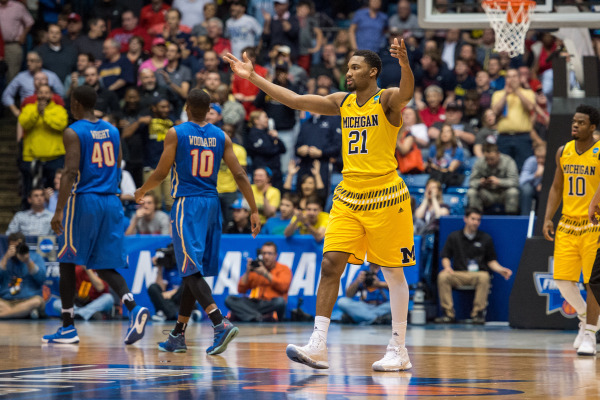 (MGoBlue.com)
In March, the name of the game is survive and advance, and Michigan did just that on Wednesday night. It was far from pretty, but the Wolverines broke into the field of 64 with a 67-62 win over 11-seed Tulsa in Dayton, Ohio.
Duncan Robinson opened the game with a three, but it would not be a sign of things to come as Michigan would make just 6-of-25 three-point attempts for the game.
When the Wolverines were struggling to score in the first half, freshman big man Moritz Wagner provided a spark, recording three of his four blocked shots and keeping them in the game. By the time halftime arrived, Michigan held an eight point lead.
But Tulsa came out more aggressive in the second half and quickly took the lead thanks to three offensive rebounds in the first three minutes. The rest of the game went back and forth with neither team able to pull away by more than a few points. With Derrick Walton in foul trouble for most of the game, Muhammad-Ali Abdur-Rahkman took control, driving to the basket consistently, finishing at the rim or drawing fouls.
With the game hanging in the balance in the closing minute, Zak Irvin drilled a three, and Michigan made its free throws down the stretch to seal the win.
Michigan shot 40.7 percent from the field and just 24.0 percent from three-point range, but made three more threes than Tulsa outscored the Golden Hurricane by four at the free throw line.
Irvin and Abdur-Rahkman led Michigan with 16 points apiece, while Duncan Robinson collected a double-double with 13 points and 11 rebounds, and Walton contributed a quiet 12. Wagner stuffed the stat sheet with four points, eight rebounds, four blocks, a steal, and an assist in 22 minutes.
Michigan's defense limited Tulsa to just 3-of-15 from three-point range, and the Wolverines out-rebounded the Golden Hurricane 38-36. Shaquille Harrison was the only Tulsa player in double figures with 23 points on 10-of-13 shooting. The rest of the team went just 15-of-43 from the field.
Michigan (23-12) will travel to Brooklyn tonight to face 6-seed Notre Dame (21-11) in the Barclays Center on Friday. The game will tip at 9:40pm Eastern and will be televised by CBS.
***Muhammad-Ali Abdur-Rahkman***
16 points (5-of-16 2pt, 0-of-3 3pt, 6-of-8 FT), three rebounds, two assists in 38 minutes
**Moritz Wagner**
4 points (2-of-2 2pt), eight rebounds, four blocks, one steal, one assist, one turnover in 22 minutes
*Duncan Robinson*
13 points (5-of-10 2pt, 2-of-5 3pt, 1-of-2 FT), 11 rebounds (one offensive), four assists, two blocks, one steal, one turnover in 35 minutes
Season Three-Stars Standings
Derrick Walton Jr – 30
Duncan Robinson – 18
Caris LeVert – 15
Zak Irvin – 15
Muhammad-Ali Abdur-Rahkman – 15
Mark Donnal – 8
Aubrey Dawkins – 7
Moritz Wagner – 3
Spike Albrecht – 1
Final Game Stats

#

Name

FG-FGA

3FG-3FGA

FT-FTA

OR

DR

TOT

PF

TP

A

TO

BLK

S

MIN

34
Mark Donnal*
1-1
0-0
0-0
1
1
2
2
2
0
0
0
0
13
10
Derrick Walton*
4-10
2-7
2-2
0
0
0
4
12
1
3
0
2
29
21
Zak Irvin*
6-12
2-5
2-2
0
2
2
0
16
2
3
0
1
36
22
Duncan Robinson*
5-10
2-5
1-2
1
10
11
2
13
4
1
2
1
35
12
Muhammad-Ali Abdur-Rahkman*
5-16
0-3
6-8
0
3
3
1
16
2
0
0
0
38
03
Kam Chatman
0-5
0-3
0-0
1
0
1
0
0
0
0
0
0
4
11
Andrew Dakich
0-0
0-0
0-0
0
1
1
1
0
0
0
0
0
5
13
Moritz Wagner
2-2
0-0
0-0
3
5
8
2
4
1
1
4
1
22
24
Aubrey Dawkins
0-2
0-2
0-0
1
3
4
1
0
0
0
0
0
13
32
Ricky Doyle
1-1
0-0
2-2
1
0
1
1
4
0
0
0
0
5
Totals
24-59
6-25
13-16
12
26
38
14
67
10
8
6
5
200
Tulsa
25-56
3-15
9-15
10
26
36
15
62
10
11
6
5

200
Full Stats