---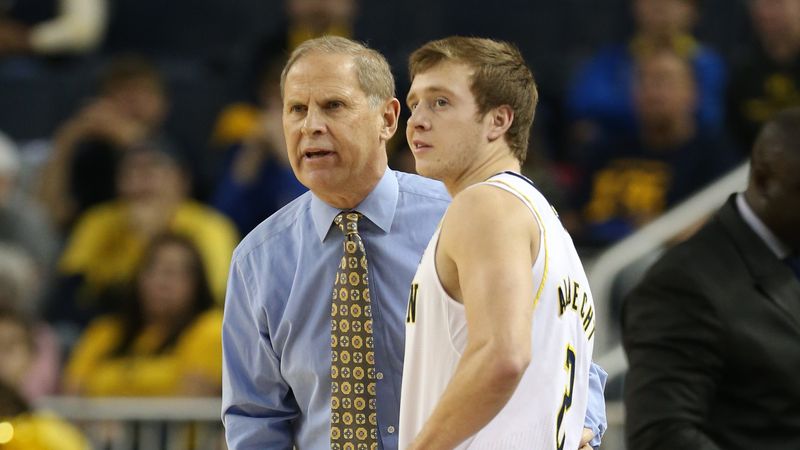 (Kirthmon F. Dozier, Detroit Free Press)
Earlier this week, the University of Michigan announced that Spike Albrecht, fresh off a senior year in which he was only able to play nine games and thus was granted a redshirt, would transfer out of Ann Arbor to play basketball elsewhere next season. With that came the official end of the 2012 recruiting class's "Fresh Five" era at Michigan, and a collective sigh across the Michigan fan base.
(As an aside, it's worth noting that not a single player from that touted class will play a full college career at Michigan, as Nik Stauskas, Glenn Robinson III, and Mitch McGary left early, Caris LeVert played the equivalent of only two conference seasons, and Albrecht will transfer. That's an even worse hit rate than the famed Fab Five, which saw two players – Jimmy King and Ray Jackson – play four full seasons in Ann Arbor and two more – Juwan Howard and Jalen Rose – complete their junior years.)
All seemed well and good until it was pointed out that the Big Ten restricts graduate transfers from playing immediately at another member institution. Shortly after that, it was revealed that Michigan coach John Beilein would restrict Albrecht from not only transferring within the Big Ten conference, but also to any other opponent on Michigan's schedule in the next two seasons, according to MLive's Brendan Quinn.
From there, all hell broke loose. Talks of Albrecht being a victim of an archaic NCAA system flooded social media, and critics of the restriction policies pointed out once again that the millionaire coaches have all the power while the peasant players – the ones who actually create the product that lines the pockets of coaches and administrators across the country with cash – are merely pawns of the system.
Perhaps the most outspoken of all the voices heard was Yahoo!'s Pat Forde, who presented Albrecht's situation as the "height of hypocrisy" in a scathing column attacking both Beilein and the college basketball system as a whole.
Before I address these arguments, however, I wanted to make one point clear: every college basketball player seeking a transfer is doing so for his own reasons. To throw every single transfer into a basket and cover it with a single blanket is to ignore the uniqueness of each individual's situation. So while I will defend Beilein's reasoning to a certain extent in this case, I am not saying he is infallible when it comes to transfers; in fact, I was quite outspoken myself in his refusal to allow former Wolverine Max Bielfeldt back for a fifth season in Ann Arbor while also trying to prevent him from transferring to certain schools.
Now, on to this individual case. Instead of responding to Forde's column with a winding essay of my own, I decided to break his arguments down into three points and address them one-by-one.
From my perspective, Forde's issues boil down to the following:
1. Not allowing Albrecht to transfer within the Big Ten is "massively hypocritical" on Michigan's part
2. Spike was "recruited over" and "has been told there is no scholarship for him at Michigan"
3. Rich, greedy coaches are allowed to move about freely from school to school without consequence while poor players are restricted from choosing where they wish to play
I'll respond to these in order.
1. The supposed hypocrisy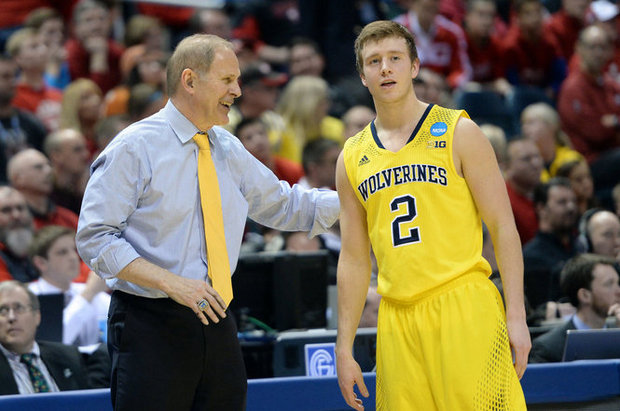 (Melanie Maxwell, The Ann Arbor News)
Oh, the hypocrisy!
Let's get Forde's smelliest garbage – the idea that Michigan and John Beilein are being hypocritical by restricting Albrecht's options because Jake Rudock just led the Wolverines' football team to a solid season in his fifth year after transferring from Iowa – out of the way first. Yes, it's true that Rudock left Iowa for Michigan and had a mostly excellent season as quarterback of the Maize and Blue, in what just so happens to be the most important position on the field. But according to my records — and, you know, Michigan's schedule — the Wolverines did not play Iowa in Rudock's lone season in Ann Arbor, so Iowa was never harmed by the transfer.
Now, it might take the intellect of a first grader to realize this, but as far as I know, Beilein does not run the football program at Michigan. To blame Beilein for being hypocritical when he was not even involved in one end of the equation is like blaming an eighth grade algebra teacher for a seventh grader failing biology. Sure, go ahead and argue that the conference is acting hypocritically, but don't blame the coach that has never signed, and to my knowledge never even pursued, a transfer from another Big Ten university while at Michigan.
Even then, though, the Big Ten is not changing any policy. Rudock and Bielfeldt – who ended up playing his fifth season of basketball at Indiana – had to apply for a special waiver through the conference.
Furthermore, while it's clear that Beilein has attempted to block his former players from transferring within the conference or to other future opponents, he has never fought extensively to prevent it after that waiver was granted. Indeed, the coach has lost two former players to future conference opponents in Evan Smotrycz (Maryland) and Bielfeldt, and a third, Laval Lucas-Perry, to a team on Michigan's upcoming schedule (Oakland).
It's also worth noting that this is not exactly a new issue. Beilein has made his policy very clear in the past – a policy that, according to Quinn, Albrecht was fully aware of – and is far from being alone in trying to avoid playing against athletes to whom he has spent years coaching up and teaching his intricate system. In fact, it was just a few seasons ago when Bo Ryan vehemently fought to prevent his redshirt freshman Jarrod Uthoff from transferring to Iowa, where the future star hailed from.
2. Spike's scholarship was effectively pulled out from under him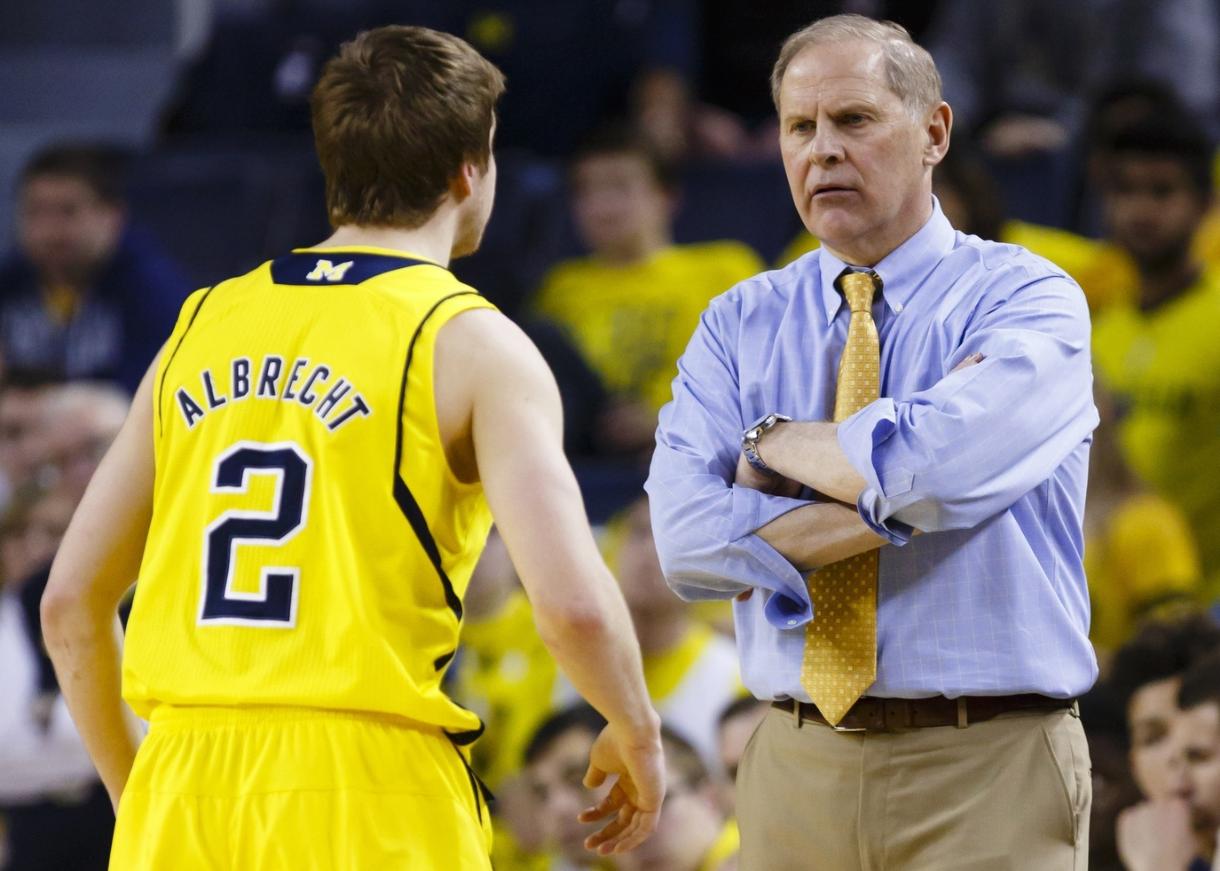 (Rick Osentoski, USA Today Sports)
While Forde's ridiculous argument regarding hypocrisy is exactly that, this argument is even more outrageous to me. Let's first forget about the fact that Forde never even interviewed Albrecht for his hot take laden article, but rather relied on a single second-hand source in the form of Spike's father for all his information.
To say that Albrecht was "recruited over" shows a complete lack of understanding of the situation, so I will do my best to recap. Throughout his junior season, Albrecht played through pain in both of his hips, opting to withhold surgery until the offseason. Once the offseason came around, the rising senior from Crown Point, Ind. immediately underwent surgery on both of his hips to correct issues that his father has also experienced. Doctors and the Michigan basketball program alike, from Beilein to Albrecht himself, seemed confident that, with some intense rehab, Albrecht would be ready to go by the start of his senior year (approximately eight months after surgery).
Unfortunately, all did not go according to plan. Albrecht's pain affected his play in a major way, and soreness and stiffness reportedly followed him around like a Stage Five Clinger. During halftime of Michigan's game at SMU, Albrecht informed coaches that he did not feel well enough to return in the second half, and a decision was made soon thereafter to shut it down for the remainder of the season.
At the time, Michigan announced that Albrecht was "retiring", but there always seemed to be an underlying sense that he could return if things progressed positively. Fast forward to earlier this week, and Albrecht's competitive attitude led him to extend his college career.
By all accounts, there was simply no way for Beilein to anticipate this situation. Seeing the developing state of his roster heading into this past season, Beilein went ahead last year and recruited a point guard by the name of Xavier Simpson to come in with the class of 2016 to presumably back up a senior Derrick Walton. At the time Simpson committed to Michigan on September 9 and later signed his Letter of Intent to play at Michigan on November 11, all parties expected Albrecht to play out his career in Ann Arbor. That, of course, changed in the following weeks, but by no means was Albrecht deliberately "recruited over".
Additionally, there's strong reason to believe that Albrecht himself did not even directly inquire about the possibility of returning to Ann Arbor for his redshirt senior season. In one report from Quinn on MLive.com, Albrecht said "I know there's a slim shot of a spot opening up" and that his conversation with Beilein was "tough on both of us" and "difficult" for Beilein. He went on to say that Beilein would consider bringing him back if an additional scholarship opened up, but that Albrecht wanted to get his name out on the transfer circuit with spots starting to emerge elsewhere. In a similar report from The Michigan Daily, Albrecht was quoted as saying "I know the scholarship situation I'm going to be in and that there's probably not a likelihood of me being able to come back" to Beilein.
To me, that sounds like the decision to transfer was 100 percent Albrecht's call. Beilein did not force Spike out like he arguably did with Bielfeldt before. He even presumably agreed to assist Albrecht in acquiring an extra year of eligibility by preserving his redshirt. Whether Albrecht is transferring due to concerns over playing time next season or for other unknown reasons is beside the point here, as it appears pretty clear that Albrecht was never explicitly told that he would not be able to return to Michigan.
It's also widely known that Albrecht is a favorite of Beilein's despite being undersized and outmatched athletically by nearly every opponent – something that has seemed to fly under the radar as people pile on Beilein for being a monster.
3. Coaches are rich and powerful, players are powerless peasants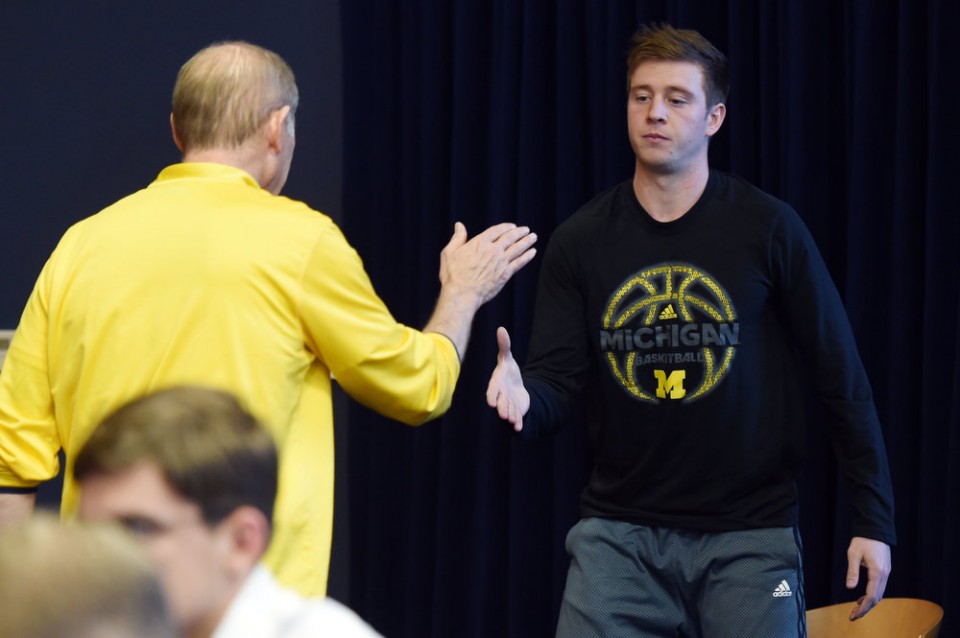 (Melanie Maxwell, The Ann Arbor News)
I'll agree with the basic argument Forde (in solidarity with many other pundits) presents here. It's true – big-time college basketball coaches make millions of dollars on the backs of their players while the players get nothing more than a free education, free coaching, gear, and a stipend in return (no, we will not be getting into the drawn-out amateurism argument here). Coaches are also free to pick up and change schools or retire on a whim, while players are often restricted from transferring to certain schools or forced to sit out a season in order to adhere to NCAA rules.
But let's discuss a couple facts that are not pointed out in Forde's article. The example that Forde gives to embody this argument is that if Beilein retired and Tom Izzo decided to take over as head coach at Michigan, "(Izzo) would be welcomed with open arms in about 30 seconds" without restrictions or having to sit out a season. Besides this being maybe the worst example ever given in the history of mankind, it also fails to acknowledge that players and signed recruits are almost always given a no-holds-barred release from their "contract" if a coach leaves his post. If Beilein were to retire or unexpectedly take a different job next year, his players and recruits would be allowed to leave Michigan – and even follow him to his new destination if desired.
This argument also fails to address another crucial fact. Sure, the player in this situation is being restricted from going anywhere in the country, and thus one could argue that he is hurt by the inability to transfer to the school that offers him the best opportunity. But what about his former teammates? In this case, if Albrecht were allowed to transfer to another Big Ten school or a different future opponent, does that not hurt Derrick Walton, Zak Irvin, and company? What happens if Albrecht went to Indiana and provided a full scouting report to his new coach and teammates, complete with inside information on Beilein's system and certain tendencies of his former teammates? Is that not inhibiting Michigan's current players from having a fair shake?
Now yes, every team scouts its opponents extensively, and Tom Crean is very familiar with Beilein's system by now. A former college basketball player argued with me that even if Albrecht were able to provide play names to his new Big Ten team, conference opponents would have already scouted Michigan enough to know certain plays and individual tendencies. But in my book, any bit of an advantage helps, and allowing one player the chance to provide a full scouting report against his former team seems a bit one-sided to me.
And though Beilein's comments have been largely dismissed, I'll put forth his argument again: Does it really hurt a player that bad if he only has 330-some different schools to transfer to as opposed to 350 schools? Albrecht can still play for any number of big time programs throughout the country. He can still finish his college career in the tropics (Hawaii, Florida Gulf Coast) or in the tundra (UW-Green Bay, Maine). He can choose to play close to home for a highly respected program (Notre Dame, Butler) or far away for a program on the rise (Southern California). He can continue his education at an outstanding academic institution (Stanford) or take it easy on the books (IUPUI). Heck, if he's feeling up for it, Spike could even play for any of the four teams left standing that we'll all be watching this weekend.
That doesn't sound so bad to me.