---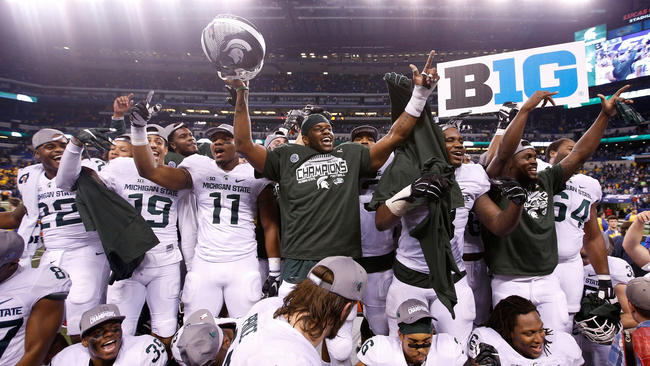 (Joe Robbins, Getty Images)
With less than six weeks remaining until college football returns the Michigan hype train is in full force entering Jim Harbaugh's second season at the helm. The main questions the Wolverines face are at the quarterback position — Harbaugh's specialty — and linebacker where do-it-all burgeoning superstar Jabrill Peppers will step in. But how does Michigan compare to the rest of the Big Ten in terms of who's coming back?
It's time to take our annual look at how each team in the Big Ten compares in terms of returning production. Of course, this is just one metric to use to predict each team's success in the upcoming season, not the be all end all, but we'll take a look at how it panned out the past two years as well and see if we can make any predictions on outcomes this fall.
The first year we tracked this, 2014, eventual champion Ohio State returned 60 percent of both its offense and its defense from the previous season. Last season, Big Ten champion Michigan State returned 54 percent of its offense and 67 percent of its defense, or just over 60 percent of its total returning production from 2014.
The teams with the most returning production both years — Maryland in 2014 with 90 percent and Ohio State in 2015 with 81 percent — both failed to reach the Big Ten championship game. Maryland finished third in the East with a 7-6 overall record and a 4-4 conference record, while Ohio State finished second in the East with a 12-1, 7-1 record.
Will this season follow the trend of the past two? Let's take a look at this year's returning offensive production.
Offense
Returning offense
Team
Percent Returning
2015 Total Offense Ranking
Nebraska
88%
34
Minnesota
85%
103
Northwestern
82%
115
Rutgers
79%
84
Maryland
79%
87
Purdue
72%
95
Illinois
71%
88
Iowa
71%
72
Penn State
54%
105
Michigan
53%
69
Indiana
45%
14
Wisconsin
43%
79
Michigan State
38%
73
Ohio State
28%
41
Returning scoring offense
Team
Percent Returning
2015 Scoring Offense Ranking
Nebraska
86%
43
Minnesota
85%
106
Maryland
78%
95
Northwestern
75%
114
Iowa
75%
54
Illinois
73%
103
Rutgers
72%
78
Purdue
69%
92
Wisconsin
60%
81
Penn State
54%
101
Michigan
54%
50
Michigan State
48%
60
Indiana
40%
24
Ohio State
32%
28
Nebraska is this year's Maryland and Ohio State with the most returning production in the conference. That returning production falls in between the Terrapins and Buckeyes in terms of the previous season's total offense rating (34th versus Ohio State's 9th and Maryland's 75th) and scoring offense rating (43rd versus OSU's 5th and Maryland's 84th). Both of those offensive units actually went backwards the following season even with so much returning production. Maryland slid 34 spots to 109th in total offense, while Ohio State slid seven spots to 41st. It is important to note that the Maryland comparison is apples to oranges since the Terps moved from the Atlantic Coast Conference to the Big Ten between the 2013 and 2014 seasons.
The good news for Nebraska is that the offense returns quarterback Tommy Armstrong, who ranked second in the Big Ten in passing last season. In 2014, Maryland had to replace quarterback CJ Brown. Last season Ohio State returned J.T. Barrett, but Urban Meyer and offensive coordinator Tim Beck played musical chairs with he and Cardale Jones, which held the offense back from what could have been much more potent.
Minnesota returns the second most offensive production (85 percent) and scoring (85 percent) but ranked near the bottom nationally in both categories a year ago at 103rd and 106th, respectively. Aside from leading receiver K.J. Maye, everyone of importance is back for the Gophers offense. However, the offensive line returns just one player who started all 13 games, right tackle Jonah Pirsig. That means 115 career starts are gone and only a combined 37 return.
The next four teams with the most returning production are all pretty much in the same both. Northwestern (82/75 percent), Rutgers (79/72), Maryland (79/78), Purdue (72/69), and Illinois (71/73) return a lot of offense, but all five ranked between 84th and 115th nationally in total offense in 2015. All five return their primary quarterback, so that's good news, but they all have too big a hill to climb to make a serious challenge for the Big Ten title.
Iowa returns 71 percent of its offense that ranked 72nd last season and 75 percent of its 54th-ranked scoring offense. Quarterback CJ Beathard figures to be one of the best in a down year at the position in the Big Ten, but the Hawkeyes have to replace leading rusher Jordan Canzeri and two of their top three receivers. Like Minnesota, Iowa has major losses to replace along the line with All-Big Ten performers, right guard Jordan Walsh and center Austin Blythe, taking 86 career starts with them to the NFL.
Penn State and Michigan are neck-and-neck in terms of returning offensive production this season. Penn State returns 54 percent of its offense and 54 percent of its scoring, while Michigan returns 54 and 53 percent, respectively. The big difference, however, is what that production accomplished in 2015. Michigan's offense ranked 69th nationally and 50th in scoring, while Penn State's ranked 105th and 101st. Both have to replace their starting quarterbacks, but all bets should be on Harbaugh to produce a better one than James Franklin. Michigan returns 72 percent of its rushing and 92 percent of its receiving, while Penn State returns 78 and 85.
Indiana and Wisconsin both return approximately the same (45 percent and 43 percent of offense respectively). Offense has never really been an issue for the Hoosiers under Kevin Wilson and there's no reason to think this year will be much different. Defense is another story. More on that later. Wisconsin has to replace quarterback Joel Stave, more than 50 percent of its receiving production, and second-team All-Big Ten left tackle Tyler Marz.
Michigan State and Ohio State round out the returning offensive production. The Spartans bring back 38 percent of the nation's 73rd-best offensive unit and 48 percent of the 60th-best scoring offense. They have to replace quarterback Connor Cook, 65 percent of their receiving production, and center Jack Allen and left tackle Jack Conklin's combined 85 career starts. The three-headed rushing attack of L.J. Scott, Gerald Holmes, and Madre London will have to carry the load until the passing game finds its stride.
Ohio State's mass exodus for the NFL leaves just 28 percent of its offense and 32 percent of its scoring behind. The good news for Meyer is that he still has Barrett behind center without Jones to muddle things and the Big Ten media picked Barrett as the preseason offensive player of the year. The other good news is that Meyer's recruiting dominance over the past few seasons means he has plenty of talent waiting in the wings. Just how well it will step up is the question. Only 132 rushing yards return from the running back position (Barrett is the returning leader with 727) and only 19 percent of last season's receiving yards return.
Stay tuned for our defensive breakdown and conclusions coming soon.