---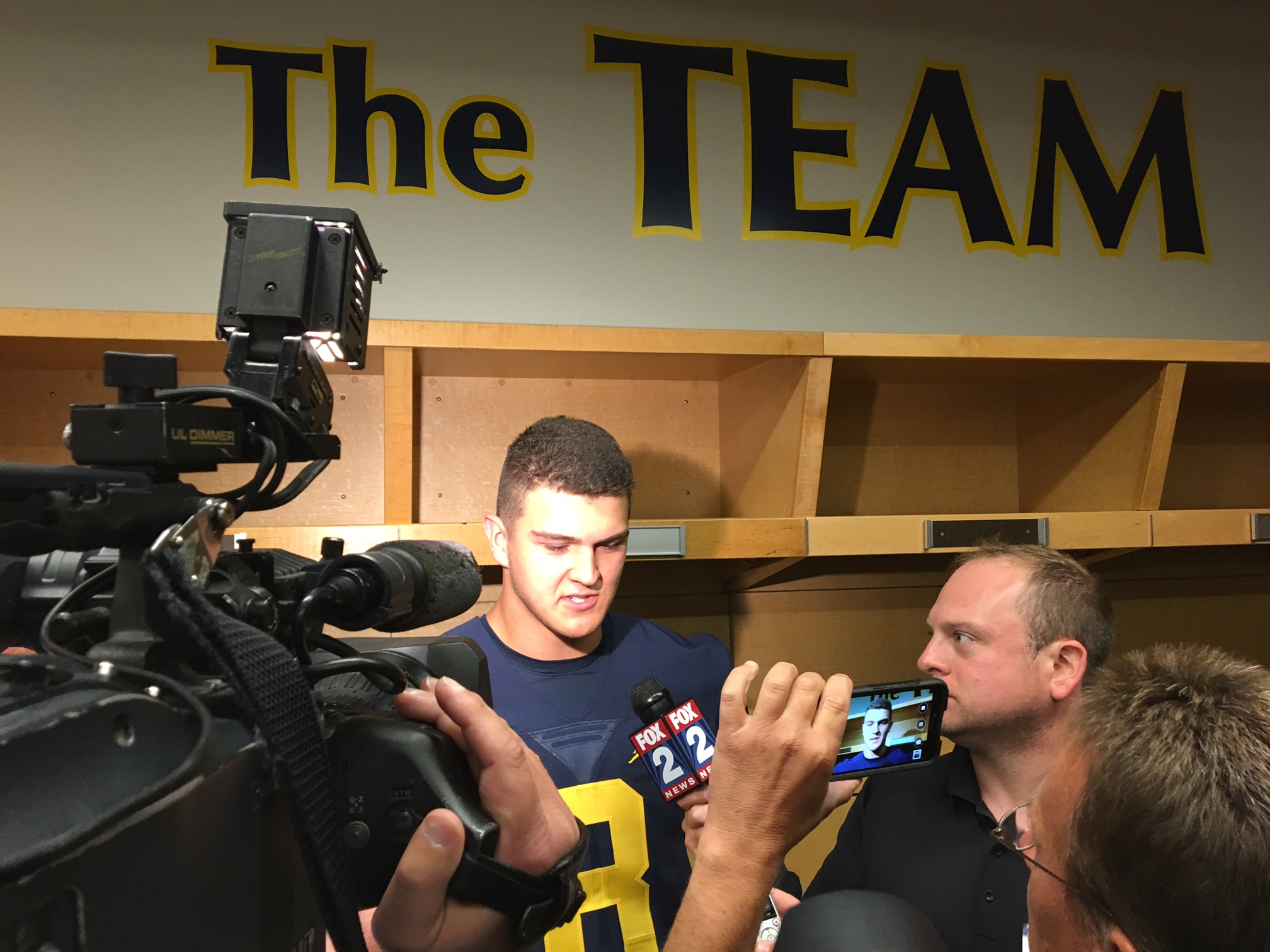 (Justin Potts, M&GB)
Michigan opened fall camp on Monday which means the coaches and players went into a figurative submarine as head coach Jim Harbaugh described it last fall.
"Just to let you know, we're going into a submarine," Harbaugh said on the eve of last season's fall camp. "You won't hear from us. You won't see us. We'll be working. We'll be in a bunker…until we decide we're not."
But there was plenty of talk at media day on Sunday and much of it centered around the most intriguing position battle that will take place over the next three-plus weeks.
Most expect redshirt junior John O'Korn and junior Wilton Speight to duel it out for the right to start behind center when Michigan hosts Hawaii on Sept. 3. And with an experienced team that doesn't have many more questions entering the season all eyes will be on that quarterback battle.
Speight appeared in seven games last season, completing 9-of-25 passes for 73 yards, a touchdown, and an interception. His most notable outing came in relief of Jake Rudock when Rudock was injured in the third quarter of a tight game at Minnesota last October. Speight engineered the game-winning drive, connecting with Jehu Chesson for a go-ahead, 12-yard touchdown with five minutes remaining.
O'Korn has more playing experience, but has yet to take the field in the Maize and Blue. He began his career at Houston where he earned American Athletic Conference Rookie of the Year honors in 2013. He started 11 games that season, completing 58.1 percent of his passes for 3,117 yards, 28 touchdowns, and just 10 interceptions. But he hit a sophomore slump in 2014, completing just 52 percent of his passes for 951 yards, six touchdowns, and eight interceptions in five starts. Following that season he transferred to Michigan and sat out 2015 per NCAA transfer rules.
Now, he will look to harness his starting experience under the man who helped Rudock blossom into an NFL draft pick in just a few short months.
"There's no substitute for experience, not having to run out there and look at the crowd or worry about what a defense is doing," O'Korn said on Sunday. "I've pretty much seen every defense that we're going to face during my time at Houston on field in a game situation."
O'Korn had the advantage of living with Rudock last season, learning from the starting quarterback on a daily basis. Despite a slow start as he struggled to get in sync with his receivers, Rudock compiled one of the best seasons for a quarterback in Michigan history. He ranked second all-time in completions (249), second in yards (3,017), and set the single-game touchdown record with six against Indiana. O'Korn gained a valuable perspective watching him in 2015.
"Jake's a guy that's not going to say a lot, but just watching him and how he operates. I lived with him so I saw what he was like every single day, in preparation for a game, that kind of stuff. He was a guy that just came in every day, kept his mouth shut, and worked his butt off, and that's something that I want to try to do too.
"The thing about Jake is that all of us knew that he was going to be that good. It just took a few weeks to get everything in sync. Whoever plays (this season) is going to have the same success this year if not more."
Like O'Korn, Speight is ready to call on his experience as he looks to win the job.
"That was huge," Speight said of his performance in the Minnesota game last season. "To be able to go into a hostile environment on the road like that in a rivalry game. I built on that a lot. Coach Harbaugh kept reiterating that I was able to do that and why not again and why not this season. I felt good about that performance, but I know I can do more and hopefully this season I can kind of show that."
Quarterbacks coach and passing game coordinator Jedd Fisch also sees a difference in Speight from a year ago and is challenging the Richmond, Va. native to continue to grow.
"Wilton is somebody who has really matured over a year," Fisch said at media day. "I think that going into last year's camp he was a much different person than he is going into this year's camp. He's mature, he's taken on a lot of responsibility. The obvious game against Minnesota gave him a ton of confidence and he's just excited about it. He's excited about the fact that that's not going to be the only touchdown he ever throws for Michigan. I think that's his mindset — that that's not going to be my last touchdown."
But with all the talk of Speight and O'Korn, Fisch is quick to point out that there are other quarterbacks on the roster and they'll all get a chance to earn the job.
"I think we have two guys that are doing really well and another two guys that are right there continuing to compete for it. I don't think it's a slam dunk that it's in between just two guys. We're not going in thinking that way. There's an opportunity to go out there and take this job. Nothing's given to anyone. They've had April 1 or 2 — whenever our spring game was — they had from that day to tomorrow on their own to figure out a way to go become the starting quarterback at Michigan. And that's pretty cool."
Senior Shane Morris is still vying for a chance and true freshman Brandon Peters — who enrolled early and participated in spring ball — has as much upside as any of them.
As of Sunday, Fisch was unsure of how the fall practice reps would be split, but he was sure about what he will be looking for out of the eventual starting quarterback.
"There's a lot of things you have to look at, but the number one thing is can you lead the team to score? Can you lead the team in practice? Can you move the football? Can you not just have flashes but can you have consistent good days — one after another after another? Can you have a move the ball period that's unscripted? Can you go from the 20 to the 20 or from the 50 to the goal line, wherever we start can you just make first downs?
"The guy that does the most of that will really give us a great chance. And then how they lead the team, how they command the huddle, how they act in meeting rooms, do they have a moxie about them? And what's the end result?"
Yesterday, four guys began their quest to become Michigan's starting quarterback. And while Fisch wouldn't completely rule out the competition lasting into the season, he said he would be surprised if that happened. Speight, meanwhile, is ready for the healthy competition.
"Obviously it's not all going to be daffodils and dandelions. It's going to get competitive. It's going to get heated. But at the end of the day we all respect each other."
O'Korn agreed that the competition will be strong.
"The nature of our quarterback competition is that there are three of us that could probably be starters at 125 different schools across the country and for some reason it wound up that all three of us are here. So somebody's got to play."
And although the quarterback position is a question mark at this point, whoever wins the job will succeed, says O'Korn, for one key reason.
"We have the best coaches in the country with Coach Fisch with us every day, Coach Harbaugh — who played 14, 15 years in the NFL — and Coach Drevno with the running game and play calling," O'Korn said. "The combination of those three is kind of a three-headed monster. We're going to be prepared every week. We're going to be ready to play."