---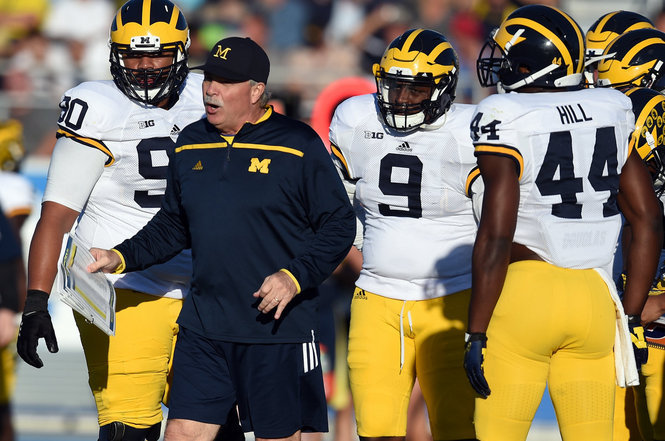 (Melanie Maxwell, MLive.com)
Recently, I was having a conversation with someone about the impact that Don Brown will have on the defense. He was saying with an extra aggressive scheme Michigan will probably force more turnovers but they'll also end up giving up more big plays and that could cause them to regress and be even more susceptible to high powered offenses like Ohio State.
I hadn't thought about it that way before — though I have heard the high risk/high reward narrative before — but it got me really thinking about it and I started looking into the stats from Don Brown's previous defenses to see what Boston College did with this aggressive scheme and whether it really is a high risk one. Spoiler: it's not.
""High risk? No. We don't just throw this stuff against the wall … take it and say throw in this," Brown said on Monday. "Come on. We're not doing that. We look at the formations, the personnel groups. We lean to be on the aggressive side. Whether you're running or passing the ball, we're going to have the ability when we dictate to come. That's what it's all about."
During my research one unfamiliar term came up several times: toxic differential, which measures big plays for/against, combined with turnover margin. So I dug deeper to compare what Boston College's defense did the past few years versus what Michigan's did and how Don Brown will impact Michigan's defense this year and going forward.
But first a brief primer on toxic differential. We all know if you win the turnover battle you're more likely to win the game and we all know that you would like your defense to prevent big plays. But until recently, I've never seen a metric that combined both turnover margin and big plays for/against ratio.
So what defines a big play? The NFL seems to regard any play gaining 20-plus yards as a big play, but it does not differentiate between rush and pass plays. I didn't like that as it values runs and passes equally. Then Pete Carroll gave me what I was looking for. He regards big plays as 12 or more yards rushing and 16 or more yards passing. This is probably a much better measure of big plays.
Unfortunately, that data is not readily available for college stats, so for our purposes we will consider big plays to be any rush of 10 or more yards and any pass of 20 or more yards. What toxic differential seems to give us is a very intriguing look into how successful teams are successful.
Before we get to Brown's defenses, let's take a quick look at the playoff teams from both the past two seasons to see how those team ranked in this metric. Last year, Oklahoma ranked 12th, Clemson 16th, and Alabama 19th in toxic differential on a per game basis. (Note: I found that using a per-game number better illustrated these stats as some teams played only 12 games while most others play 13-14). So three of the final four ranked in the top 20 in toxic differential. Michigan State was the outlier at 45th, but when looking deeper you find that they were 10th in turnovers forced and fourth in turnover margin, so that explains that. And so does a lucky win at Michigan.
The season before that — 2014 — shows a very similar picture with national champion Ohio State ranking first, runner-up Oregon eighth and perennial top-5 team Alabama 11th. Three of the four playoff teams ranked in the top 11. Florida State was an extreme outlier at 77th — worse than even Michigan, which was 58th. Even stranger, and further proving stats do not tell all, FSU was 104th in turnover margin at minus-6. Let's chalk it up to the Jameis Winston effect or something.
Now the fun stuff.
Don Brown defensive stats compared to Michigan in 2015
Year
Big Run plays (rank)
Big Pass plays (rank)
Total Big plays (rank)
Toxic Differential (rank)
2013 BC
4.6 (38th)
3.6 (87th)
8.2 (59th)
2014 BC
3.3 (5th)
2.8 (34th)
6.1 (6th)
2015 BC
3.5 (8th)
2.4 (13th)
5.9 (6th)
24 (33rd)
2015 UM
4.8 (56th)
2.4 (13th)
7.2 (25th)
-3 (77th)
In 2015, the Boston College defense gave up 3.5 big run plays and 2.4 big pass plays per game, which was good for eighth and 13th fewest in the nation, respectively. Of all the plays in 2015, they gave up a big play (either pass or run) 9.47 percent of the time, which was good for 11th-best. BC gave up an average of 5.9 total big plays per game, good for sixth nationally. They came up plus-3 in turnover margin and their big play differential (percentage of big plays for minus percentage of big plays against) came in at 2.78 percent, good for 28th overall. Their total toxic differential was 24. On a per game basis this ranked them 33rd nationally.
Great, so what does that all mean? In a nutshell it means that Don Brown's super aggressive scheme is not a high risk/high reward defense. In fact, the stats show that if anything this defense actually helps prevent big plays (sixth fewest big plays given up per game in the country). Brown himself calls his defense calculated, bringing different kinds of pressure from different spots depending not only on down and distance but also based on their scouting report of specific opponents.
Michigan had a top tier defense as well last year, so one might assume their numbers would be as good, if not better than BC's. It turns out they weren't. The Wolverines gave up an average of 4.8 big run plays per game (aided by an absent Ryan Glasgow against IU and OSU due to injury) and 2.4 big pass plays per game, good for 56th and 13th nationally. Based on total number of plays Michigan gave up a big play 11.49 percent of the time, 59th nationally. All told, Michigan gave up 7.2 big plays per game, good for 25th nationally, very good but just over one big play more per game than BC surrendered.
Turnover margin left a lot to be desired for Michigan at minus-4 and their big play differential came in at -1.01 percent, 88th nationally. That means that they gave up a higher percentage of big plays than they produced, despite averaging an almost identical 7.3 big plays for and 7.2 plays against. Where they really got hurt was their inability to force turnovers. Michigan ranked near the bottom of the country in forced turnovers. To put in perspective just how few turnovers Michigan actually forced, only six teams in the country forced less turnovers than Michigan did last year.
Michigan's toxic differential total was minus-3, ranking them 77th on a per game basis. All but one metric — big pass plays against — was worse than BC's ratings, and in that one they tied with 2.4 big pass plays given up per game.
Michigan's defensive coordinator last season, D.J. Durkin, was not known as a blitz-crazed maniac and his defense only surrendered 2.4 big pass plays per game, which was very respectable. Don Brown, or Dr. Blitz as he has been called, brings pressure on a self-described 85 percent of his play calls. Yet, his defense gave up the exact same number of big pass plays and less big run plays per game.
Going back two Brown's first two seasons at Boston College, there was a significant improvement from Year 1 to Year 2 and then 2015 maintained that success. In his first season in Chestnut Hill, Brown's defense ranked 38th nationally with 4.6 big runs allowed per game — an improvement by one big run per game from the previous season –, 87th with 3.6 big pass plays allowed per game, and 59th with 8.2 total big plays allowed per game. In 2014, those numbers increased dramatically. The Eagles ranked fifth with 3.3 big runs allowed per game, 34th with 2.8 big pass plays allowed per game, and sixth with 6.1 total big plays allowed per game.
It seems reasonable to expect a moderate decrease in big plays allowed per game over Michigan's totals from last year due to the superior athletes they have at their disposal (and incredible depth at defensive line) compared to the talent Brown had at BC. Keep in mind that BC's two play decrease from 8.2 total big plays given up per game in 2013 to their 6.1 in 2015 was a percentile jump of 53 spots. So by moderate I think we should look for about one less big play per game.
While that may not seem like much, according to Pete Carroll, each drive in which a team has at least one big play they are about 75 percent more likely to score. It stands to reason then that eliminating just one big play per game could result in giving up three to seven fewer points. For a defense like Michigan's, which only gave up 16.4 points per game in 2015, that could mean the difference between very good defense and one of the best ever. Dare I say, Don Brown's defense this fall could give the 1997 squad a run for their money?
The conclusion I draw here is that Don Brown's super aggressive defense is actually a low risk/high reward scheme. Michigan was a very good defense last year and they might be even better this year.