---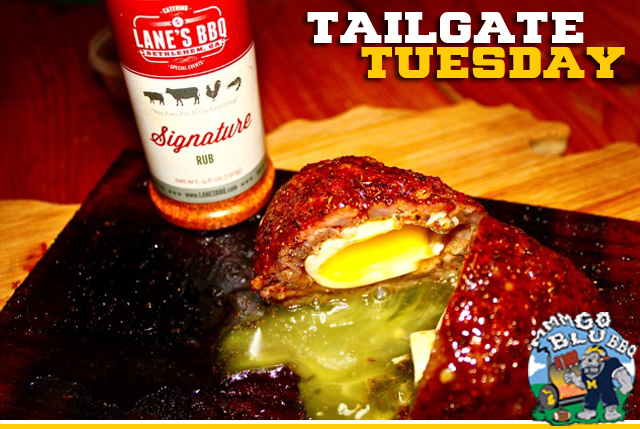 Tailgate Tuesday is our weekly contribution from our resident pitmaster, Joe Pichey from GoBlueBBQ. These tailgate recipes will be posted each Tuesday throughout the football season and will feature a variety of appetizers, main courses, and sides to help you be the king of your next tailgate. Lane's BBQ, a Bethlehem, Ga. based BBQ company sponsors this season's feature by providing their killer rubs for use in the recipes. Buy them here. In addition, Fogo Charcoal provides charcoal to use in each recipe. Buy it here.
Sometimes, when we get the early game on Saturday, our tailgating options are a little limited. Sure, we can go with the brisket or pork butt at 10am and nobody will complain, but what about a breakfast tailgate treat to go with the morning Irish Coffee? The Scotch eggs are a perfect start to a long day around the pit. You can make these ahead and just toss 'em on when the grill is hot or make them while the smoker is heating up. Either way, your group will love 'em and thank you for working in a tasty breakfast sampling before the game.
• 1-pound breakfast sausage roll (hot or maple)
• 4 eggs – (soft boiled for five mins)
• Maple syrup
• Lane's Signature Rub
• Chayder Cedar Grilling Plank (a Michigan product)
Fire up your grill or smoker to 250-275 degrees with Fogo Lump Charcoal. This is the best lump charcoal on the market and will help you build a hot and clean fire. While the coals are heating up, take your Chayder cedar plank and soak it in water. This only needs to soak for about 30 minutes. Chayder planks are made in Michigan and are easily the best cedar planks going today. John is the owner and a HUGE Michigan Fan. Check 'em out. Soak the plank until Bo says it's time to hit the fire.
Place the cedar plank over direct heat for about five minutes. You want to get a nice char on the plank. Once charred, turn it over and you are ready to add your eggs.

Bring a pot of water to boiling and drop your eggs into the water. Set a timer for five minutes. Do not let them go over five minutes if you want your yolks runny. If you want hard boiled eggs, let them go a little longer — six to nine minutes should do it for hard yolks. Once you reach five minutes, remove the eggs from the water and drop them into an ice bath. This will stop the cooking process and help keep the yolks soft. As the eggs are cooling, slice your breakfast sausage into four good sized pieces. Flatten them out so that they look like a large patty.
Season each sausage patty with a good amount of the Lane's Signature rub. You will also season the outside, so keep that in mind. We don't want to go overboard, but still want to add some BBQ flavor. Once the eggs are cooled, gently peel the eggs and discard the shells. These eggs are very soft and will break in your hands if you are not careful. This is the hardest part of the entire recipe. Be Careful. Once peeled, add the egg to the sausage patty. As you can see, this one started to tear on me.
Once the egg is on the patty, start folding the sausage around the soft boiled egg. Take your time and make sure the entire egg is enclosed. Once encased, season the outside of the scotch egg with more Lane's Signature rub. Add the seasoned egg to a hot and charred cedar plank.

We are going to let this go for about 30 minutes. Once the sausage starts to get that hardened exterior look, we can start brushing with maple syrup. I usually start glazing at the 20 minute mark.
As you can see, the sausage looks dark and has started sweating a little. The grease will run off in to the grill and cause a few flare ups. This adds some nice flavor. The plank also adds a great cedar flavoring that pairs well with sausage. After 30 minutes and two glazes of maple syrup, I like to give it one last sprinkle of rub. Remove from the heat and let rest for a few minutes. You can serve these directly on the plank. It makes cleanup easy and looks really cool as a plate. Your tailgate guests will love it. Feel free to put 2-4 scotch eggs on each plank. Slice 'em in half and enjoy or just pick em up and chomp away. Either way…GO BLUE!!!!

Visit Lane's BBQ to purchase their fantastic line of rubs and sauces. You can follow them on Facebook and Instagram.
Visit Fogo to purchase their premium lump charcoal. You can follow them on Twitter, Facebook, and Instagram.
After growing up in Michigan, Joe now lives in North Texas where he can barbecue year 'round. He cooks mostly on Big Green Eggs and some Webers and has competed in BGE competitions. When he's not watching Michigan football, he also teaches BBQ classes at a local grilling store and does some catering. You can follow Joe on Twitter at @mmmgoblubbq and Instagram at @gobluebbq.