---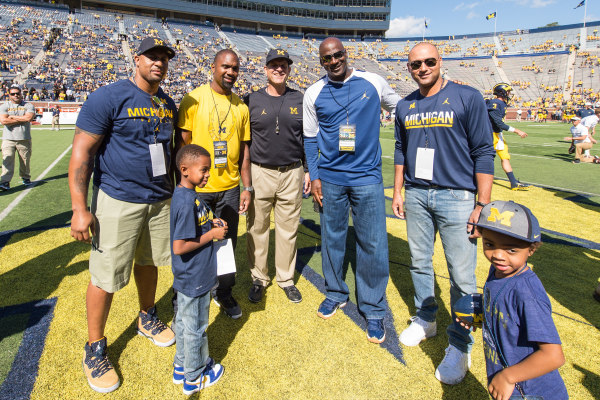 (MGoBlue.com)
The dream of any quarterback is to win the starting job, take the field on opening day and immediately lead the team down the field. Those dreams then continue with a national championship, being drafted first in the NFL Draft, winning the Super Bowl, and being elected into the Hall of Fame. But for Michigan quarterback Wilton Speight, the dream started off unlike he had ever imagined it would.
"I don't think that's how he wanted to start his career," said junior center Mason Cole. "He probably pictured it a thousand ways and that probably wasn't one of them. But he's fine. I don't know what happened on that play but he threw a pick and he got over it. Next drive he came out and drove it 98 yards."
The junior from Richmond, Va., who won the starting job in fall camp over fellow junior John O'Korn, took the first snap of Michigan's season at his own 29 yard line, rolled to his right and fired a pass toward senior tight end Jake Butt. But with Hawaii defensive back Damien Packer dropping back into coverage, the pass never had a chance to reach Butt, and suddenly Michigan's defense was back on the field.
"Obviously that wasn't the start I was imagining," Speight said after the game. "I was kind of rolling to our sideline and my momentum carried me right into Coach. He just grabbed me and held me and kind of starting laughing."
The defense stood tall with a three-and-out and Harbaugh's commitment to Speight never wavered. Michigan re-took possession on its own 2-yard line and this time Speight looked like a seasoned veteran, marching the Wolverines 98 yards in 11 plays for the game's first touchdown. On the drive, Speight converted a 3rd-and-7 from the Michigan five with a 16-yard bullet to Jehu Chesson. He also hit Amara Darboh on a screen for a 31-yard pickup on 3rd-and-7 from the 39. He closed the drive with a perfecly thrown fade to Grant Perry for a 12-yard touchdown.
Final Stats
Michigan
Hawaii
Score
63
3
Record
1-0
0-2
Total Yards
512
232
Net Rushing Yards
306
81
Net Passing Yards
206
151
First Downs
26
16
Turnovers
1
2
Penalties-Yards
3-33
8-60
Punts-Yards
0-0
6-256
Time of Possession
27:55
32:05
Third Down Conversions
7-of-7
1-of-11
Fourth Down Conversions
0-of-0
1-of-2
Sacks By-Yards
4-41
0-0
Field Goals
0-for-0
1-for-1
PATs
9-for-9
0-for-0
Red Zone Scores-Chances
6-of-6
0-of-1
Red Zone Scores-TDs
6-of-6
0-of-1
Full Box Score
Harbaugh never thought twice about his decision to leave Speight in the game after the interception and said that he used it as an opportunity.
"It's very difficult to throw an interception on a series and then come right back and lead a touchdown drive on the following series," Harbaugh said after the game. "It's something I've always been fascinated in watching (with quarterbacks) and the really good ones can do that. They can think (too much and say) 'I'm not going to make another bad mistake.' That's what some do. Good ones don't.
"And then to see him start the next drive on the 2-yard line. I mean, that's as much adversity as you can have for a quarterback starting a series. You've thrown an interception in the first throw of the game and then you find yourself on the 2-yard line. But he responded."
Two hours later, when the clock read zero and Michigan had collected a 63-3 victory — the seventh-largest in school history and the largest since 1975 — Speight's interception remained one of the few mistakes the Wolverines made all day. Harbaugh said afterward that he didn't see a single mistake defensively for the first two-and-a-half quarters…
"Watching our defense go through the first half, and even the third quarter, there wasn't a mistake made," Harbaugh said. "There wasn't a linemen mistake made. There wasn't a stance alignment mistake. They were right with their eyes and right with their feet."
In a season opener, no one truly knows what to expect. It's why most good teams front-load their schedule with cupcakes, to work out the kinks before the real season — conference play — begins. But aside from Speight's first pass, it was as perfect a season opener as one could expect.
Playing in front of a who's who of sporting greats — Michael Jordan, Derek Jeter, and Charles Woodson — Harbaugh used a program record 17 true freshmen. Eleven different players carried the ball, 11 different players caught a pass, four different quarterbacks played, and three lead scoring drives. For just the fourth time in program history, Michigan went an entire game without punting. Only four of Michigan's 59 plays for the game — Speight's interception on the first play and three running plays to run out the clock — were not part of touchdown drives.
The defense, which entered the season with expectations to be one among the nation's best, lived up to its billing, holding Hawaii to negative yards until midway through the second quarter, and only about 140 total yards until the vast majority of defenders on the field were freshmen and backups. Michigan's secondary, which was playing without All-American cornerback Jourdan Lewis, who was held out due to injury — not only picked off two passes but returned them both for touchdowns.
Season openers against overmatched opponents are typically boring affairs, but even as the lead continued to widen, this one kept interest throughout. It was evident that there is more talent and more depth on this team than Michigan has fielded in a decade. It was evident that the 2016 recruiting class was ranked so highly for a reason.
True freshman Chris Evans backed up the fall camp hype with 112 yards and two touchdowns on just eight carries. Fellow true freshman Eddie McDoom flashed his speed, taking two end arounds for 34 yards and also caught a pair of passes. Kekoa Crawford caught an 18-yard pass and freshman tight end Sean McKeon caught two passes. Ben Bredeson didn't start, but showed his talent on the offensive line, while mammoth freshman Michael Onwenu played on both lines. The nation's top recruit, Rashan Gary, notched three tackles in his debut and looked like he fit the part.
It was a blowout, yes, but aside from injuries to Bryan Mone (leg), Taco Charlton (ankle), and De'Veon Smith (ribs), it had everything a Michigan fan could want to see from a season opener. Speight looked good enough after the interception and it remains to be seen whether he can build on it. And his coach thinks he can.
"It bodes really well for his career," Harbaugh said. "To have done that, off an interception and then have the very next drive go 98 yards for a touchdown. Now he knows he can do it. Now we can expect him to do it."
Chris Evans (8 carries, 112 yards, 2 touchdowns)
World, meet Chris Evans. The freshman out of Ben Davis High School in Indianapolis, Ind. showed the quickness and burst that Michigan hasn't seen out of the backfield in years. While senior De'Veon Smith started the game and fellow senior Ty Isaac was the second back in, Evans made his mark early. On Michigan's third series and his first carry was a 7-yard gain on 3rd-and-2 to help set up Michigan's second touchdown. On the next series he raced 21 yards to put Michigan in the red zone and set up another touchdown. One series later, he found the endzone himself from 18 yards out. He then got the scoring started in the second half with a 43-yard run that showcased his burst as he hit the hole and outraced everyone to the endzone.
After the game, Harbaugh praised Evans as a special football player who will have a much bigger role as the season goes on. Harbaugh noted that he didn't even show everything he can do, such as catch passes out of the backfield, line up in the slot, and return kicks. He may not replace Jabrill Peppers on offense, but he fits the same role and provides the same type of athleticism that can make a good offense that much better.
Mike McCray (9 tackles, 3.5 tackles for loss, 2 sacks, 1 forced fumble)
Injuries have kept Mike McCray off the field so far in his career, but now finally healthy he showed what he's capable of. In his first career start, McCray lead the team with nine tackles, 3.5 for loss, and two sacks. His speed was a noticeable upgrade from last year's linebacking corps as he was seemingly in on every play and all over the Hawaii backfield. If McCray can stay healthy and keep up that level of play, one of the only question marks about Michigan's defense will be much less of a question.