---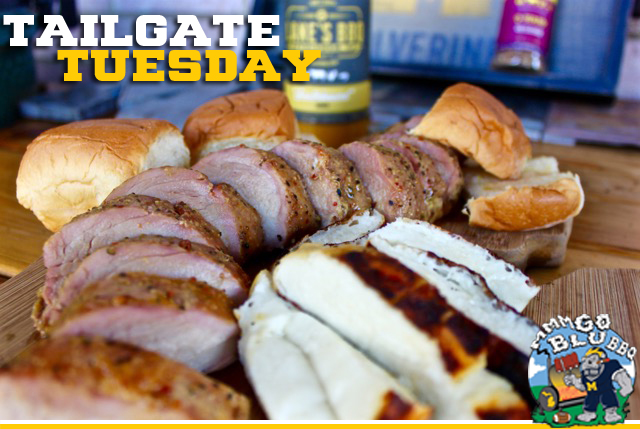 Tailgate Tuesday is our weekly contribution from our resident pitmaster, Joe Pichey from GoBlueBBQ. These tailgate recipes will be posted each Tuesday throughout the football season and will feature a variety of appetizers, main courses, and sides to help you be the king of your next tailgate. Lane's BBQ, a Bethlehem, Ga. based BBQ company sponsors this season's feature by providing their killer rubs for use in the recipes. Buy them here. In addition, Fogo Charcoal provides charcoal to use in each recipe. Buy it here.
Previous: Cedar planked scotch eggs
Full Archive here.
After last week's heart clogging, but nearly perfect tailgate recipe, let's bring our cholesterol down a few notches with my favorite healthy meat. The pork tenderloin is leaner than chicken breast and has fantastic flavor. When paired with a sweet and salty combination of grilling cheese and Lane's Southbound sauce, this recipe is a winner for sure. This recipe can be done in under an hour and will make everyone at your tailgate an instant fan of the "other white meat".
• Pork Tenderloin
• Halloumi Grilling Cheese
• Slider Buns
• Lane's Southbound Sauce
• Lane's Q-Nami Rub
• Fogo Lump Charcoal
Prior to prepping your loin, set your grill up for indirect heat and shoot for a temperature of 250-275 degrees. The Fogo lump charcoal is your best bet as it has HUGE chunks and will keep a nice even temperature throughout your cook. Trust me, this is the best on the market and they have Michigan ties. Let's support our Michigan alum.
Once you reach your desired temperature, toss a few chunks of apple or pecan wood on the coals. Let burn for about 10 minutes until you get a nice steam of clean smoke. Now, it's on to our meat prep. Remove both tenderloins from the package and pat dry. With a sharp knife, start trimming the silver skin from the loins. The silver skin is the thin layer of skin that covers about 30 percent of the loin. A sharp knife is mandatory as you want to trim without removing a lot of meat. In the pic below, the silver skin is below the thin layer of fat.
After trimming, the loin should have very little fat and no silver skin remaining. The pork tenderloin is a very lean cut of meat and responds well to brining and marinating. The fat and silver skin can be seen in the upper portion of the cutting board. As you can see, we did not remove a lot.
Season the loins generously with your Lane's Q-Nami seasoning. The Q-Nami rub has a nice balance of BBQ and Asian flavors which goes perfectly with pork.

Once the loins are seasoned, add them to the pre-lit grill or smoker. These will only take about 30-45 minutes to reach an internal temp of 137-140 degrees.
While the pork tenderloins are taking a smoke bath, cut open your grilling cheese. This cheese can be cooked on high heat over hot coals or in a cast iron pan on the stove. It will get a crusty exterior and stay nice and creamy in the middle. It has a fantastic flavor and will be a crowd favorite, I promise. You can eat it as soon as it comes off the heat and is fantastic with a squeeze of lemon. Give it a try. There are several brands on the market, but my favorite style is Halloumi. Look for it at your nearest supermarket.
After bout 30 minutes, start probing the loins with your favorite instant read thermometer. As you can see below, the Thermapen Thermopop is my "go to". It reads in under three seconds and is extremely accurate.

Once the pork tenderloins reach 120 degrees, start basting them with the Lane's Southbound Sauce. They are only about 20 minutes from being done. We want the sugars to start caramelizing and thicken over the meat. At this point, we can toss on the grilling cheese. The cheese only takes about 10-20 minutes to heat.
Once the loins reach 137 degrees, remove from the heat and tent with foil. The color on the loins is CRAZY. The spices from the rub mixed with the thick sauce is a perfect combo. AND IT'S HEALTHY!!!!
The grilling cheese starts to form a nice crust and will be super soft in the middle. Let it go for about five minutes a side over direct heat. As you can see, the cheese has beautiful grill marks.

I let this go a little longer to see how much heat it would take (honestly, I didn't forget about it). The crust was soooooo good and the middle was gooey like an after school grilled cheese. You know what I'm talking about. 🙂
Once everything is done, slice 'em up and put everything on your favorite slider bun. Throw a little Southbound sauce on there and you're in business. As you can see from the pics, the pork is still a nice medium and has a slight smoke ring. I would not take these to anything above 150 degrees or they will be the same texture as your charcoal. Not a good thing.
Look at the texture of that cheese. It's super creamy and has a crusty exterior. This is great by itself or on your favorite sandwich. And by favorite sandwich, I mean this Lane's Southbound Pork Tenderloin Slider. Give it a shot and let me know what you think. GO BLUE!!!

Visit Lane's BBQ to purchase their fantastic line of rubs and sauces. You can follow them on Facebook andInstagram.
Visit Fogo to purchase their premium lump charcoal. You can follow them on Twitter, Facebook, and Instagram.
After growing up in Michigan, Joe now lives in North Texas where he can barbecue year 'round. He cooks mostly on Big Green Eggs and some Webers and has competed in BGE competitions. When he's not watching Michigan football, he also teaches BBQ classes at a local grilling store and does some catering. You can follow Joe on Twitter at @mmmgoblubbq and Instagram at @gobluebbq.