---

Each Wednesday throughout the season we will release our Big Ten power rankings. These are voted on individually by the five members of our staff and then each team's ranking is averaged to reach our power rankings. As these are simply power rankings, they are based on each team's performance to date, not what happened last season or what will happen in the future.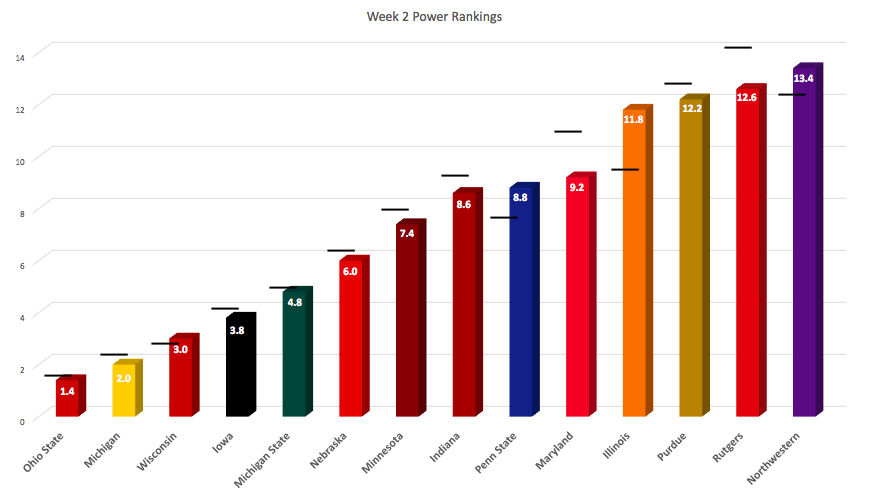 *Black dash signifies previous week's ranking
The top six remain the same from last week, but Week 3 provides an opportunity for movement with Ohio State visiting 14th-ranked Oklahoma, Michigan State visiting 18th-ranked Notre Dame, and Nebraska hosting 22nd-ranked Oregon. Penn State and Northwestern were the biggest losers from Week 2, each falling two spots with losses to Pittsburgh and Illinois State, respectively. Northwestern finds itself in the cellar as the Big Ten's only two-loss team.
Big Ten power rankings – Week 2
1. Ohio State (2-0) | Even | 

Beat Tulsa 48-3

 | This week: Saturday at #14 Oklahoma (1-1), 7:30pm, FOX
2. Michigan (2-0) | Even | 

Beat UCF 51-14

 | This week: Saturday Colorado (2-0), 3:30pm, BTN
3. Wisconsin (2-0) | Even | 

Beat Akron 54-10

 | This week: Saturday vs Georgia State (0-2), 12pm, BTN
4. Iowa (2-0) | Even | 

Beat Iowa State 42-3

 | This week: Saturday vs NDSU (2-0), 12pm, ESPN2
5. Michigan State (1-0) | Even |

 Bye

 | This week: Saturday at #18 Notre Dame (1-1), 7:30pm, NBC
6. Nebraska (2-0) | Even | 

Beat Wyoming 52-17

 | This week: Saturday vs #22 Oregon (2-0), 3:30pm, ABC
7. Minnesota (2-0) | Up 1 | 

Beat Indiana State 58-28

 | This week: Bye
8. Indiana (2-0) | Up 1 | 

Beat Ball State 30-20

 | This week: Bye
9. Penn State (1-1) | Down 2 | 

Lost to Pittsburgh 39-42

 | This week: Saturday vs Temple (1-1), 12pm, BTN
10. Maryland (2-0) |Up 1 | 

Beat FIU 41-14

 | This week: Saturday at UCF (1-1), 7pm, CBSSN
11. Illinois (1-1) | Down 1 | 

Lost to North Carolina 23-48

 | This week: Saturday vs WMU (2-0), 4pm, ESPNN
12. Purdue (1-1) | Up 1 | 

Lost to Cincinnati 20-38

 | This week: Bye
13. Rutgers (1-1) | Up 1 | 

Beat Howard 52-14 

| This week: Saturday vs New Mexico (1-1), 12pm, ESPNN
14. Northwestern (0-2) | Down 2 | 

Lost to Illinois State 7-9

 | This week: Saturday vs Duke (1-1), 8pm, BTN