---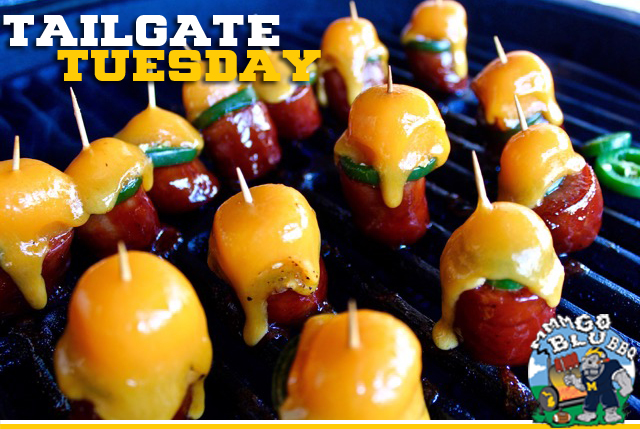 Tailgate Tuesday is our weekly contribution from our resident pitmaster, Joe Pichey from GoBlueBBQ. These tailgate recipes will be posted each Tuesday throughout the football season and will feature a variety of appetizers, main courses, and sides to help you be the king of your next tailgate. Lane's BBQ, a Bethlehem, Ga. based BBQ company, sponsors this season's feature by providing their killer rubs and sauces for use in the recipes. Buy them here. In addition, Fogo Charcoal provides charcoal to use in each recipe. Buy it here.
Previous: Cedar planked scotch eggs, Pork tenderloin sliders with grilled cheese, Chicken street tacos
Full Archive here.
This is BY FAR the easiest tailgate recipe you will ever do. Short of opening a can of SPAM and digging in with a plastic fork, this one takes the cake. It's not only super easy, but will make your tailgate guests very happy. The sausage and cheese poppers have it all when it comes to flavor. You have the sweet sauce mixing with the salty cheese and spicy pepper all served on a tasty hunk of sausage. What else is there?
• Lane's Kinda Sweet sauce
• Keilbasa sausage
• Sharp cheddar cheese
• Jalapeños
Are you ready for this? As I said, this one is the easiest we will ever do. I feel kinda lazy on this one. I feel like I should add more steps to make it seem more extravagant. Heat your grill up to about 300 degrees and add a piece of fruit wood to the coals. This will generate a little smoke. As the grill is heating up, slice the sausage into 1-inch chunks. You can sprinkle with some of your favorite Lane's rub if you'd like, but it is not mandatory. Slice the jalapeños thinly and top each piece of sausage with a jalapeño slice. Place on the grill and let cook for about five minutes. We want the inside of the sausage to get a little warm and the jalapeños to get a little soft.

As the sausage and pepper poppers are warming, cut the cheddar into half-inch chunks. Once they are cut up, add a toothpick to each cheddar cube.
After 5-7 minutes on the heat, top each sausage chunk with your cheddar and dip into a little Lane's "Kinda Sweet" sauce.
Place back on the hot grill. Close the lid for about three minutes while the cheddar melts and the sauce starts to thicken.

These do not take long to cook. You can also use other types of hard cheese or any other kind of sausage. Bratwurst goes great in this recipe as does chicken sausage.
As you can see, the cheese starts to melt and runs down the sausage. It mixes well with the sweet sauce and makes for the perfect tailgate treat.

Just pick 'em up by the toothpick and throw 'em back one by one. Feel free to give 'em another drop in the Lane's Kinda Sweet Sauce. Remember, the sauce has thickened a little and is hot. Be Careful! These are addicting and packed with flavor. Give 'em a try and let me know what you think. GO BLUE!!!!
Visit Lane's BBQ to purchase their fantastic line of rubs and sauces. You can follow them on Facebook and Instagram.
Visit Fogo to purchase their premium lump charcoal. You can follow them on Twitter, Facebook, and Instagram.
After growing up in Michigan, Joe now lives in North Texas where he can barbecue year 'round. He cooks mostly on Big Green Eggs and some Webers and has competed in BGE competitions. When he's not watching Michigan football, he also teaches BBQ classes at a local grilling store and does some catering. You can follow Joe on Twitter at @mmmgoblubbq and Instagram at @gobluebbq.