---

Each Wednesday throughout the season we will release our Big Ten power rankings. These are voted on individually by the five members of our staff and then each team's ranking is averaged to reach our power rankings. As these are simply power rankings, they are based on each team's performance to date, not what happened last season or what will happen in the future.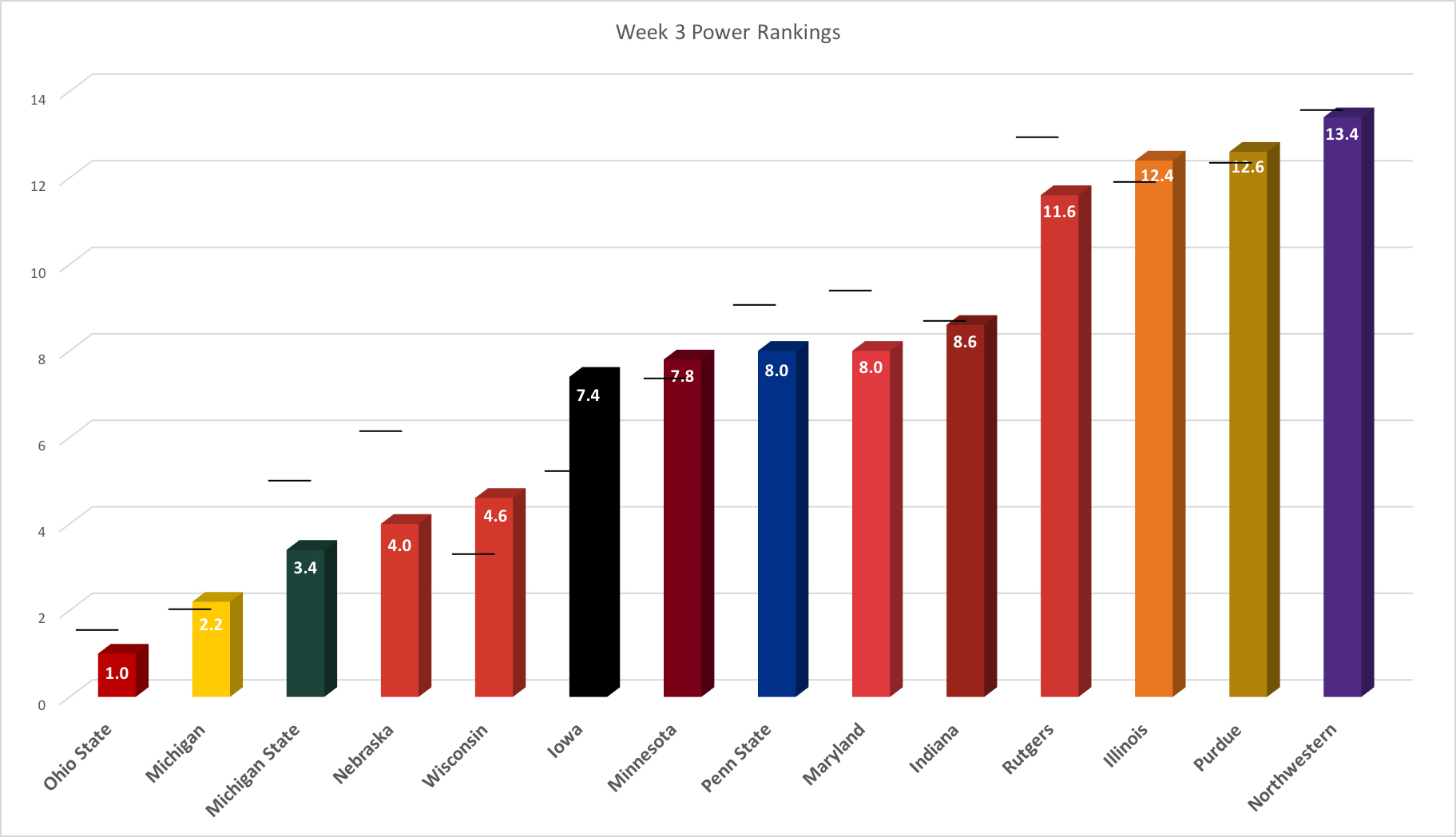 *Black dash signifies previous week's ranking
Michigan and Ohio State remained the top two this week, but the Buckeyes earned all five first place votes, while Michigan State gained some ground on the Wolverines. Nebraska made the biggest leap from 6.0 to 4.0. Wisconsin and Iowa both fell a couple of spots after squeaking by Georgia State and losing to North Dakota State, respectively. Minnesota, Penn State, Maryland, and Indiana all stand roughly equal in the middle of the rankings. Rutgers jumps two spots to 11th, just ahead of Illinois and Purdue, while Northwestern stays in the cellar despite a win over Duke.
Big Ten power rankings – Week 3
Team
Up/Dn
Last Week
This Week
1. Ohio State (3-0)
Even

Beat #14 Oklahoma 45-24 

Bye
2. Michigan (3-0)
Even

Beat Colorado 45-28

Sat. vs Penn State (2-1), 3:30pm, ABC
3. Michigan State (2-0)
Up 2

Beat #18 ND 36-28

Sat. vs #11 Wisconsin (3-0), 12pm, BTN
4. Nebraska (2-0)
Up 1

Beat #22 Oregon 35-32

Sat. at Northwestern (1-2), 7:30pm, BTN
5. Wisconsin (3-0)
Down 2

Beat Georgia State 23-17

Sat. at #8 Michigan State (2-0), 12pm, BTN
6. Iowa (2-1)
Down 2

Lost to NDSU 21-23

Sat. at Rutgers (2-1), 12pm, ESPN2
7. Minnesota (2-0)
Even

Bye

Sat. vs Colorado State (2-1), 12pm, ESPNU
8. Penn State (2-1)
Up 1

Beat Temple 34-27

Sat. at #4 Michigan (3-0), 3:30pm, ABC
9. Maryland (3-0)
Up 1

Beat UCF 30-24 2OT

Bye
10. Indiana (2-0)
Down 2

Bye

Sat. vs Wake Forest (1-0), 3:30pm, BTN
11. Rutgers (2-1)
Up 2

Beat New Mexico 37-28

Sat. Iowa (2-1), 12pm, ESPN2
12. Illinois (1-2)
Down 1

Lost to WMU 10-34

Bye
13. Purdue (1-1)
Down 1
Bye

 

Sat. vs Nevada (2-1), 12pm, ESPNN
14. Northwestern (1-2)
Even

Beat Duke 24-13

Sat. vs #20 Nebraska (3-0), 7:30pm, BTN