---

Each Wednesday throughout the season we will release our Big Ten power rankings. These are voted on individually by the five members of our staff and then each team's ranking is averaged to reach our power rankings. As these are simply power rankings, they are based on each team's performance to date, not what happened last season or what will happen in the future.
Previous: Week 1, Week 2, Week 3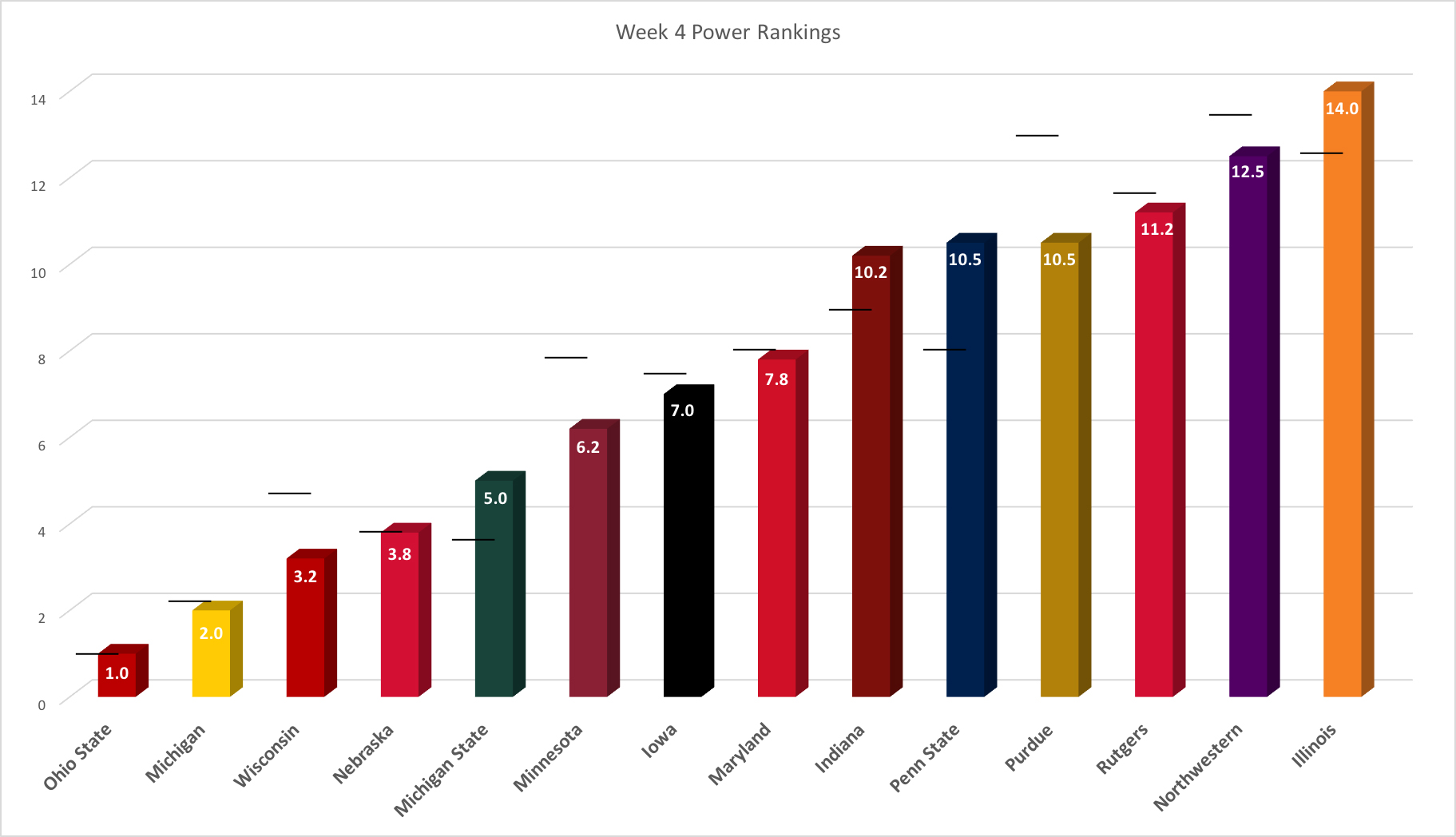 *Black dash signifies previous week's ranking
Ohio State and Michigan remain in the top two spots for the fourth straight week. Ohio State gained all the No. 1 votes and Michigan gained all the No. 2s. Wisconsin leaped two spots after their 30-6 thumping of Michigan State, who fell two spots to fifth. Nebraska remained fourth. Minnesota moved up one spot after a respectable non-conference win over Colorado State, while Iowa fell after an uninspiring 14-7 win over Rutgers. Maryland and Indiana both jumped Penn State, who was throttled by Michigan. Like Minnesota, Purdue picked up a nice non-conference win over Nevada and moved up two spots to 11th. Might as well give Darrell Hazel a contract extension at this point. Rutgers dropped one spot after losing to Iowa. Northwestern and Illinois round out the standings. The Illini earned all of the last place votes.
Big Ten power rankings – Week 4
Team
Up/Dn
Last Week
This Week
1. Ohio State (3-0)
Even

Bye

Sat. vs Rutgers (2-2, 0-1), 12pm, BTN
2. Michigan (4-0, 1-0)
Even

Beat Penn State 49-10

Sat. vs #8 Wisconsin (4-0, 1-0), 3:30pm, ABC
3. Wisconsin (4-0, 1-0)
Up 2

Beat #8 MSU 30-6

Sat. at #4 Michigan (4-0, 1-0), 3:30pm, ABC
4. Nebraska (4-0, 1-0)
Even

Beat Northwestern 24-13

Sat. vs Illinois (1-2), 3:30pm, ESPN2
5. Michigan State (2-1, 0-1)
Down 2

Lost to #11 Wisconsin 6-30

Sat. at Indiana (2-1, 0-0), 8pm, BTN
6. Minnesota (3-0, 0-0)
Up 1

Beat Colorado St. 31-24

Sat. at PSU (2-2, 0-1), 3:30pm, BTN
7. Iowa (3-1, 1-0)
Down 1

Beat Rutgers 14-7

Sat. vs Northwestern (1-3, 0-1), 12pm
8. Maryland (3-0, 0-0)
Up 1

Bye

Sat. vs Purdue (2-1, 0-0), 3:30pm, BTN
9. Indiana (2-1, 0-0)
Up 1

Lost to Wake Forest 28-33

Sat vs. #17 MSU (2-1, 0-1), 8pm, BTN
10. Penn State (2-2, 0-1)
Down 2

Lost to #4 Michigan 10-49

Sat. vs Minnesota (3-0, 0-0), 3:30pm, BTN
11. Purdue (2-1, 0-0)
Up 2

Beat Nevada 24-14

Sat. at Maryland (3-0, 0-0), 3:30pm, BTN
12. Rutgers (2-2, 0-1)
Down 1

Lost to Iowa 7-14

Sat. at #2 Ohio State (3-0, 0-0), 12pm, BTN
13. Northwestern (1-3, 0-1)
Up 1

Lost to #20 Neb. 13-24 

Sat. at Iowa (3-1, 1-0), 12pm
14. Illinois (1-2, 0-0)
Down 2

Bye

Sat. at #15 Neb. (4-0, 1-0), 3:30pm, ESPN2