---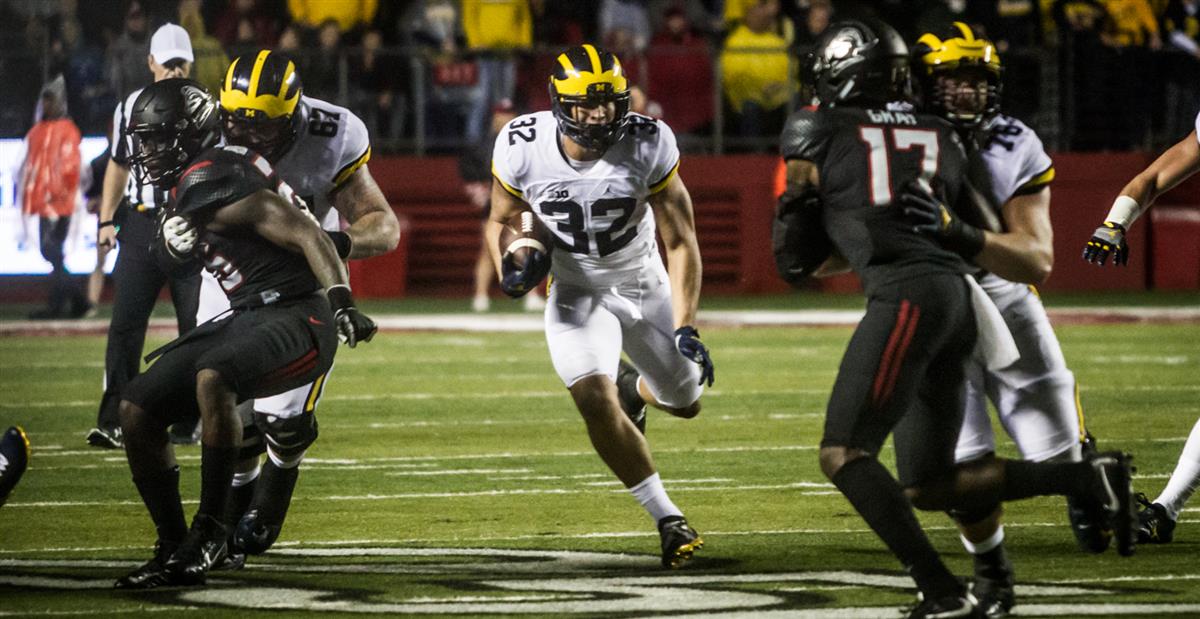 (Isaiah Hole, 247 Sports)
Prior to the season, in our The Numbers Game feature, Josh posited that the Michigan offense was set to be more explosive in Year 2 under Jim Harbaugh. During the bye week I took time to compare where this year's team stands through it first six games with last year's team.
The six opponents Michigan has faced to date have essentially the exact same record as the first six a year ago (20-14 compared to 20-13), so strength of schedule is comparable. One difference to keep in mind is that a year ago Michigan opened its season on the road in a hostile environment at Utah and also played Maryland on the road, whereas this year the only road game thus far has been at Rutgers.
Let's start the comparison by taking a look at Michigan's scoring offense.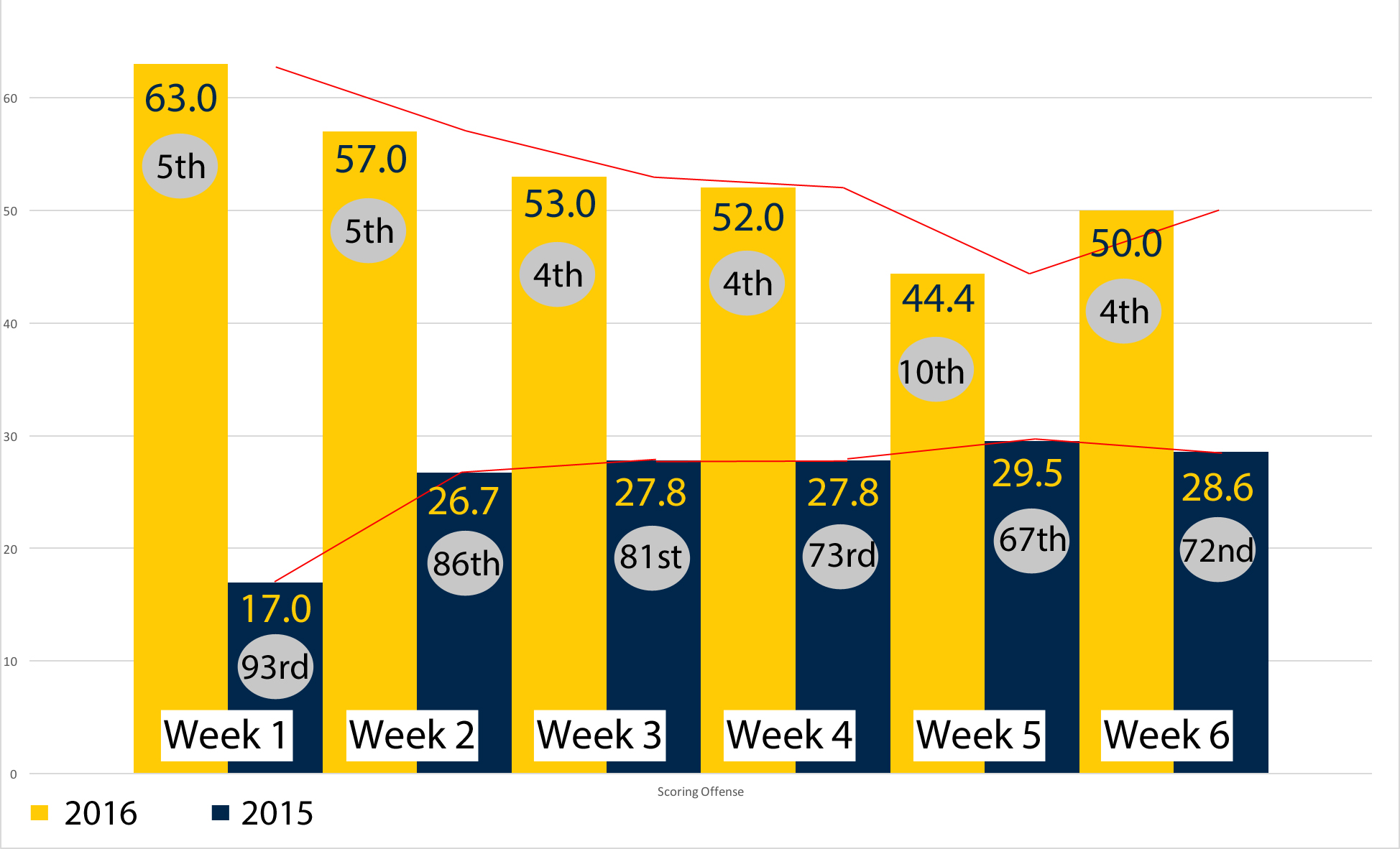 Scoring average (national ranking in circle) 
This year's offense has been extremely efficient at putting the ball in the end zone, scoring 41 touchdowns through six games and converting 31 of 35 red zone chances with 27 of those being touchdowns. If there has been one negative it has been field goal kicking, where Michigan has made just 4-of-9 tries, leaving 15 more points on the field. Had Kenny Allen and Ryan Trice converted each of those, Michigan's offense would have 18 more points scored than anyone in the country through six weeks.
Last year's offense scored just 17 points in the season opener on the road against a tough Utah defense, but averaged 32 points over the next five weeks. The high point came in a 38-0 win over Northwestern, a point total that this year's squad has scored fewer than just once — in a 14-7 win over No. 8 Wisconsin.
Let's take a look at the running game.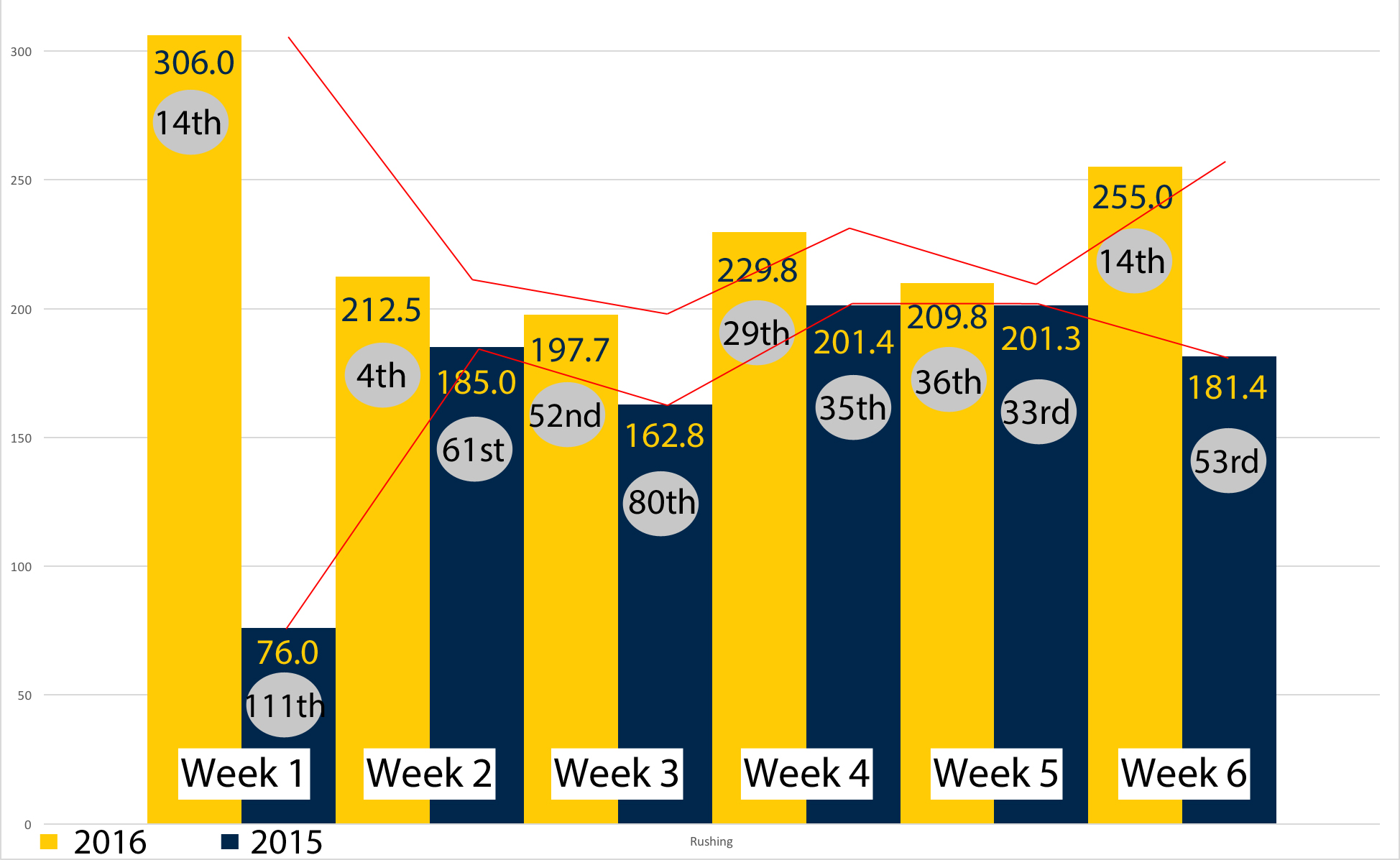 Rushing average (national ranking in circle) 
There was a huge disparity in Week 1 when Michigan faced one of the nation's best rush defenses to open 2015 and was held to just 76 yards. This season, Michigan opened with Hawaii, which features one of the nation's worst rush defenses. The rushing gap narrowed in Week 2, but this year's running back by committee has pulled away by Week 6, ranking 14th nationally compared to 53rd nationally a year ago, and averaging nearly 70 more rushing yards per game.
However, when you dig into the numbers a bit more, this year's running game is more hot and cold, while last year's was more consistent. The Wolverines rushed for 306 yards against Hawaii, 326 against Penn State, and 481 against Rutgers this season, but averaged just 139 in the other three games. Last year's offense rushed for 225, 254, 254, 198, and 201 in the five weeks after the Utah game. Still, this year's running game is averaging nearly a yard more per carry (5.7) than last year's (4.8). Additionally, this year's rush offense has scored 25 touchdowns compared to just 15 a year ago.
How about the passing game?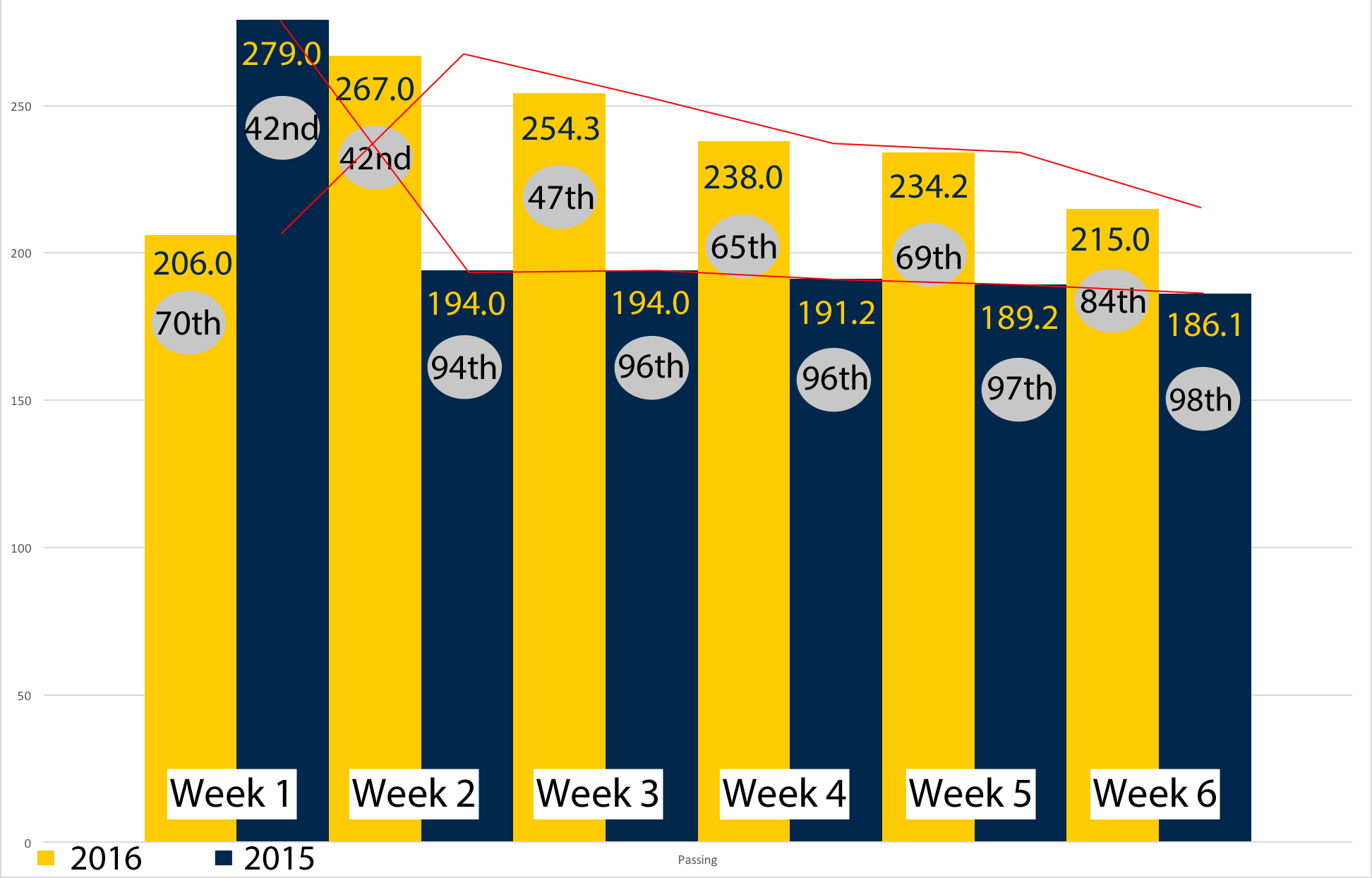 Passing average (national ranking in circle) 
The passing offense started out differently than the rushing offense in Week 1 year over year. Whereas this year's offense passed for 206 yards against Hawaii in the opener, last year's gained 279 yards against Utah, mostly while trying to come from behind. After Week 1, last year's passing game was super consistent, gaining 180, 123, 194, 180, and 179 yards in Weeks 2-6. This year's passing game has been a little more up and down, gaining a season high 328 yards against UCF in Week 2, then 229, 189, and 219 in the three succeeding weeks before just 119 yards against Rutgers. Of course, Michigan had such a large lead so quickly against Rutgers that there was no need to throw the ball, except to give backup quarterbacks John O'Korn and Shane Morris a couple of throws.
Overall, through six weeks there isn't a huge disparity between the two passing games. Michigan currently ranks 84th nationally, averaging 29 passing yards more than last year's, which ranked 98th at this point. This year, Michigan has thrown for 12 touchdowns compared to just five at this point last year. However, last year's passing game took off the final five weeks of the season — including the bowl game — averaging 323.6 yards per game over that span with 14 touchdowns.
Finally, let's look at the offense as a whole.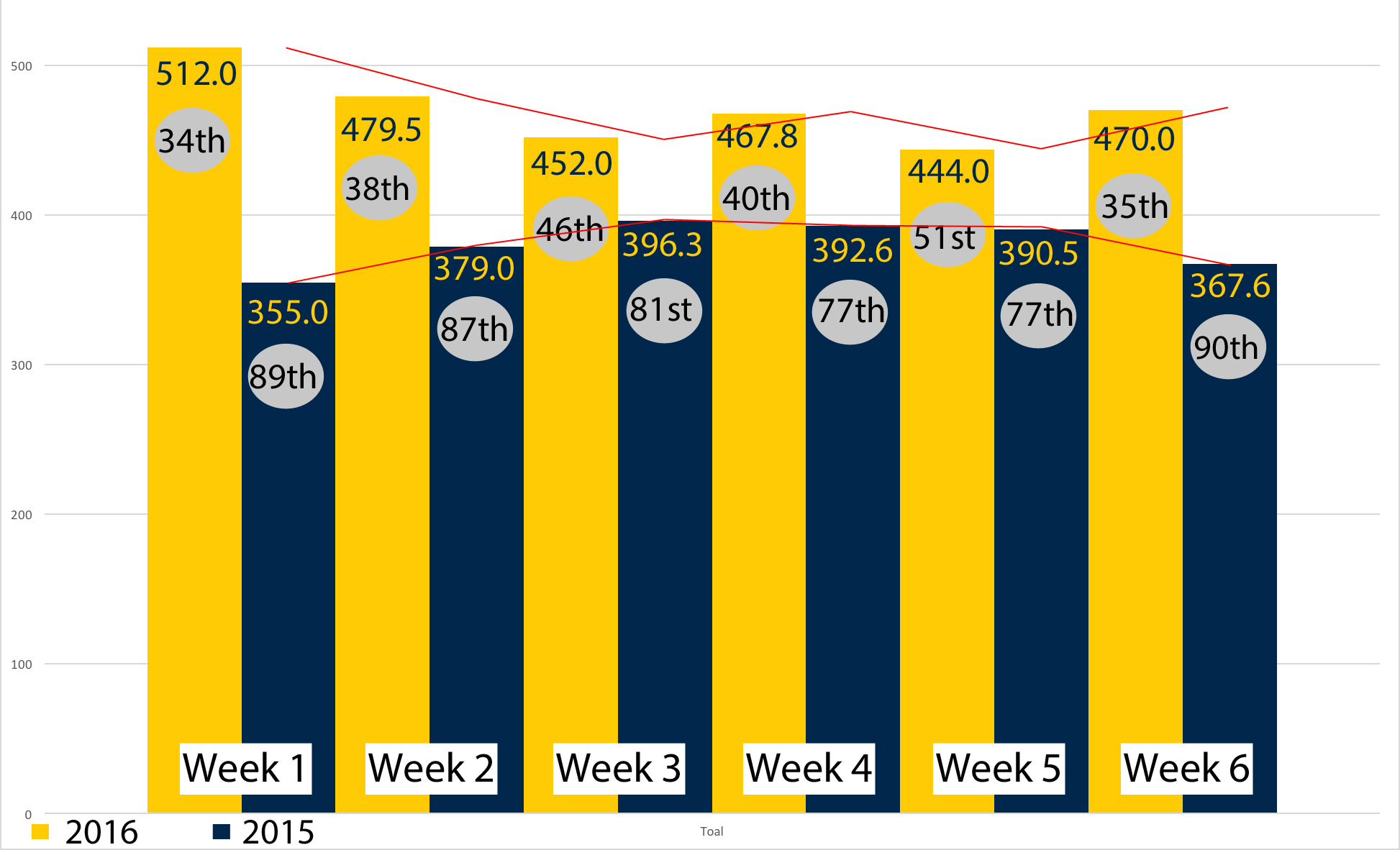 Total offense average (national ranking in circle) 
Michigan's 2016 offense has eclipsed 600 total yards once, 500 yards in three of its six games, and 400 yards in four of six. Through six weeks last year, Michigan topped 400 just twice and didn't come close to 500, topping out at 448 against BYU in Week 4. And the defenses Michigan has faced so far this season have been better than the first six last year. On average, this year's opposing defenses have ranked 57th nationally with Wisconsin (11th), Colorado (23rd), UCF (34th), and Penn State (54th) all in the top half. Last year's opposing defenses ranked 65th on average with Northwestern (13th), BYU (23rd), and Utah (41st) in the top half.
So what does it all mean? This year's offense is currently averaging 102.4 yards more per game than last year's at the midway point while facing slightly better defenses. And it has done so in multiple ways. It has shown it can run the ball when needed and has passed the ball well at times too. It certainly has more depth than last year's offense, and an extra year of familiarity in the system has made the difference. Last year's offense took off in the final five weeks — especially in the passing game — and if this year's makes the same jump, a Big Ten championship and spot in the College Football Playoff is likely.