---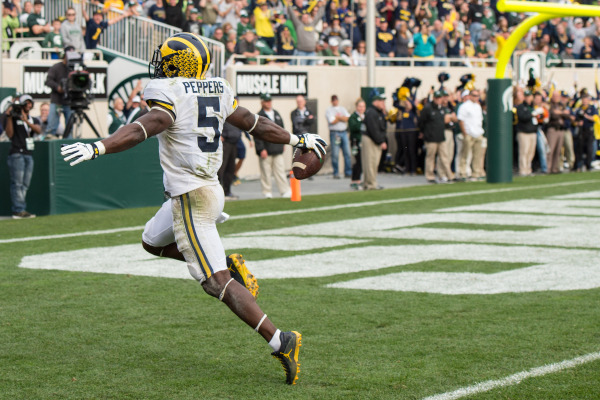 (mgoblue.com)
Michigan was favored by 24 points entering East Lansing on Saturday, but after suffering through a horrid eight year stretch in which it won just once against its bitter in-state rival, a win by any amount in Spartan Stadium was sure to feel good. The Wolverines spotted Michigan State seven points on Saturday, took a 20-point lead, and held on to win by nine, improving to 8-0 for the first time since 2006.
With Michigan State entering the game just 5-2 overall and 0-4 in the Big Ten, many Michigan fans wanted Jim Harbaugh to keep his foot on the gas and not let up. And while a blowout would have been nice for the sake of bragging to family and coworkers, a win — any win — was just fine.
Any nervousness on Michigan's part prior to the game was only exacerbated after Michigan State marched right down the field on its opening drive with a 12-play, seven-minute, 75-yard touchdown drive that saw 11 rushes and just one pass. Michigan's defense, which ranked fourth nationally against the rush, got carved up by L.J. Scott.
Final Stats
Michigan
MSU
Score
32
23
Record
8-0, 5-0
2-6, 0-5
Total Yards
436
401
Net Rushing Yards
192
217
Net Passing Yards
244
184
First Downs
24
23
Turnovers
1
1
Penalties-Yards
5-62
7-57
Punts-Yards
3-122
1-49
Time of Possession
30:16
29:44
Third Down Conversions
5-of-12
4-of-11
Fourth Down Conversions
1-of-1
1-of-4
Sacks By-Yards
2-10
0-0
Field Goals
3-for-3
1-for-2
PATs
3-for-3
2-for-2
Red Zone Scores-Chances
6-of-6
3-of-6
Red Zone Scores-TDs
3-of-6
3-of-6
Full Box Score
But Michigan answered with five straight scoring drives. Jabrill Peppers got the scoring started with a 3-yard touchdown run to tie the game at seven. After the defense stopped a MSU fourth down, Michigan went 62 yards in five plays, lead by a 33-yard Eddie McDoom run and capped off by a 1-yard De'Veon Smith touchdown run.
Michigan State got back on the board with a 52-yard field goal, but Michigan answered with a 23-yarder from Kenny Allen.
The defense forced a three-and-out, and the offense put together a 10-play, 48-yard touchdown drive that saw Michigan convert two third downs. Smith picked up his second touchdown of the day, this time from five yards out.
On the first play of Michigan State's next possession, quarterback Tyler O'Connor tried to take a shot downfield, but Jourdan Lewis picked it off, giving Michigan a chance to widen the lead before halftime. With just 27 seconds remaining, Wilton Speight completed passes of 14 yards and 20 yards, both to Amara Darboh to reach the MSU 20. A pass interference penalty put the ball at the five, but with time for only one more play, Harbaugh settled for a 23-yard Allen field goal and Michigan took a 27-10 lead into the locker room.
The second half did not go as well as Michigan seemed to go into cruise control, scoring just three offensive points on five possessions. Neither team scored a point in the third quarter, but Michigan widened the lead to 30-10 with a 45-yard Allen field goal to start the fourth.
On the next possession, Michigan went three-and-out and had to punt for the first time in the game. Michigan State capitalized with a 59-yard drive that featured back to back explosive plays — a 34-yard pass from backup quarterback Brian Lewerke to R.J. Shelton and a 20-yard touchdown pass from Lewerke to Monty Madaris.
Michigan State took over again with just 37 seconds remaining and moved the ball right down the field with a 35-yard pass to Scott, a 15-yard personal foul on Chris Wormley, a 10-yard pass to Trishton Jackson, and a 10-yard pass interference on Jourdan Lewis. O'Connor capped the drive with a 5-yard touchdown pass to freshman receiver Donnie Corley with one second remaining on the clock. At this point, a win was impossible for the Spartans, but Mark Dantonio elected to go for a two-point conversion to make the loss look a little better. The decision backfired as O'Connor's option pitch was fumbled and Peppers scooped it up and raced 87 yards for a Michigan two-point conversion.
Michigan's offense gained 436 yards, 192 on the ground and 244 through the air. Speight completed 16-of-25 passes for 244 yards and an interception. All three of Michigan's touchdowns came on the ground. McDoom lead the team in rushing with 53 yards on two carries, while Karan Higdon had 44 on 10 carries, Smith had 38 on 11, and Peppers had 24 on five. Darboh had a career-high 165 yards on eight receptions.
Defensively, Michigan allowed 401 yards including 217 rushing yards and an average of 5.2 yards per carry. Scott became the first back to rush for 100 yards on Michigan's defense this season, finishing with 139 yards and a touchdown on 22 carries. MSU's three quarterbacks combined to complete just 13-of-28 passes for 184 yards, two touchdowns, and a pick.
At 8-0 overall and 5-0 in the Big Ten, Michigan remains in the driver's seat in the conference. The Wolverines host Maryland (5-3, 2-3) next Saturday.
Amara Darboh (8 receptions for 165 yards)
Darboh had the best game of his career on Saturday, channeling his inner Braylon Edwards with catch after catch against the Spartans' secondary. Although he didn't find the end zone, seven of his eight receptions resulted in first downs and two of them were third down conversions. Like Jehu Chesson did with Jake Rudock last season, Darboh seems to be hitting stride with Speight in the second half of the season, giving Michigan both a deep threat and a reliable pass catcher to move the chains.
Previous
Week 1 — Chris Evans (8 carries, 112 yards, 2 touchdowns)
Week 2 — Wilton Speight (25-of-37 for 312 yards, 4 touchdowns)
Week 3 — Jake Butt (7 receptions for 87 yards)
Week 4 — Grant Newsome, Ben Braden, Mason Cole, Kyle Kalis, Erik Magnuson (326 rush yards, 0 sacks allowed)
Week 5 — Amara Darboh (6 receptions for 87 yards, 1 touchdown)
Week 6 — Khalid Hill (2 carries for 2 yards and 2 touchdowns, 2 receptions for 19 yards and 1 touchdown)
Week 7 — Wilton Speight (16-of-23 for 253 yards, 2 touchdowns)
Jabrill Peppers (7 tackles, 2 tackles for loss, 1 sack, 1 two-point conversion fumble recovery for touchdown)
Michigan's Heisman trophy candidate didn't have the most tackles — Delano Hill lead the team with 11 — or the most tackles for loss – Mike McCray lead with 2.5 — but made the big plays that counted. When Michigan State still had a shot to pull within one score late in the game, Peppers sacked Lewerke for a loss of eight on 4th-and-5. Although the Spartans scored on their next possession, it was too little too late by that time, and Peppers made the final statement of the game by returning their fumbled two-point conversion to add two points to Michigan's winning margin. Ultimately, it didn't change the outcome of the game — aside from covering the over on the betting line — but it gave him a highlight for his Heisman campaign.
Previous
Week 1 — Mike McCray (9 tackles, 3.5 tackles for loss, 2 sacks, 1 forced fumble)
Week 2 — Rashan Gary (6 tackles, 2.5 tackles for loss, 0.5 sacks)
Week 3 — Jabrill Peppers (9 tackles, 3.5 TFL, 1 sack, 2 kick ret. for 81 yards, 4 punt ret. for 99 yards, 1 TD)
Week 4 — Maurice Hurst (6 tackles, 3 solo, 3 tackles for loss, 1 sack)
Week 5 — Channing Stribling (2 tackles, 2 interceptions, 2 pass breakups)
Week 6 — Taco Charlton (2 tackles, 2 tackles for loss, 2 sacks)
Week 7 — Mike McCray (3 tackles, 0.5 tackles for loss, 1 fumble recovery, 2 quarterback hurries)