---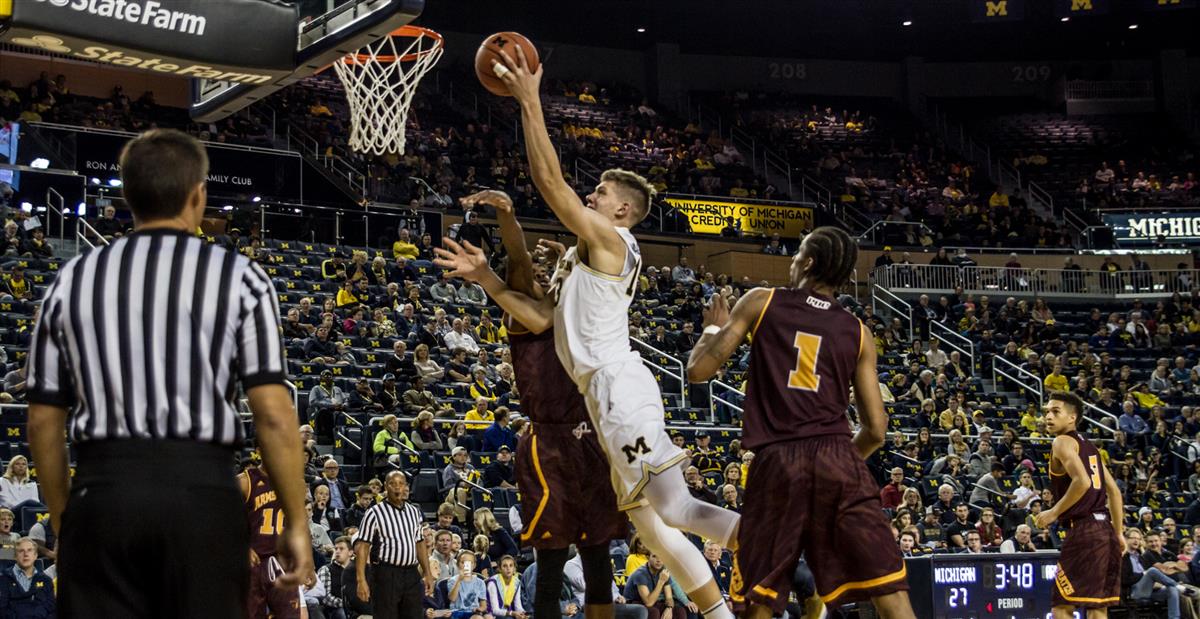 (Isaiah Hole, 247 Sports)
Michigan easily dispatched of their first opponent of the 2016-17 college basketball season, the Armstrong State Pirates, on Friday night with former Wolverine great Cazzie Russell – a Pirates assistant coach – in the house. Despite a slow start to the second half, which featured a 13-4 Armstrong State run over a four-minute period, the Wolverines never panicked and coasted as one might expect against a Division II opponent. Given the nature of the game, the strength of the opponent, and the tendency to mix lineups quite a bit in exhibition matchups, a recap will probably not add much value, so let's hit on some player observations and some general thoughts after seeing the Maize and Blue take the floor for the first time.
Ibi Watson – Most probably expected to see Xavier Simpson as the first freshman off the bench, but with an injury to Muhammad-Ali Abdur-Rahkman, it was actually Ibi Watson that was the first new face to see action. He wasted very little time – 22 seconds, to be exact – to score his first bucket in a Michigan uniform on a fast break and generally acquitted himself well throughout the evening.
After the game, Watson said that the pace of basketball at the college level has just started to really slow down for him in the past week or so, and his calmness seemed to bear that out on the floor. Watson looks to be all of the 6-foot-5 he's listed at and has a very smooth stroke despite going only 1-of-4 from deep. His third and final bucket came on an easy dunk that showcased some of the athleticism the Ohio native will look to bring to the table, and Watson's four assists and three steals in 18 minutes are certainly a welcome sign. He even ran a successful pick-and-roll once with Mark Donnal that saw the senior convert a somewhat iffy pass from the freshman for a bucket.
Watson was very aggressive on both ends of the court – maybe even a bit too aggressive at times offensively – and should carve out a niche for spot minutes if his game continues to evolve. For now, John Beilein said that he envisions Waton's role this season similar to what Tim Hardaway, Jr. looked to do as a freshman – knock down shots, play defense, don't try to do too much. Beilein agreed that the game has certainly slowed down for Watson, but with the amount of information being thrown at him, there's still plenty of work to do.
| | | |
| --- | --- | --- |
| | Final Team Stats  | |
| 77 | Points |  49 |
| 32-63 (50.8%) | FGM-FGA (Pct.) | 17-63 (27.0%) |
| 6-19 (31.6%) | 3PM-3PA (Pct.) | 5-27 (18.5%) |
| 7-11 (63.6%) | FTM-FTA (Pct.) | 10-12 (83.3%) |
| 13 | Turnovers | 19 |
| 42 | Total Rebounds | 38 |
| 9 | Offensive Rebounds | 13 |
| 33 | Defensive Rebounds | 25 |
| 25 | Bench Points | 10 |
| 5 | Blocks | 1 |
| 8 | Steals | 5 |
| 20 | Assists | 8 |
Xavier Simpson – Considered the jewel of the class, Simpson played a perhaps surprisingly low 14 minutes in the exhibition matchup and missed his only two attempts from the floor while recording a Walton-esque five rebounds along with a pair of assists and turnovers. The 2016 Ohio Mr. Basketball winner is almost certainly smaller than his listed 6-foot-0, 180 pounds, but he is built solidly and plays with a low center of gravity that allows him to weave decisively on offense and play pesky on-ball defense. We didn't see as much Simpson/Walton two-guard time as Beilein led us to believe, but Simpson appears to be an able ball handler with fine court vision. For now, Simpson will likely remain a pass-first point guard looking to set his teammates up with open looks.
Jon Teske – As has been rumored in recent weeks, Teske appears to be ahead of fellow freshman Austin Davis in the rotation at the moment, and his play tonight probably only helped his case. Teske is a big, big body at 7-foot-0, 245 pounds, but his most impressive clip of the night was a 15-foot baseline jumper that was as pure as Gus Johnson's game calls are exciting. Beilein mentioned after the game that he loves the rotation Teske gets on the ball (if you've ever seen the trademark Beilein Ball, you'd know this), and the jumper certainly looked natural for the big fella.
Teske also had a nice, ridiculously easy put-back dunk on a missed layup off the glass to give him four points in four minutes. He'll never be the quickest guy on the floor, but if Teske can provide spot minutes in the case of foul trouble, be a threat from outside the paint, and box out, he should fill his role just fine.
Austin Davis – The only non-Ohio native in the freshman class, Davis didn't get into the game until the waning minutes, but managed to catch a quick pass from Xavier Simpson and finish the easy lay-in for the last Michigan points of the game. Beilein praised Davis's hands after the game in what felt like an unintentional shot at former Michigan center Ricky Doyle's ability to catch any sort of pass, and the finish Davis had showed that. The pass appeared to be of the no-look variety in close quarters that came in quick and a bit high. Davis was able to secure it after a tiny bobble and go up for the finish.
D.J. Wilson – Wilson provided the most welcome play of the evening, showcasing a smooth offensive game that we had yet to see from him while being his normal disruptive self on defense. Wilson, now a redshirt sophomore, has always had the size and natural athleticism to be a gifted basketball player, but in his Michigan career to date he's often resembled a headless chicken. Tonight, it was a whole different story.
Wilson looked comfortable operating in the offense while knocking down a short turnaround jumper and a three to go along with a high-flying dunk and seemed to contest just about anything in his vicinity defensively (two blocks) with his ridiculous length while also using that length and his newly added strength to grab a game-high nine rebounds (including four offensive).
The Sacramento native will probably never be a natural ball-handler, but he showed enough to provide some relief to Michigan fans worried about this team's depth on the wing. Beilein has been praising Wilson's offseason effort consistently, and it came to fruition tonight in what was easily Wilson's best game in a Wolverine uniform. I felt that Wilson showed a strong urgency tonight on the court that I haven't seen before – he was consistently running from one end to the other looking for the ball and trying to get stops on defense. And his short shorts are absolutely on point.
Moritz Wagner – The sophomore from Germany picked up on Friday night where he left off at the end of his freshman campaign, showcasing an arsenal of offensive moves that could make him a unique offensive weapon in the Big Ten. Wagner finished naturally on both sides of the rim with either hand, used his quickness and plus handling skills to get a number of very easy looks right at the basket, and even swished a trey from the left side of the top of the key.
At this point, Wagner looks to have a pretty strong grip on the starting 5 spot and thinks he's playing the best ball of his life after spending the summer working on his game in Ann Arbor. Wagner figures to have gained about 30 pounds of muscle since arriving at Michigan and is just now beginning to realize how to use that added weight to his benefit. He said after the game that he now knows what it feels like to initiate contact and wants to continue to develop all facets of his game. Perhaps most encouraging for Wagner was only getting two foul calls against him in 25 minutes of play after he often found himself taking careless fouls as a freshman.
Derrick Walton – Walton showed well tonight and quickly put to rest any talks of his job being overtaken by a freshman. The senior Detroit native knocked down a pair of triples and dished out a game-high seven assists to just two turnovers (one clearly not his fault) in 31 minutes of action. He also made all four of his free throws and tied for the team-high with five defensive rebounds – something we've become very accustomed to. Walton very much looks to be on track for a solid bookend to his career should he stay healthy, and some more off-ball minutes afforded him by Simpson can only help his dead-eye shooting.
Zak Irvin – Like Walton, there wasn't too much of note on Irvin that we aren't already very familiar with. Irvin made half of his 12 shot attempts but only one of his four three-point tries, grabbed four rebounds, and dished out four dimes while grabbing a pair of steals. Irvin's bounce appeared to be back on the rise when he threw down a fast-break dunk early on after a back injury took some inches off his vertical leap, but Irvin later missed another wide-open dunk that was either blocked by the rim or slipping out of his hands. The senior Indiana native will need to make his free throws (only 2-of-5 tonight) and threes to reach full potential, but he should be in for a solid season.
Duncan Robinson – Beilein mentioned after the game that Robinson has been in a bit of a shooting funk in practice lately, and that showed tonight, as the sharpshooter missed all three of his wide open attempts from deep and seemed a bit hesitant to let it fly – never a good sign for a pure shooter. Hopefully Robinson will get over his confidence issues right now and start to knock them down like we're used to before getting into the meat of the schedule, because he is easily Michigan's best shooter and the best threat to stretch the defense.
Mark Donnal – Donnal has lost his starting spot to Moritz Wagner, but he's still going to be a crucial piece for this team to succeed. Wagner has shown a tendency to foul a lot and big men will rarely get more than 25-30 minutes per game in Beilein's offense. Tonight, Donnal was less than impressive early on, getting backed down easily for a layup on his first defensive possession then mishandled a loose ball right after, but he made up for it quickly with a couple rebounds and blocks. He finished with just two points but grabbed four rebounds (two offensive) in a short 7-minute outing.
Sean Lonergan – Lonergan got the start with Muhammad-Ali Abdur-Rahkman sidelined with what Beilein described as a minor ankle twist that occurred in the last minute of Michigan's practice yesterday and made both of his shots in 20 minutes of play. The senior walk-on doesn't figure to get much time once Rahk is back, but he showed a couple nice finishes Friday night while also recording two blocks with his underrated athleticism.
Defense – Much has been made of Beilein's decision to fill one of his two vacant assistant coach slots with former Wright State head man Billy Donlon, a man known for his gap-style defensive philosophy, but we'll give it some time before reading too much into the defense. Armstrong State shot just 27.6 percent from the floor, but it's hard to tell how much of that was due to being overmatched in general. What is clear, however, is that Michigan appears to be going away from the hard hedge on ball screen defense, as noted by MGoBlog's Ace Anbender.
Michigan's defense will be designed to limit easy penetration while also focusing on strong close-outs for three-point attempts – generally speaking, the gap defense Donlon employs is similar to a pack-line style defense, which is predicated on stopping penetration and forcing opponents into long mid-range jumpers. The only potential issue I saw tonight was a lack of defensive rebounding on a couple of possessions, but I expect that to be addressed moving forward.
Turnovers – Everyone knows it, but John Beilein said it himself after today's game: "I hate turnovers". He made it especially clear that he cannot stand turnovers that result from "lazy" passes on failed alley-oop attempts, of which Michigan had two tonight. At one point, Beilein noted that highlights are highlights because they are rare, and he doesn't want his team trying to fill the highlight reel every time down the floor. Ultimately, I don't think the 13 giveaways Michigan had Friday night will become a trend, but it's something to keep an eye on. Beilein sees turnovers as a primary driver of losses, and his teams normally value possessions more than most, but with a couple freshmen that figure to see rotation minutes, turnovers must be limited.
Final Individual Stats
Michigan

#

Name

FG-FGA

3FG-3FGA

FT-FTA

OR

DR

TOT

PF

TP

A

TO

BLK

S

MIN

13
Moritz Wagner* (f)
7-9
1-1
0-0
0
2
2
2
15
0
1
0
0
25
20
Sean Lonergan* (f)
2-2
0-0
0-0
0
2
2
2
4
1
1
2
0
20
21
Zak Irvin* (f)
6-12
1-4
2-5
0
4
4
2
15
4
1
0
2
31
10
Derrick Walton * (g)
3-6
2-4
4-4
1
5
6
2
12
7
2
0
1
31
22
Duncan Robinson* (g)
3-7
0-3
0-0
0
3
3
3
6
1
1
0
0
17
00
Brent Hibbitts
0-1
0-1
0-0
0
0
0
0
0
0
0
0
0
4
03
Xavier Simpson
0-2
0-0
0-0
0
5
5
1
0
2
2
0
1
14
05
D.J. Wilson
4-10
1-2
1-2
4
5
9
1
10
1
2
2
0
24
14
Fred Wright-Jones
0-1
0-0
0-0
0
1
1
0
0
0
0
0
0
2
15
Jon Teske
2-2
0-0
0-0
1
0
1
1
4
0
0
0
0
4
23
Ibi Watson
3-8
1-4
0-0
0
2
2
1
7
4
3
0
3
18
34
Mark Donnal
1-2
0-0
0-0
2
2
4
1
2
0
0
1
1
7
51
Austin Davis
1-1
0-0
0-0
0
0
0
0
2
0
0
0
0
3
Totals
32-63
6-19
7-11
9
33
42
16
77
20
13
5
8
200
Armstrong State

#

Name

FG-FGA

3FG-3FGA

FT-FTA

OR

DR

TOT

PF

TP

A

TO

BLK

S

MIN

04
Francisco Williams* (f)
0-2
0-0
0-0
1
3
4
2
0
0
1
0
0
15
23
KJ James* (f)
5-10
0-1
6-6
2
5
7
2
16
2
3
0
0
29
02
Montrel Goldston* (g)
4-8
1-3
0-0
4
2
6
2
9
0
4
0
1
23
03
Corey Tillery* (g)
3-14
2-8
0-0
0
1
1
1
8
0
2
0
0
27
10
Jamison Jeffers* (g)
2-11
2-9
0-0
0
6
6
2
6
3
3
0
2
34
00
George Brown
0-0
0-0
0-0
0
0
0
0
0
0
1
0
0
3
01
Denzel Council
1-6
0-2
2-4
2
2
4
1
4
2
0
1
0
26
05
Kalen Clifton
1-1
0-0
0-0
1
1
2
1
2
1
1
0
1
8
15
Logan Ballard
0-0
0-0
2-2
0
0
0
4
2
0
0
0
0
8
32
Larry Spicer
1-11
0-4
0-0
1
3
4
2
2
0
3
0
1
25
33
Matthew Beatty
0-0
0-0
0-0
0
1
1
0
0
0
0
0
0
1
41
Demarcus Cunningham
0-0
0-0
0-0
0
1
1
0
0
0
0
0
0
1
Totals
17-63
5-27
10-12
13
25
38
17
49
8
19
1
5
200

Full Stats