---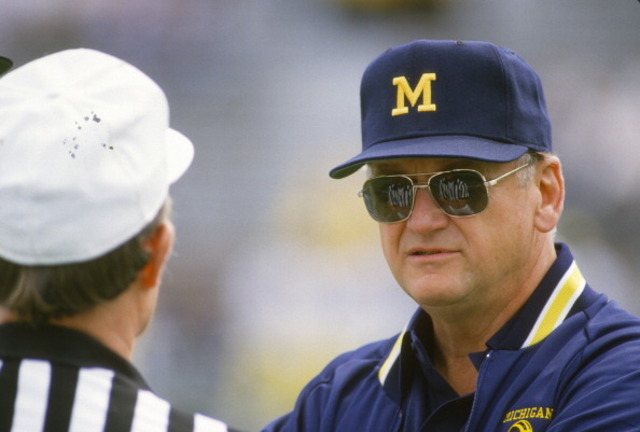 (Getty Images)
While it didn't have the same national and international impact of September 11, 2001, November 17, 2006 will always be a day of remembrance. Like 9/11, it's a day in which I'll always remember where I was when I heard the news that the great Bo Schembechler had passed away.
You see, November 17 is my birthday. All my life, it has brought a day of joy leading up to the annual Michigan-Ohio State rivalry. In 1982, I was born in Phoenix, Ariz. Three days later, my parents — mom, a Michigan grad, and dad, an Ohio State fan — convinced the doctor, who also happened to be a Michigan grad, to let them stay in the hospital an extra day so they could watch The Game. In those days, watching any game you want wasn't easy, and in Arizona, that was their best bet.
Each year that followed, I would receive Michigan gear for my birthday and then have a chance to wear it a couple days later as Michigan and Ohio State battled on the gridiron. I was fortunate to spend my teenage years — an hour west of Columbus — in the 1990s when Michigan dominated the rivalry. In high school, other students would deck out my locker in scarlet and grey the week leading up to The Game. When the following Monday came around and Michigan had won yet again, I would get the last laugh by having the principal play The Victors on the school intercom.
Every fall through high school, my parents would take me, my brother, and my two sisters to Ann Arbor for a weekend. We would stay at Weber's Inn, eat at Cottage Inn, and spend the weekend walking around campus, shopping at The M Den, and, in those days, running around the field in the Big House. On one of those trips, I think I was in middle school, I was fortunate enough to meet Bo as we came across him in between Michigan Stadium and Crisler Arena. I talked to him for a few minutes and got his autograph. That autograph now hangs on the wall of my home office, right next to the 'Remembering Bo' front page of the Ann Arbor news from the public memorial service that followed a few days after Bo's death.
I remember vividly the 1995 Michigan-Ohio State game. As a birthday present, my dad took me, along with my grandfather, a 1951 Michigan law grad, who was as instrumental as anyone in my Michigan fandom, to the game where we watched Tshimanga Biakabutuka rush for 313 yards in a 31-23 upset of the second-ranked Buckeyes. I think he's still going.
And so, November 17, 2006 was supposed to be another joyous occasion. No. 2 Michigan would be playing No. 1 Ohio State the following day in what was being dubbed "the game of the century." At 24 years young, I had bought a pair of tickets to the game for $400 apiece. When I couldn't find a friend who would pay that much to go with me, I sold the second one and made my money back. I was going to that game with or without someone by my side.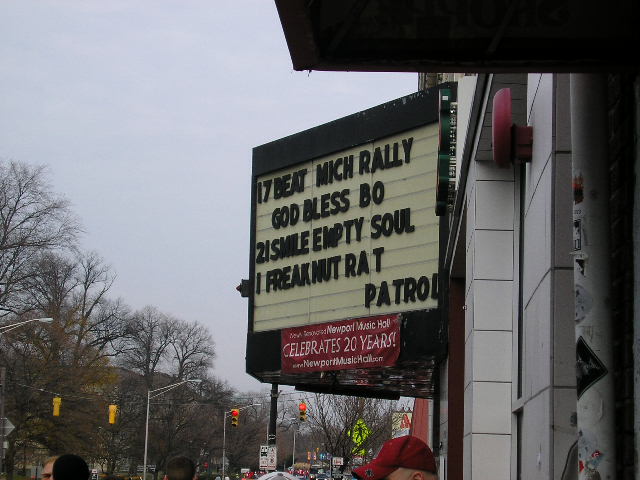 That morning, I was on my way to Columbus to meet with friends on the Ohio State campus. I heard the news of Bo's death on the radio and it sucked all the air out of what was supposed to be a highly anticipated weekend. We tried to have fun that night, but reminders were everywhere.
Walking down High Street, the marquee outside the Newport Music Hall read "Beat Michigan rally, God bless Bo." It had been changed earlier that day from "Hate Michigan rally, Dead Schembechlers," where the punk rock band, the Dead Schembechlers, were set to perform. When the name of their band was no longer funny, they decided to donate all proceeds from that night's show — over $10,000 — to the charity of the Schembechler family's choosing.
The next day, my friends and I tailgated outside the Horseshoe and then parted ways just before game time. I ventured into the snake pit alone, but not before convincing a fellow Michigan fan to pass his student ticket back to me so I could get into the student section and sit among friendly faces right above the visiting team's tunnel. I, like every other person wearing maize and blue that day, thought Michigan was destined to win that one. "Win it for Bo" we all cried. And they almost did.
When the dust settled, little did we know then that it would mark the turning point of a decade-long skid for the Michigan football program. Michigan would go on to lose the Rose Bowl to USC, then drop the first two games of the following season to Appalachian State and Oregon, a four-game slide. Following that season, Lloyd Carr would retire and the program would flail for seven seasons under Rich Rodriguez and Brady Hoke while athletic director Dave Brandon alienated virtually the entire Michigan family outside of the student athletes themselves. It's safe to say that it wouldn't have happened under Bo's watch.
Now, on November 17, 2016, 10 years after Bo left us for the pearly gates above, Michigan is as good as it has been since the day he departed. Ranked third, one spot behind Ohio State, with nine days standing in between a matchup that will decide the Big Ten East division and likely sent one or the other to the College Football Playoff, it's fitting that Michigan now has Bo's favorite son patrolling the sidelines.
My mom always says that Michigan lost three great Michigan men in the fall of 2006. My grandpa, attorney William Bush, passed away in October. Bo followed in November. And Gerald Ford died the day after Christmas.
This year has been a year of rebirth, in a sense. With Michigan back at the top of the Big Ten, challenging for a conference title — which has eluded them since Bo's death — and my third daughter, Everly, born a month ago, it's an exciting time. For most Michigan fans, real life and Michigan football are intertwined. They're one and the same. And as I turn 34 years old today, I pause to remember the patriarch of Michigan football, 10 years after he left us.