---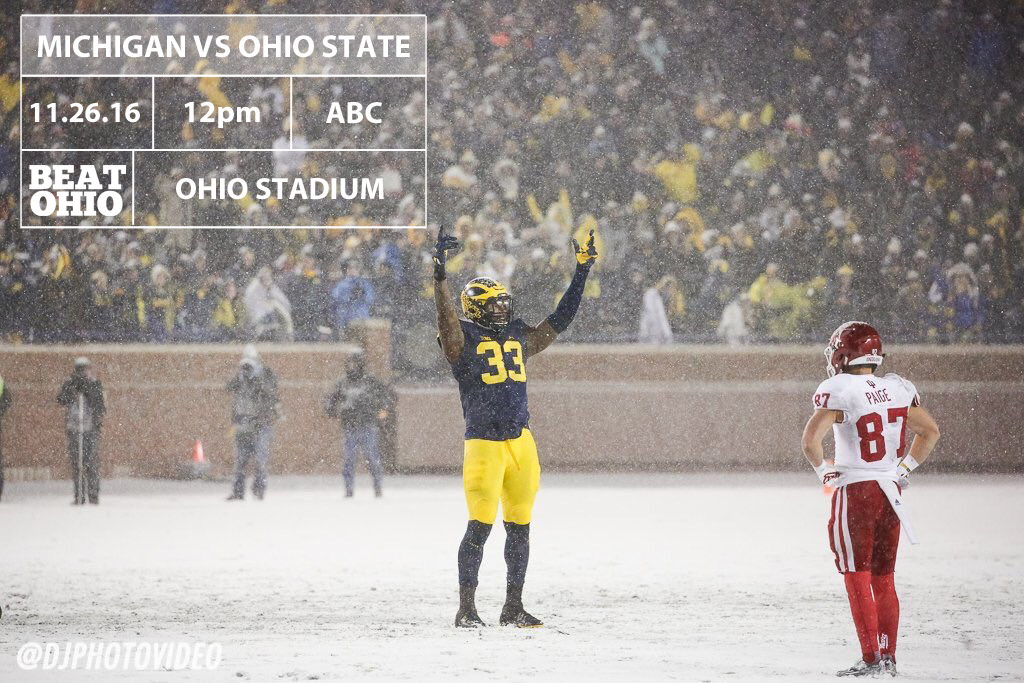 (Dustin Johnson)
Ten years ago, No. 2 Michigan met No. 1 Ohio State on a crisp fall day in Columbus in what was being called The Game of the Century. With the Big Ten championship game and College Football Playoff still years away, the winner of The Game would earn a spot in the BCS Championship Game.
Quick Facts

Ohio Stadium – 12p.m. ET – ABC
Ohio State Head Coach:
Urban Meyer (5th season)
Coaching Record:
164-28 (60-5 at OSU)
Offensive Coordinator:
Ed Warriner (5th season)
Co-Defensive Coordinators:
Greg Schiano (1st season)
Luke Fickell (12th season)
Last Season:
12-1 (7-1 Big Ten)
Last Meeting:
OSU 42 – UM 13
All-Time Series:
Michigan 58-48-6
Record in Columbus:
Michigan 27-26-2
Jim Harbaugh vs OSU
0-1
Last Michigan win:
2011 (40-34)
Last Ohio State win:
2015 (42-13)
Current Streak:
Ohio State 4
Ohio State Schedule to date
Opponent
Result
Bowling Green
W 77-10
Tulsa
W 48-3
at #14 Oklahoma
W 45-24
Rutgers
W 58-0
Indiana
W 38-17
at #8 Wisconsin
W 30-23
at Penn State
L 21-24
Northwestern
W 24-20
#10 Nebraska
W 62-3
at Maryland
W 62-3
at Michigan State
W 17-16
After delivering a rousing speech to the team on Thursday night, Bo Schembechler passed away on Friday morning, the day before the game. The loss of the patriarch of Michigan football sent shockwaves around college football and completely changed the tone of the game. Whether it made an impact on the outcome of the game will never be known, but the game turned out to be a shootout. Michigan marched down the field for the game's first touchdown. Ohio State answered and took a 28-14 halftime lead. Michigan fought back to within four, but was unable to pull it out as Ohio State won 42-39.
We all know the long and painful story from there. Michigan went on to lost the Rose Bowl to USC, then lost the first two games of the next season to Appalachian State and Oregon. Lloyd Carr retired at the end of the season and Michigan suffered through seven seasons of Rich Rodriguez and Brady Hoke.
Ohio State, meanwhile, went on to win four Big Ten championships, two BCS bowls, and play in three national championship games, winning one of them. During that span, they've beaten Michigan all but once, when the Wolverines pulled off a 40-34 win in Hoke's first season, which was also a transition season between Jim Tressel and Urban Meyer.
Jim Harbaugh returned to Michigan in December 2014 and immediately locked in a solid recruiting class in short time and then turned a 5-7 team into a 10-3 team that beat SEC East champion Florida in the Capital One Bowl. But he wasn't able to beat Ohio State, falling 42-13 in Ann Arbor. Now, 30 years after his infamous guaranteed victory over the Buckeyes, he takes his Wolverines into Columbus to try to earn a spot in the Big Ten championship game.
Ohio State comes in with an identical 10-1 overall record and 7-1 conference record as Michigan. The Buckeyes' only loss was a 24-21 defeat at Penn State just a couple weeks after Michigan beat the Nittany Lions by 39 points. But OSU has beaten now-8th-ranked Oklahoma and 6th-ranked Wisconsin, both on the road. Add in a 62-3 thumping of now-16th-ranked Nebraska, and Ohio State has proven it can play with anyone.
Like that Game of the Century a decade ago, this year's matchup figures to be a monumental battle between two of college football titans. In college football's greatest rivalry, what more could you ask for? Let's take a look at the matchups.
When Ohio State has the ball
Despite losing their running back, quarterback, tight end, most of the receiving corps, and their left tackle to the NFL, Ohio State's offense hasn't really missed a beat. It leads the Big Ten and ranks fifth nationally in scoring (43.8 points per game), leads the Big Ten and ranks eighth nationally in rushing (263.1 yards per game), ranks fifth in the Big Ten and 68th nationally in passing (230 yards per game), and leads the Big Ten and ranks 21st nationally in total offense (493.1 yards per game).
That the Buckeyes lost last season's quarterback is slightly overstated given that junior J.T. Barrett is back. He started his freshman season, going 11-1 in 2014 before ending his season against Michigan and watching Cardale Jones lead the team to the national title. Jones won the starting job last season, but Barrett saw ample playing time, including a four-touchdown performance in last year's Michigan game.
This season, Barrett leads the Big Ten with 24 passing touchdowns, though he ranks sixth in yards per game (209.5) — one spot behind Wilton Speight's 215.6 — and third in pass efficiency (147.7) — one behind Speight's 148.9. He has completed 63.4 percent of his passes for 2,304 yards and just four interceptions. But he's coming off his worst passing performance of the season against Michigan State, in which he completed just 10-of-22 passes for 86 yards and a touchdown. Still, he's even more dangerous with his legs as he rushed for 105 yards. He has thrown for more than 200 yards in seven of 11 games, including a five-game stretch leading up to the MSU game, and he's also tied for the team lead with eight rushing touchdowns.
Michigan fans will be familiar with redshirt freshman running back Mike Weber, the Detroit Cass Tech product who originally committed to Brady Hoke, decommitted in favor of Ohio State, and nearly switched back to Michigan after Harbaugh was hired. But he stuck with the Buckeyes and has rewarded them with a 1,000-yard season in his first campaign. He currently ranks fourth in the Big Ten in rushing, averaging 95.1 yards per game. He has rushed for 1,046 yards and eight touchdowns on 6.3 yards per carry. But after opening the season with three 100-yard games in his first four, he has just one in the last seven games. He rushed for 111 yards on 14 carries at Michigan State last Saturday. Penn State and Wisconsin held him to a combined 3.6 yards per carry.
The receiving corps is lead by the dangerous H-back Curtis Samuel. The junior from Brooklyn, N.Y. has 61 receptions for 790 yards and seven touchdowns — all team highs — and he also has 84 carries for 650 yards and seven scores. His 14 total touchdowns rank third in the Big Ten (non-quarterbacks) and he ranks second in the conference behind Penn State's Saquon Barkley with 132.5 all-purpose yards per game. Sophomore Noah Brown is the team's second leading receiver with 27 catches for 345 yards and seven touchdowns, while senior Dontre Wilson has 26 for 343 and five. Junior tight end Marcus Baugh is the only other Buckeye receiver with 20 or more receptions with 21 for 242 yards and two scores.
Ohio State's offensive line is good but not great. They've given up one more sack than Michigan's has this season, but some of that success is a result of Barrett's mobility. Senior center Pat Elflein and junior right guard Billy Price are the are the best linemen on the team. Elflein was a second-team All-American last season. Sophomore right tackle Isaiah Prince and freshman left guard Michael Jordan are the weaknesses on the line where Michigan's talented defensive front will attack. Junior left tackle Jamarco Jones has improved throughout the season and is a solid bookend.
When Michigan has the ball
The Buckeye defense ranks second in the Big Ten and third nationally in scoring defense (13 points per game), fourth in the Big Ten and 18th nationally against the run (120.3 yards per game) second in the Big Ten and third nationally against the pass (159.5 yards per game), and second in the Big Ten and fourth nationally in total defense (279.8 yards per game).
Like on the offensive side, despite losing much of their defense to the NFL, the Buckeyes still present the best and most athletic defense Michigan has faced yet this season. But they're not as great at getting to the quarterback as they have been in years past, ranking just sixth in the Big Ten and 57th nationally with 24 sacks — two-thirds of Michigan's total. Junior defensive end Tyquan Lewis leads the way in that category with 7.5 sacks, while the other end, sophomore Sam Hubbard, has three. Reserve ends, junior Jalyn Holmes and freshman Nick Bosa, have another six combined. The interior of the OSU line is lead by redshirt freshman Dre'Mont Jones and junior nose tackle Michael Hill who have a combined 59 tackles and five tackles for loss, but no sacks. Freshman backup tackle Robert Landers is also talented with 7.5 tackles for loss and one sack on the season.
There's no dropoff at linebacker where junior Raekwon McMillan is one of the best middle linebackers in the country. He's Ohio State's leading tackler with 71, has 4.5 tackles for loss, one sack, four pass breakups, and two forced fumbles. He's much more athletic than your typical middle 'backer. Sophomore WILL Jerome Baker and junior SAM Chris Worley are solid with 103 combined tackles, 12 tackles for loss, 2.5 sacks, two interceptions, and six passes defended.
The secondary is lead by sophomore safety Malik Hooker, who leads the Big Ten with five interceptions and is dangerous with the ball in his hands, having returned two of them for touchdowns. He ranks third on the team with 60 tackles in addition to 4.5 tackles for loss, half a sack, and nine passes defended. He's all over the field, both in coverage and run support. Junior Damon Webb — another Cass Tech star that got away from Michigan — is the other safety and he has 48 tackles, two for loss, one interception, and four passes defended. Junior Gareon Conley — a former Michigan commit — and sophomore Marshon Lattimore are the corners and both are very good.
Fifth-year senior punter Cam Johnston is one of Ohio State's best weapons, leading the Big Ten in punting average by a whopping 4.5 yards! He's averaging 46.3 yards per punt with 13 of 43 punts over 50 yards and nearly half (21) downed inside the 20. Senior kicker Tyler Durbin has been the Big Ten's most reliable placekicker, converting 16-of-17 field goals, the only miss being the block at Penn State. But the former walk-on's long all season has been 45 yards.
Sophomore receiver Parris Campbell is a dangerous kick returner even though he hasn't taken one all the way yet. He averages 26.6 yards per return. Wilson is the main punt returner, averaging 6.3 yards per return.
I'll start with a disclaimer. This prediction is based on Speight being able to play the whole game. If he's unable to play, or if he's knocked out of the game, I predict a Michigan loss. But I'm hedging my bets on his shoulder not being quite as bad as Harbaugh let on the past couple of weeks.
In a game like this where both teams rank among the nation's best both offensively and defensively, and both teams will come in full of emotion in a rivalry game, I like to think that they'll both keep doing what the are good at — what got them there.
As we saw in this week's The Numbers Game, Ohio State's defense has been susceptible to big plays, especially in the run game where they rank 77th nationally, giving up 5.91 explosive runs per game. In fact, they're slightly worse in that regard than Indiana, which entered last week surrendering 5.7 per game — 70th nationally. We all know what Michigan's running game did to the Hoosiers, racking up seven explosive runs including De'Veon Smith's scampers of 39, 34, and 25 yards. We also know that on drives in which Michigan has an explosive play they score 73 percent of the time.
Michigan's offense averages 11.36 explosive plays per game and OSU's defense surrenders 8.09 per game. Let's say Michigan's offense gets eight and scores points on 75 percent of those. Even if they're all field goals, that's 18 points. But Michigan will score at least one touchdown, so now we're into the 20s. Two puts them at 26 points — two touchdowns and four field goals — and I think that's enough to win the game.
Michigan's defense surrenders just 6.09 explosive plays per game — fifth nationally — while Ohio State's offense averages 11.09 (16th). The Wolverines haven't surrendered more than nine explosive plays in non-garbage time this season. But even so, even if Ohio State's powerful offense gets its average of 11, Michigan's defense gives up points just 35 percent of the time. That equates to four scores and I doubt all four will be touchdowns as Michigan has surrendered just 14 all season. Three touchdowns and a field goal is 24 points.
Sure, it may be slightly ridiculous to base a prediction on explosive play stats, but they've been pretty accurate all season. And now we have 11 games worth of data to use. If Speight plays, Michigan's offense will be able to move the ball well enough to put up some point on the Buckeyes, even if they settle for field goals. Senior Kenny Allen will come up big by making all of them. Harbaugh and offensive coordinator Tim Drevno will empty the kitchen sink trying to soften the Buckeye defense for Smith to get the running game going.
On the other side, Michigan will surrender a few big plays, likely including the 50-yard touchdown run up the middle that has become standard for OSU in this game. But by and large, the U-M defense will hold strong and keep the Bucks out of rhythm.
The game live up to its billing, going down to the wire. Allen boots a game-winning field goal, Michigan escapes the snake pit with its first win in 16 years, and heads to Indy for a rematch with Wisconsin. Of course, if Speight doesn't play, this could be all moot.
Michigan 26 – Ohio State 24