---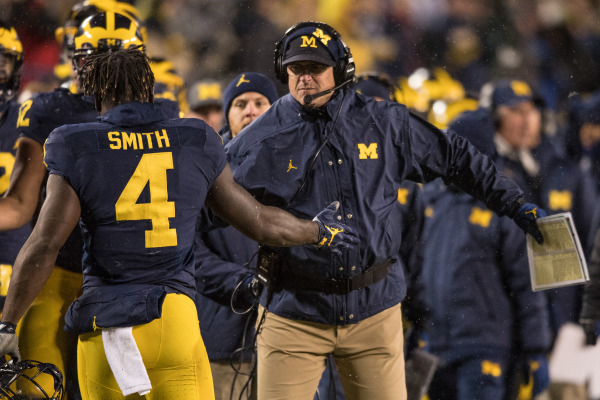 (MGoBlue.com)
Previously: Is Don Brown's defense high-risk? The numbers say no, Michigan's Harbaughfense will be more explosive in Year 2, Run game makes big plays in Week 1, While UCF loaded the box Michigan went to the air for big plays, Michigan offense doubles 2015 big play pace through 3 weeks, UM's smothering defense narrows gap between 2015 D's big play pace, U-M offense maintains big play pace versus tough Wisconsin D, Michigan out-big-plays Rutgers 16 to 1, Michigan's big play stats continue to tell good news, U-M offense third most explosive, defense best at preventing big plays, MSU wins big play battle, Michigan wins the war, As big play defense falls back to earth, U-M offense continues to soar, U-M's dynamic big-play offense stalls in Iowa loss, U-M offense, defense remain among nation's best entering The Game, U-M big play offense fizzles, defense holds Bucks below average, Michigan big-play offense looks to bounce back vs susceptible FSU big-play defense
Despite losing three out of their last four games, by a total of just five points, Michigan made some big strides in 2016. In this last installment of The Numbers Game I hope to give you some optimism heading into next season, based on the increased offensive and defensive production from Year 1 to Year 2 and we'll speculate on how Year 3 might look based on Harbaugh's past.
Let's get right into it. In the Orange Bowl, Dalvin Cook could not be contained, accounting for six of Florida State's nine total explosive plays (five run, four pass). Add in a botched kick coverage and Michigan lost another game they should have won. Such is life. Back-to-back 10-win seasons for the first time in over a decade is very good, though, lest we forget this was a 5-7 team two years ago.
Michigan didn't manage an explosive play until the third quarter when Wilton Speight hit Ian Bunting for 21 yards on a 4th-and-4 pass. In total, Michigan notched just five total explosive plays (four run and one pass) for their second lowest output of the season. Only their three versus Ohio State was worse. That one can be chalked up to an injured quarterback and this one to Florida State doing what I was worried about the most: lining up DeMarcus Walker on the inside to take advantage of Michigan's weak offensive guard play. I suspected Kyle Kalis would be exploited but it was true freshman Ben Bredeson who bore the brunt of the future NFL lineman's wrath.
Regardless, Michigan finished the season with their two worst explosive play performances offensively, while giving up 17 to their opponents (OSU – 8, FSU – 9). Not exactly what we expected given how the season started but it is what it is. But as you'll see, all is not lost.
Michigan offense – 2015 vs 2016 regular season comparison
Year
Big Run Plays
Big Pass Plays
Total Big Plays
Big Play %
Big Play Diff
Toxic Diff
2016
87
46
133
14.09%
3.71%
56
2015
47
48
95
10.49%
-1.01%
-3
For the year Michigan finished with 6.69 explosive runs per game (31st nationally) and 3.54 explosive passes (52nd) for a total of 10.23 explosive plays per game (30th). Their big play percentage for was 14.09 percent (35th).
After the hot 9-0 start to the season these numbers may seem a bit disappointing but when comparing them to 2015 the improvement is actually quite remarkable.
The 2015 offense averaged 3.6 explosive runs per game (116th) and 3.7 explosive passes per game (40th) for a total of 7.3 explosive plays per game (100th). Their big play percentage was 10.49 percent (97th).
Michigan improved upon every single offensive big play metric in a huge way, save for passing. But, if you'll recall the piece on Harbaugh's San Francisco teams you'd remember that from the year before Harbaugh to Year 1 with Harbaugh the passing game saw a decrease while the running game numbers took a giant leap. And the running game again took a giant leap in Year 2 with passing staying about the same. Remember, Harbaugh is a run-first guy, so we're not likely to see huge numbers in the explosive pass department. Even his 2010 Stanford team with a returning starter in Andrew Luck averaged just 3.7 explosive passes per game.
In 2010 (pre-Harbaugh), San Francisco had 40 explosive runs and 36 explosive passes. In 2011, SF had 56 explosive runs and 28 explosive passes. Year 2 (2012) saw 81 explosive run plays and 33 explosive passes. The Niners went from 40 to 56 to 81 2010-2012. In Year 2, Harbaugh doubled the explosive run production from the year prior to his arrival.
Michigan's explosive run numbers took a dip from 72 in 2014 to 47 in 2015, but then shot up to 87 total in Year 2. Progress is being made, and all with a Brady Hoke offensive line. To put in perspective how much of an improvement this is, the 10.23 total explosive plays per game this year is a 40 percent increase on the 7.3 from 2015. And the explosive runs increased by an astounding 86 percent.
Defense saw a similar theme in improvement. Although the numbers improvements were not as dramatic, the rankings were.
Defensive big plays allowed
Michigan defense – 2015 vs 2016 regular season comparison
Year
Big Run Plays/gm
Big Pass Plays/gm
Total Big Plays/gm
Big Play %
Big Play Diff
Toxic Diff
2016
4.38
2.08
6.46
10.38%
3.71%
56
2015
4.80
2.40
7.20
11.49%
-1.01%
-3
The Wolverines gave up 4.38 explosive runs per game (35th) and 2.08 explosive passes (3rd) for a total of 6.46 explosive plays per game (11th). Their big play against percentage was 10.38 percent (30th) and their big play differential was 3.71 percent (21st). Total toxic differential was 56, good for eighth on a per game basis. Three of the four playoff teams finished in the top six in toxic differential per game.
In 2015, Michigan gave up 4.8 explosive runs per game (53rd) and 2.4 explosive passes per game (13th) for a total of 7.2 explosive plays per game (24th). Their big play against percentage was 11.49 percent, good for 59th and their big play differential was -1.01 percent (88th). Their total toxic differential was minus-3, good for 75th on a per game basis.
The 2016 defense improved in every single big play metric and saw significant jumps in their rankings as well. But wait, there's more.
Let's talk about tackles for loss and sacks. Michigan had 88 tackles for loss in 2015, an average of 6.77 per game. In 2016, they had 120, an average of 9.23 per game and an increase of 36 percent. The sack numbers were even better. In 2015, Michigan had 32 sacks (2.46 per game). In 2016, they had 46 (3.54 per game), an increase of 43.7 percent.
The team rankings show just how much they improved. Sacks went from 31st in total and 32nd per game to fifth in total and fourth per game. Tackles for loss went from 38th in total and 42nd per game to third in total and second per game. Don Brown took this defense from middle of the pack in sacks and TFL to top five in both in just one year.
All but the offensive explosive pass play numbers were improved upon from Year 1 to Year 2. And given Harbaugh's past record we weren't expecting the pass numbers to waver much anyway. Remember, Stanford in 2010 (the 12-1 Orange Bowl champion year) averaged 5.8 runs and 3.7 passes. His best passing team in San Francisco (2012) averaged just two explosive pass plays per game. We're right in the range we can reasonably expect given the roster. Of course, a guy like Brandon Peters or Dylan McCaffrey might add a new wrinkle and we could possibly see an uptick once they take over.
So what sort of improvement, if any, can we expect in Year 3? If Harbaugh's history shows us anything it's that this is likely going to be the norm for the offense: around seven explosive runs per game and 3.5 explosive passes per game. Does that mean the offense won't improve? No, but at this point I don't think we can expect another drastic improvement. As Harbaugh builds this roster in his image, perhaps we'll see an uptick, but don't look for Louisville type numbers (8.5-plus run and 4.5-plus pass). There were only two teams who averaged more than 12 explosive plays per game this season, so hovering around 10.5 keeps Michigan around the top-25 in that category.
The defense ended up right about where we expected, allowing 6.46 explosive plays per game. There's not much room to improve upon that, or the sack and TFL numbers, from Year 2 to Year 3. But as Don Brown has more time to teach and implement his system we might see Michigan get into the under six explosive plays allowed per game range, which would easily be top five nationally.
So hold your heads up high, Michigan fans, the future is very bright. No, the season didn't end like we expected, but Jim Harbaugh took a senior class that went 12-13 their first two years and went 20-6 with them, giving Michigan its second coach ever to win 10 games in each of his first two seasons and the first back to back 10-win seasons in over a decade. Until next season, Go Blue!