---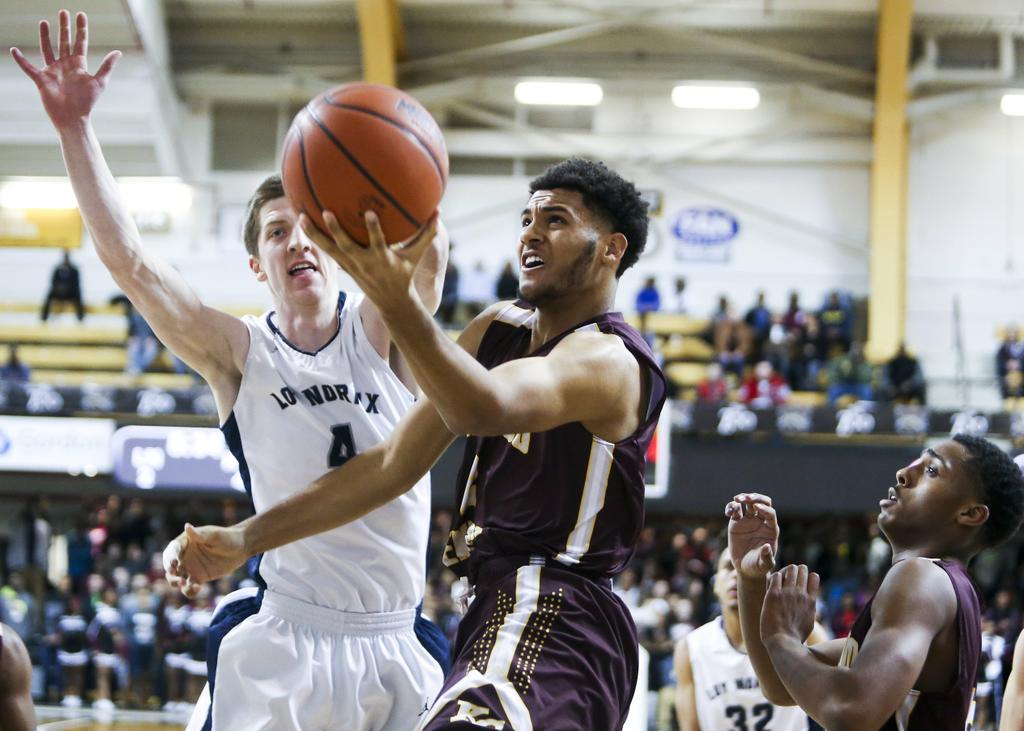 (Crystal Vander Weit, Kalamazoo Gazette)
A couple weeks ago, I was able to watch 2017 Michigan signee Isaiah Livers play for the third time in his senior season at Kalamazoo Central before he moves to Ann Arbor for the next few years.
In the first two outings I was able to catch, Livers and his Maroon Giant teammates completely outclassed the competition to the tune of a 71-36 blowout at Portage Northern and a 93-51 massacre over Loy Norrix. Livers showed flashes of potential, but watched from the bench in the fourth quarter in both lopsided contests.
Last Friday, however, was different, as the undefeated Grand Rapids Christian Eagles made the trip down U.S. 131 to close out the regular season at Central (boasting a not-so-shabby 17-2 record themselves). Christian, led by Michigan State big man signee Xavier Tillman, Oakland wing signee James Beck, and 2018 Division-1 guard prospect Duane Washington Jr., entered the game ranked No.1 in the state by MLive, and they lived up to that ranking, pulling out a 53-51 overtime nail-biter over the home team.
Enough of the game stories, though. On to the scouting! For a refresher, you can check out my scouting report on Livers after the Portage Northern game. This report will include stats and scouting for the Loy Norrix and GR Christian games, as well as a brief scouting report on Tillman as well.
Isaiah Livers vs. Loy Norrix (93-51 W):
16 points (7-of-9 FG, 2-of-4 3pt.), 8 rebounds, 2 assists, 2 blocks, 1 steal, 0 turnovers, 1 foul. DNP 4th quarter
Isaiah Livers vs. GR Christian (53-51 OT L):
10 points (4-of-11 FG, 2-of-4 3pt.), 5 rebounds, 1 assist, 2 blocks, 3 steals, 2 turnovers, 4 fouls
There is no questioning Livers's potential. He has good size right now at 6-foot-8, 205 pounds and should be able to tack on a few more pounds of muscle to his frame, but there's certainly room for improvement. Let's break down some positives and minuses
1. Shooting:
In my first game scouting Livers, the senior did almost all of his damage inside the arc, missing his only two three-point attempts. Against Portage Northern and GR Christian, however, the Mr. Basketball finalist showed why John Beilein and company consider him a can't-miss prospect by pouring in four threes on eight attempts and using his smooth and consistent stroke to knock down a couple midrange jumpers as well.
Livers uses his plus size and a quick enough release to shoot over the defense, and when he's feeling it, he can be lights-out. Livers drained two threes in the first quarter of Central's victory over Loy Norrix on his way to 10 points in the opening stanza and another seven points in the first quarter of the loss to Christian, including a triple and a couple pretty jumpers. In those two games combined, the wing prospect was 7-of-9 from the floor and 3-of-3 from deep in the first quarter.
This should correlate well to his projected future role as a microwave off the bench in his early time as a Wolverine. To earn run under Beilein, especially as a freshman, a player must knock down open shots, and Livers has the knack to come out firing – and on fire – from the get-go. We've all seen what happens when a designated sniper can't find the bottom of the net, too – Ibi Watson was supposed to have that role this year, but is just 1-of-18 from three-point land and hasn't played meaningful minutes since mid-December. If Livers can come in right away and just knock down shots, he should earn 5-8 minutes as a freshman.
2. Athleticism:
Livers' size and shooting make him an intriguing prospect, but his athleticism is what could make him a very good college player. Livers threw down a couple monster dunks over Loy Norrix, skied for an impressive late offensive rebound over GR Christian, and had a couple springy blocks in both games. He'll never be the fastest guy on the court, but his physical skills and quickness in short spurts give Livers a leg up and some potential positional flexibility.
3. Hands:
An underrated part of any college prospect is the ability to reliably catch passes without bobbling the ball, particularly for big men. And while Livers will not be a post player in college, it is still important for shooters to be able to catch and release without a hitch. Livers is also able to use his quick hands and length to cause some havoc on the defensive end, anticipating passes and knocking the ball loose to lead to easy transition buckets or at the very least create more possessions for his team. In the three games I scouted Livers, he registered eight steals to just three turnovers.
1. Rebounding:
In talking about what Livers will bring to Michigan, Beilein repeatedly mentions the prospect's need to get better on the glass, and I could not agree more. While often one of the biggest (and probably the most athletic) players on the floor, Livers shows very little desire to bang on the boards. He had one impressive offensive rebound against Christian, but the majority of his boards were of the defensive variety that essentially fell into his hands.
I caught Livers just watching with his hands on his sides far too often when a shot went up – little desire to box out, little desire to go up and get it. I don't think he's a prima donna, but he needs to be more gritty on the glass.
2. Aggressiveness:
In total, I saw Livers play approximately 72 minutes of basketball across three games (foul trouble limited his time against Christian). In those 72 minutes of action, Livers made it to the free throw line a measly three times – all against Portage Northern.
I've already detailed Livers's lack of aggressiveness in the rebounding department, but his unwillingness to drive into the teeth of the defense in search of contact is equally worrisome for a guy that projects as a 3 or 4 in Michigan's system.
Christian's best player on Friday night was Beck, and partially because he was able to get to the free throw line a handful of times. Livers was content to shoot from the outside and defer to his more willing teammates. On at least one occasion, the lack of aggressiveness likely led to a crucial turnover against Christian, as Livers opted to hold onto the ball for too long and then retreat when a double team closed in as opposed to taking it right at them and drawing contact.
I like Livers's handles for his size (room for improvement, but not a glaring weakness), but he needs to trust them enough to drive past the three-point line and into the paint, where he can use his size and athleticism to finish in close.
3. Defense:
I'm going to disagree slightly with Ace Anbender's take from his recent MGoBlog post on Livers. Livers' athleticism allows him to be a passable defender at the high school level, but you can spot areas where a college offense could take advantage of him. I think Livers plays fine help defense and shows flashes of being a decent shot-blocker right now, but I attribute that more to his size, length, and athletic advantage at the high school level. His on-the-ball defense leaves a bit more to be desired, however.
Livers doesn't slide his feet well enough on defense, forcing him to defend at an angle rather than perpendicularly when his opponent gets a step on him, which eventually got him into foul trouble in the most important of the three games I watched. Livers needs to get lower to the ground defensively and make sure he uses his long arms to his advantage by cutting off the drive before it happens. Some added strength will also help on this end – Beck threw down a dunk in Livers's grill early on in the Christian game.
Current Comparison:
While disagreeing with Ace on Livers' defense, I think he's spot on when it comes to comparing the 2017-18 freshman to a current Michigan player – it's D.J. Wilson all the way. Like Wilson, Livers has plus size, length, and athleticism, and can stretch a defense as a bigger wing. He's also fairly lanky and will have to put on some weight while needing some improvement on his ability to drive the ball as well. For comparison's sake, let's make a quick chart to show how I think Livers and Wilson stack up with each other as high school seniors (based solely on Wilson's film at the time):
| | | |
| --- | --- | --- |
| | Isaiah Livers | D.J. Wilson |
| Shooting | X | |
| Rebounding | | X |
| Passing | | X |
| Blocking | | X |
| Ball-handling | X | |
| Aggressiveness | | X |
| Agility | X | |
| Athleticism | X | X |
| Hands | X | |
---
Xavier Tillman – PF | 6-8, 270 | Grand Rapids, Mich. (Grand Rapids Christian)
ESPN: 4-star, #11 PF
Rivals: 4-star, N/A
247: 4-star, #22 PF
Scout: 3-star, 29 C
247 Composite: 4-star #18 PF, #86 nationally
Other top offers: Indiana, Purdue, Ohio State, Iowa, Virginia Tech, TCU, Illinois
Xavier Tillman vs. Kalamazoo Central (53-51 OT W):
9 points (4/8 FG, 1/3 FT), 5 rebounds, 2 assists, 4 blocks, 3 steals, 5 turnovers, 4 fouls
Before seeing Tillman or Livers play, if you were told that the game you were going to watch featured two 6-foot-8 guys with one going to play for Tom Izzo and one going to play for John Beilein, you would know within a second of walking into the gym which prospect was which. Livers is tall and slender with a polished jumper. Tillman is a bulky and plodding 6-foot-8 big man who won't dare take a shot beyond the free throw line – even in shootaround.
Once game action hit, however, I was disappointed in Tillman's overall game at this point. He has good size and a wide body, but got winded very quickly and was frequently the last man up and down the court. Offensively, he has very little polish to his inside game, and failed to demand the ball even when matched up with much smaller defenders in an open post. Tillman actually entered the half with zero points on 0-of-3 shooting (including a missed dunk) and just one rebound before picking up a few buckets on pretty easy layups off the glass in the 3rd and 4th quarters.
The Grand Rapids native did not display many post moves, and while he is certainly physical down low, powerful on the glass, and showed good help defense, Tillman was rather careless with the ball and simply not fast enough for the Big Ten game at this point. Luckily for Izzo, Michigan State should have plenty of big men returning to give Tillman the chance to develop with a redshirt year. The high school senior picked up a couple fouls due to a lack of foot speed and getting winded, and needs to get in shape and get quicker. The closest comparison to Tillman on the Spartan roster currently is clearly Nick Ward, but Tillman lags behind Ward at the same time in their respective developments in just about every department.