---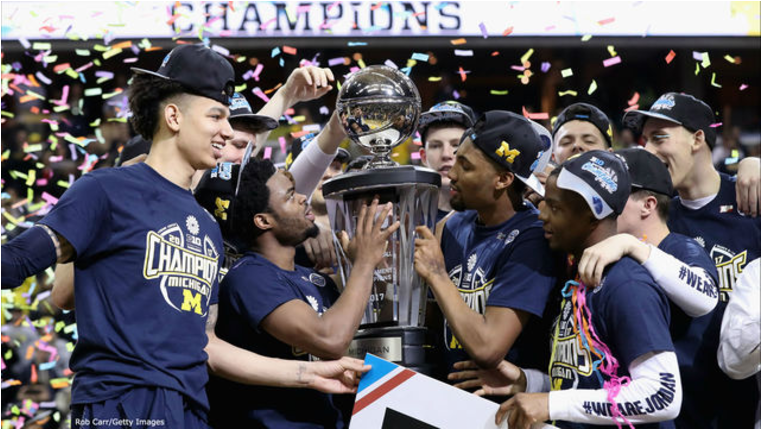 (Rob Carr, Getty Images)
Spring has arrived, but a dark emptiness seems to permeate through the thick, sticky air. Mother Nature has thrown a curveball at us with dreariness and cold, rain and clouds in lieu of the sunshine and crisp air we have come to expect this time of year as the calendar turns to April.
It's not just the weather, of course, that's brought this darkness. It's the end of Michigan's wild basketball season that felt like a never-ending story, if only for a moment, before we found that the final pages were missing.
We feel robbed of the beauty we've waited for Spring to arrive with for so long, and likewise, we feel robbed of the dream finish that destiny would so surely, we thought, bring for John Beilein's 10th team in Ann Arbor.
But as with everything else in life, finality is the only certainty, if even it comes prematurely.
At least it was a very good thing while it lasted.
For a long time, this season was not shaping up to be a memorable one, a season that all of us fans hope goes on forever. Michigan sprinted out of the gates with an impressive run through a 2K Classic field that included future NCAA Tournament teams in Marquette and SMU, both of whom were throttled on the way to the Wolverines' preseason tournament title.
That showing saw Michigan rocket its way into the national polls, but was followed by an underwhelming performance at South Carolina and a rapid return to earth for the season's expectations. Although, if we had the benefit of foresight at the time, that loss in Columbia wouldn't seem nearly as bad.
A couple games later, Michigan choked away a home battle versus Virginia Tech in the ACC/Big Ten Challenge and had another poor performance in a win over a bad Texas team shortly thereafter. The Wolverines would hang with UCLA in Westwood for one impressive, firework-laden half before taking an 18-point loss out West and would later proceed to sweat out a holiday win over a far-better-than-expected Furman squad before conference play kicked off in the New Year.
We all know the story from there. Michigan seemed to run out of gas in what should have been a favorable starting conference schedule, dropping three of their first four and four of their first six with their only two wins coming in home nail-biters over Penn State and Nebraska.
Uncertainties in the latter half of the non-conference season turned into message board maniacs calling for this to be Beilein's final year.
Two home blowouts over Illinois and Indiana calmed the seas temporarily before a tough loss at Michigan State and a lackadaisical home loss versus Ohio State heard those earlier calls turn into cries for the head coach to be gone — and fast.
On that night, Saturday, February 4, Michigan found itself at 14-9 overall and 4-6 in conference play with very few standout wins on their resume. It would take a massive turnaround and a long look in the mirror for the team to fight its way into contention for an NCAA Tournament berth, and no one – not even those closest to the team, I reckon – saw it coming.
But come it did. Derrick Walton Jr. turned into a man possessed, knocking down everything from deep and rekindling his freshman year ability to finish at the rack. Moe Wagner realized his potential after only brief flashes as a rookie, spinning, shuffling, shooting, and driving his way to buckets. D.J. Wilson blossomed from cast-off to potential pro with athletic dishes, drained shots, and opponent shots rejected. And Zak Irvin, whose critics would make you believe he could not compete at the local YMCA, embraced his role as a senior leader and scorer, if merely as a third or fourth option at times.
The team that once left everyone guessing what would happen every time they ran onto the floor began ferociously dispatching each opponent that dared challenge them.
Michigan State was handed its worst loss in years. Indiana was dismantled on its vaunted home court. Wisconsin and Purdue, the clear frontrunners for the Big Ten title, met their fate at the hands of a team on a mission.
By the time March had rolled around, Michigan had pulled off the wholly unexpected, nearly impossible transition from conference also-ran to surefire dancer. Broadcasters still wondered what the team was made of, but those following closely knew that a seismic change had taken place.
The Wolverines were no longer prone to falling apart at the end of a game. They did not let inferior competition dig under their skin. They would not cede a game's worth of points in a half – not any more, at least.
In reality, this new team could compete with anyone in the country, and in so many different ways. The offense was no longer great – it became otherworldly efficient. The defense was no longer passable – it became a solid unit that forced turnovers and prevented clean perimeter looks.
This team could feel as good about their chances as any other.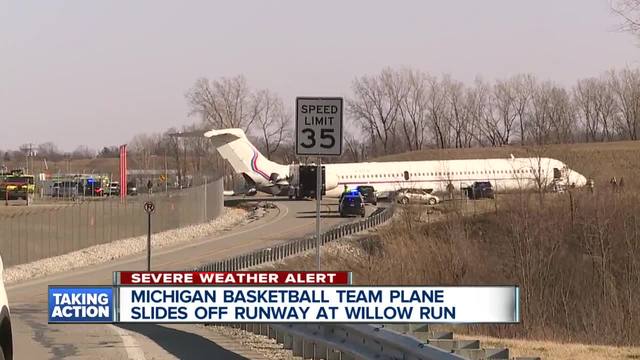 And so, with that edge, this team would travel to Washington, D.C., wheels rolling, to give its conference brethren a lesson in basketball.
There's not much Michigan needed at that point to make a magical March run, the stuff legends are made of. If there was one thing, however, it was a captivating headline.
That story would be served up on a platter in a most harrowing way, as Michigan's charter plane destined for the Big Ten Tournament skidded 400 yards off the runway, through a fence, and into a field, coming to a startling rest in a shallow ditch after the pilot decided to abort takeoff in extremely high winds.
Still, the team pushed forward with no recognizable timidity. The crash had perhaps brought them closer together, had given them a greater sense of their cause, but it did not change their play. Michigan once again blew through an Illinois team that had labeled the Wolverines as "white collar" in early January, this time in rag tag practice gear because their regular jerseys were stuck on the capsized plane.
Purdue, Minnesota, and Wisconsin would all provide different puzzles throughout the weekend, but the Maize and Blue solved each of them with a veteran mindset and plenty of talent.
With the Big Ten Tournament trophy in hand, Michigan was sent to Indianapolis as a 7-seed in the Big Dance to take on an Oklahoma State team powered by purely offensive fuel. The Wolverines took a dose but returned an even bigger dose of that medicine to the Cowboys to outlast their first round foe in an instant classic with firepower supplied by Walton.
Two days later, the Wolverines faced a Louisville squad that provided a completely different look, with length, athleticism, and defense in spades. Once again, Michigan prevailed, this time behind the sophomore duo of Wagner and Wilson, despite trailing by eight at the halfway point. March would not stop this team's march, and another classic was in the books.
Destiny was still on their side – for one more week, at least.
Unfortunately, that magic ran out too soon and too abruptly. Michigan went toe-to-toe with 3-seed Oregon for 40 minutes but made some uncharacteristic mistakes late in the game, as if their hourglass stepped in the way of what could have been. Derrick Walton's last shot, a step-back that we had seen him hit so often over the last two months of the season that he may as well have filed for a patent, came up a couple rotations short.
Just like that, the buzzer sounded to signal the end of Michigan's season. Destiny left the building with a new team in tow.
And that's how – and why, perhaps – Mother Nature mourns with us today. She, like all of us, was not ready for the suddenness of it all. Storybooks are not supposed to end like this.
But that story, while it was being written, was grand. It was thrilling and exhilarating, mysterious and heartbreaking. It was frustrating at times and, yes, slogging at others. More than anything, though, this story was a memorable one that we won't soon want to stash away to collect dust, lest we question the power of John Beilein's teaching prowess paired with the ability of a bunch of talented, fun, good, strong-minded college basketballers.
Just as soon as the final words were penned in this story, however, a new volume's pages are opening up, waiting to be scribbled upon.
Let's hope this one is as enjoyable as the last.