---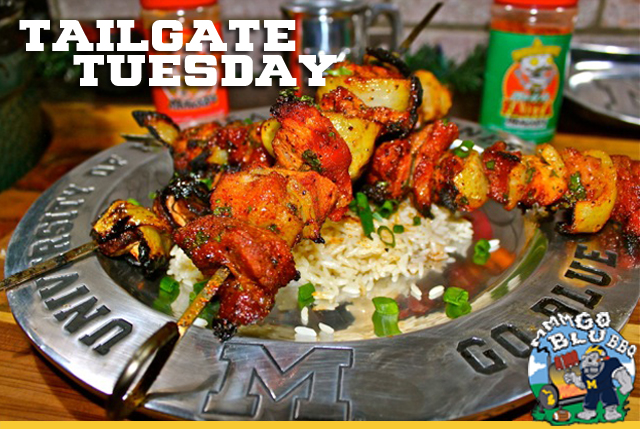 Tailgate Tuesday is our weekly contribution from our resident pitmaster, Joe Pichey from GoBlueBBQ. These tailgate recipes will be posted each Tuesday throughout the football season and will feature a variety of appetizers, main courses, and sides to help you be the king of your next tailgate. Lane's BBQ, a Bethlehem, Ga. based BBQ company, sponsors this season's feature by providing their killer rubs and sauces for use in the recipes. Buy them here. In addition, Fogo Charcoal provides charcoal to use in each recipe. Buy it here.
For our first recipe of the season we're taking the easy way out and reposting a recipe from a couple years ago. I mean, hey, it worked the last time Michigan played Florida so why reinvent the wheel? Grab yourself some gator meet and impress your friends with something a little different this Saturday.
1 pound gator tail meat (cut into 1-inch cubes)
Onions
Mushrooms
Polish sausage
Marinade:
1 cup OJ
1/2 cup honey
1/4 cup vegetable oil
1/4 cup of Meat Church Hot Honey Hog Rub
1/2 cup chopped parsley
1 TBSP ground black pepper
Add marinade ingredients to deep bowl and mix well. Reserve a half cup for basting later. Add gator tail pieces. Let marinate in the fridge for at least six hours but no more than 12. The acid in the OJ will start to cook the meat if you leave it on too long.
The gator tail is nice pinkish color and will darken after hours in the marinade. Once you add the OJ and the gator, we officially have a "citrus bowl".
After 6-12 hours in the saucy goodness, start to skewer with your favorite veggies. I love onions and mushrooms along with some polish sausage for this recipe. Once they pieces are all on a stick, sprinkle with some Meat Church Fajita Rub.

Set your grill up for high heat. These will cook for about 5-7 minutes per side. These skewers get hot, so wear some gloves. Learn from my mistakes.
As the kabobs are grilling, baste with the reserved marinade. This will also add some flavor to the sausage and the veggies.
After 10-12 minutes total, remove from the direct heat. I like to let these rest for about five minutes and serve over white rice. The flavor is a combo or chicken and pork and also has a very dense texture.

These were served my new Michigan platter from Wilton Armetale. They make some fantastic grill ware and have a huge selection of Michigan product. Check them out. Don't forget to check out the selection of Meat Church rubs as well. He was a great sponsor a couple years and continues to make some fantastic rubs.

GO BLUE!!!
Visit Meat Church to purchase their new Bacon BBQ rub or any of their other great rubs and seasonings. You can follow them on Twitter at @MeatChurch and you can also follow Joe at @mmmgoblubbq.