---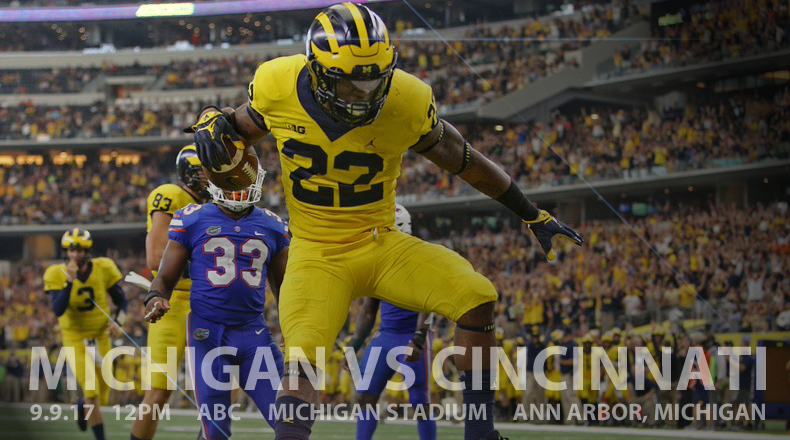 Michigan passed its first big test of the season last Saturday with a resounding 33-17 win over 17th-ranked Florida. The Wolverines dominated the game, outgaining Florida 433 to 192, and holding the Gators to just 11 rushing yards and three offensive points, but gave up two interceptions returned for touchdowns in the second quarter and missed two second half field goals to keep the score much closer.
Quick Facts

Michigan Stadium – 12p.m. EST – ABC
Cincinnati Head Coach:
Luke Fickell (1st season)
Coaching Record:
7-7 overall (1-0 at UC)
Offensive Coordinator:
Mike Denbrock (1st season)
Defensive Coordinator:
Marcus Freeman (1st season)
Last Season:
4-8 (6-2)
Last Meeting:
First meeting
All-Time Series:
First meeting
Record in Ann Arbor:
First meeting
Jim Harbaugh vs UC
First meeting
Last Michigan win:
First meeting
Last Cincinnati win:
First meeting
Current Streak:
First meeting
Yes, Florida was missing 10 players due to suspension — two of which were starters — but the Gators were still a very good team and certainly one of the top four or five teams the Wolverines will face all season. That means Michigan gets a few "tune-up" games to improve on what went wrong and refine what could have been done better before the meat of the schedule begins.
Cincinnati is up next, which brings Luke Fickell back to the Big House where he lost to Brady Hoke in his only other visit as a head coach. He bridged the gap between Jim Tressel and Urban Meyer at Ohio State, going 6-7 as an interim head coach before spending five more seasons as a defensive coordinator in Columbus. In the offseason he made the 100 mile move down I-71 to take his first real head coaching position at Cincinnati after the Bearcats fired Tommy Tuberville.
Fickell is Mr. Ohio, having played for Ohio State and spent his entire 18-year coaching career in the state between OSU, Akron, and now Cincinnati. He inherits a program that has taken a steady nose dive the past few seasons.
From 2007-2012, the Bearcats won at least 10 games in five of six seasons spanning Brian Kelly and Butch Jones, winning the Big East four of those years and reaching a BCS bowl twice. Even the Tuberville began promising with nine-win seasons in 2013 and 14, but he followed those up with a 7-6 record in 2015 and 4-8 a year ago.
The Fickell era opened with a 26-14 win over Austin Peay on Saturday, an outcome that was much too close for comfort considering the Governors are one of the worst teams in the FCS, carrying a 28-game losing streak, which is the longest in the nation. Austin Peay had the 120th-ranked defense in FCS last season, allowing 506.6 yards per game, and held Cincinnati to just 248 yards and only 97 on the ground. Still, that didn't stop Cincinnati running back Mike Boone — who rushed for 100 yards and a touchdown on Saturday — from confidently declaring that the Bearcats could "shock the world" this Saturday.
Let's take a look at the matchups.
Last season, Cincinnati's offense ranked 99th nationally in total offense (374.1 yards per game), 123rd in scoring (19.3 points per game), 117th in rushing (118.2 yards per game), and 44th in passing (255.9 yards per game). Fickell brought in former Notre Dame offensive coordinator and assistant head coach Mike Denbrock to run his offense, promising an up-tempo spread. Denbrock spent the past seven seasons in South Bend and coordinated the offense in 2014, which ranked 32nd in total offense and 38th in scoring. That's the team that beat Michigan 31-0 in Brady Hoke's final season.
Quarterback Hayden Moore started two games as a redshirt freshman in 2015 and earned the starting job entering last season but injured his ankle in the third game and missed the next five. He finished the year with 1,744 yards, 11 touchdowns, and seven interceptions on 57.3 percent passing, but he closed out the season with a 371-yard, three touchdown performance against Tulsa. Last Saturday, he completed 17-of-28 passes for 151 yards and three touchdowns. He's not a major threat to run with just a 0.7 yard per carry average, sacks included.
Boone, a senior running back, had good freshman and sophomore seasons in 2014 and 2015, totaling 1,399 yards and 18 touchdowns on 6.8 yards per carry. But last season, he managed just 388 yards and two scores, recording six games of less than four yards per carry, five of which were under three. He began his senior campaign with a nice game last Saturday, rushing 19 times for 100 yards and one touchdown, but will have a much tougher test against a Michigan defense that held Florida to just 11 rushing yards last week.
Sophomore Thomas Geddis led the team with four receptions for 48 yards and a touchdown last week. He had just seven catches for 139 yards and a touchdown as a true freshman last season, but at 6-foot-5 he has size to cause problems for Michigan's young defensive backs. Junior Kahlil Lewis is perhaps Cincinnati's best receiver, coming off a 48-catch, 605-yard, five-touchdown season. He caught four for 41 and a score last weekend. Senior Devin Gray is a former junior college transfer who became the first Bearcat receiver to tally 100 yards in his debut a year ago. He caught 58 passes for 860 yards and five touchdowns last season but managed just two for 18 against Austin Peay. Sophomore Jerron Rollins, like Lewis, is a former three-star recruit, and caught two passes for 22 yards last week.
Cincinnati's offensive line paved the way for the fewest rushing touchdowns in FBS last season, but has senior left tackle Korey Cunningham back as an anchor. He's the only full-time returning starter on the line.
Fickell is a defensive minded coach, but has always had Ohio State's recruits to work with. He doesn't have four-stars and five-stars to plug in now, but he did bring one of those with him to Cincinnati as his defensive coordinator. Marcus Freeman was a linebacker at Ohio State from 2004-08 and has been working into the coaching ranks, beginning with a graduate assistant position at OSU in 2010 and linebackers coach at Kent State in 2011-12 and Purdue 2013-16. This is his first coordinator position and he inherits a defense that returns eight of its top 10 tacklers from 2016.
Last season, the Bearcats ranked 72nd nationally in total defense (422.8 yards per game), 55th in scoring (26.9 points per game), 75th against the run (189.6 yards per game), and 74th against the pass (233.3 yards per game).
Redshirt junior defensive end Kevin Mouhon led the team with 9.5 tackles for loss and ranked fifth with 50 tackles, while redshirt sophomore Bryan Wright is primed for a breakout year after a strong finish to last season. On the inside, junior tackle Marquise Copeland is the leader with 59 tackles, 4.5 tackles for loss, two forced fumbles, and a sack last season. Redshirt junior tackle Cortez Broughton was a second-team All-AAC performer last season with five tackles for loss and 2.5 sacks.
Freeman has his hands full trying to replace the entire starting linebacking corps, which combined for 196 tackles, 4.5 sacks, and 14 passes defended. Senior middle linebacker Jaylyin Minor is a junior college transfer and is the unit's leading returning tackler with 29. He made 10 tackles in the season opener. Sophomore Will linebacker Perry Young ranked eighth on the team in tackles last season and tallied 17 tackles — 10 solo — and three for loss against Austin Peay. Redshirt junior Sam linebacker Tyrell Gilbert played just eight games last season due to injury but recorded 40 tackles, three interceptions, and forced two fumbles. Last weekend, he recorded Cincinnati's lone sack.
While the linebackers are new, the secondary is mostly the same except for safety Zach Edwards, but his replacement, junior Malik Clements, had himself a day with 18 tackles last weekend. Senior strong safety Carter Jacobs started three games last season, while corners Grant Coleman and Linden Stephens are experienced seniors.
Senior kicker Andrew Gantz is one of the most experienced kickers in the nation having made 39 of 49 career attempts with a long of 51. He's coming off a hip injury that caused him to miss most of last season and missed his lone attempt last weekend. The punter is freshman James Smith, an Aussie who averaged 42.2 yards per punt last weekend.
Gray is the main punt returner and averaged 10.5 yards per return on four returns last week, while Geddis and freshman Michael Warren II handle kick returns.
Cincinnati run game vs Michigan rush defense
Cincinnati

Michigan

 
Cincinnati running back Mike Boone did have a 100-yard game last week but that was against one of the worst defenses in FCS and the Bearcats' running game itself was very pedestrian last season. Despite Boone's claim that Cincinnati could shock the world on Saturday, Michigan has a big edge here.
Cincinnati pass game vs Michigan pass defense
Cincinnati

Michigan

 
With a young and unproven Michigan secondary, the Wolverines don't have much of an edge here against some talented Cincinnati receivers, but they did still hold Florida without a passing touchdown last week. Sure, they gave up a few long pass plays, but they didn't break. Cincinnati will likely hit on a couple long passes, but if they can't run the ball, Michigan's pass rush will tee off on Moore like it did Feleipe Franks and Malik Zaire last week.
Cincinnati rush defense vs Michigan running game
| | |
| --- | --- |
| Cincinnati | Michigan  |
The Bearcats allowed 224 rushing yards to Austin Peay last week, while Michigan's running game racked up 215 yards on Florida's stout defense. Sure, the Wolverines had several runs that were stopped at or behind the line of scrimmage, but the big plays — mostly by Ty Isaac — made for a good day on the ground. Cincinnati's rush defense won't have much success stopping Michigan's deep and talented stable of backs.
Cincinnati pass defense vs Michigan passing game
Austin Peay threw just 19 passes last week and completed nine for 89 yards. Wilton Speight had his share of struggles last week, throwing back to back pick sixes and overthrowing open receivers at other times. I'm giving this one a push this week until Speight can prove consistent with Michigan's young receiving corps.
Cincinnati special teams vs Michigan special teams
| | |
| --- | --- |
| Cincinnati | Michigan  |
This was a big question mark for Michigan heading into last week, but sophomore kicker Quinn Nordin answered those questions with four field goals including two from 50-plus. Still, he missed two in the fourth quarter and Michigan gave up a blocked punt in the second quarter, so there are still some questions. Cincinnati's kicker missed his only field goal try last week, so we'll give Michigan a slight edge here.
| | |
| --- | --- |
| Cincinnati | Michigan  |
Jim Harbaugh vs. Luke Fickell. One has turned around multiple programs, won a BCS game, won an NFL conference, nearly won a Super Bowl, and took a 5-7 team to back to back 10-win seasons. The other is a first-year full-time head coach who lost to Brady Hoke.
Atmosphere and Intangibles
| | |
| --- | --- |
| Cincinnati | Michigan  |
The first home game of the season in the Big House will be a great atmosphere, giving Michigan a clear home field advantage. The Bearcat seniors have experience of playing at Ohio State in 2014, but no one else on the team has played in a setting like that.
Edge Average: Michigan 7.4 – Cincinnati 2.6
Score Prediction: Michigan 48 – Cincinnati 10